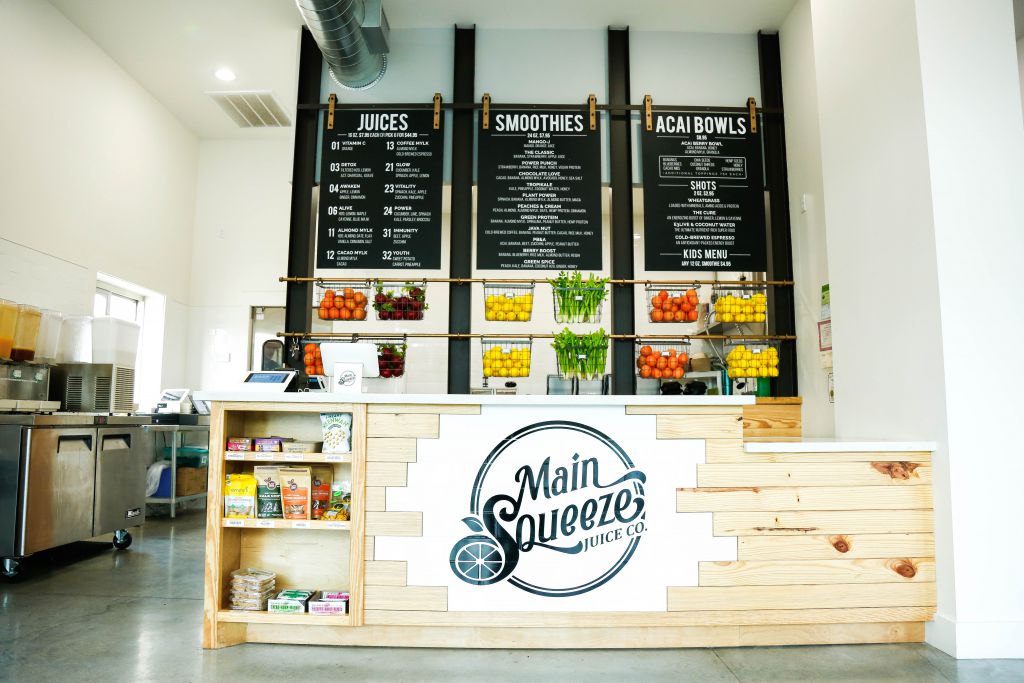 Spending 10 years with the New Orleans Saints, Marques Colston had plenty of successful connections on the field.
When he hung up his cleats in 2015, the former New Orleans Saints receiver retired as the team's all-time franchise leader in receiving yards, yards from scrimmage, receiving touchdowns, total touchdowns, and total receptions – and as a Super Bowl champion.
Three years later, Colston was scrolling through his LinkedIn feed when he received a message that has led to a successful connection off the field.
The message came from a member of Main Squeeze Juice Company, a New Orleans-based juice and smoothie franchise. Wanting to learn more, Colston made a drive to Main Squeeze's lone franchise in Lake Charles, La. After meeting the team and seeing potential, he quickly partnered with the company and became its director of business development.
"I got a chance to taste the product and really hear the vision and immediately knew that there was a bigger opportunity here than to just open a single franchise," Colston said. "Shortly thereafter, I ended up investing and becoming a partner and taking on the role of business development and we were off to the races."
Similar to the good fortune surrounding Colston's discovery of Main Squeeze, Thomas Nieto had no intention of breaking into the juice industry. He got his start in business at AT&T, where he served as a sales representative in Mandeville, La.
While working at AT&T, a friend of Nieto's created In & Out Smart Repair, which specializes in cellphone and electronic repairs. At 29, he left AT&T and became the COO of his friend's company. Within roughly two and a half years, In & Out Smart Repair grew from having five stores to 75 – ultimately reaching 120 locations.
In & Out Smart Repair then became the fastest-growing company in its industry, and eventually merged with competitor CPR Cell Phone Repair in April 2017, said Nieto.
Come May, and Nieto found himself in Lake Charles looking to join another company similar to In & Out Smart Repair. While working with executives about a business relationship, his friend called to ask him if he could help his sister prepare for the grand opening of her juice and smoothie bar: Main Squeeze.
"The moment that I walked in the door, I was just blown away," Nieto said. "The most beautiful designs, and unlike any juice bar that I'd ever seen before. They were making all the products, I was trying all the products, and I couldn't believe I was drinking beet juice and vegetable juice and kate and genuinely loving it. I just couldn't believe I was tasting all these healthy, cold-pressed juices and smoothies."
Founded in 2016, Main Squeeze opened its doors for business months later – when Nieto returned to Lake Charles. When it opened to the public, they immediately sold out of all their products by early afternoon – and in the first month alone, did over $90,000 in gross sales, said Nieto. That led him to coming on as partner and CEO – and began franchising in August 2017.
Before Colston joined Main Squeeze, the company was trying to create its own niche in the more than $5 billion juice market.
It offers both a gluten-free and vegan menu for customers – with a daily source of plant-based nutrition. The proprietary recipes include items like cold-pressed juices, superfood smoothies, and single or multi-day juice cleanse programs, shots, and acai bowls from the Amazon rainforest in Northeast Brazil.
Main Squeeze has since moved its corporate headquarters from Lake Charles to New Orleans. The transition culminated with the launch of its national franchise program – with one in Lake Charles and another just outside of Houston by May 2018.
The local connection Colston felt with Main Squeeze is what enticed another Saints player to come on board as well. When Saints Punter Thomas Morstead joined the Saints in 2009, the fifth-round pick was immediately drawn to the wide receiver's unique wisdom.
Over time, Morstead began looking up to Colston as a leader – and developed a rapport with him. When Main Squeeze opened a shop in New Orleans, it was about a five-minute drive from Morstead's house. Later on, he met Nieto, and the two connected over their business aspirations.
Nieto wanted to see Main Squeeze expand, and Morstead felt it was time to make his first big business venture off-the-field. Already knowing about Colston's role with the company, he became a minority partner of Main Squeeze in early June. The pair aim to act as community leaders and educate locals about the importance of nutrition.
"I haven't done anything else like this locally," Morstead said. "This was my first step off the deep end, and it's just something that I'm very passionate about. I've spoken to kids, to dietitians, and to different groups of people about health, wellness, fitness, and nutrition – all of that combined. It's something that I have a passion for – and when I had the opportunity to jump in with these guys, it just made sense."
READ MORE: After Injuries Derailed NFL Career, Linebacker Starts ZoneIn CBD
While Main Squeeze is Morstead's first step in broadening his business portfolio, it's another professional stepping stone for Colston. Since entering the NFL, he's worked for – and with – numerous sports tech companies, from Toronto-based Sport Testing, Inc. to Stealth Sports Data and Analytics Data, which he founded and serves as CEO.
Outside of these endeavors, what helped Colston better understand the sports industry was in the offseason away from the Mercedes-Benz Superdome. In February 2012, he served as president and general manager of the now-defunct Harrisburg Stampede, a professional indoor football team in Harrisburg, Pa.
Doing everything from increasing the team's brand visibility and awareness to managing football operations helped make Colston a more knowledgeable businessman, which he thinks has served him well in the rest of his career.
"That combination of skill sets and experiences prepared me perfectly to plug in and help to guide Main Squeeze as we've moved along this growth path," Colston said.
Seeing the success that both active and retired NFL players are having outside of the sport excites Bahati VanPelt. VanPelt serves as executive director of The Trust, which was launched by the NFLPA in November 2013 to provide former players the support they need after they retire.
With Kam Chancellor joining Colston and Morstead in the player-to-businessman transition, VanPelt sees it as only further validating The Trust's role in helping these men and their peers think about life beyond football.
"While they may not have 10 to 12 to 15 years of work experience in [the business] industry, they do have unique work experience in a field that is a highly pressured," VanPelt said. "We get to go to work – if we make a bad play or have a bad day, we don't have 80,000 people sitting in the stands and we don't have millions on TV critiquing us. So our players perform under those circumstances, and it sharpens them to be exact and to perform at a high level every single day."
READ MORE: Going From Picks To Kicks, Kam Chancellor Now Focusing On Fashion
For the trio of Colston, Nieto, and Morstead, more is still to come for Main Squeeze. With 12 active locations and a mobile juice truck, it records roughly $750,000 in monthly gross sales. It also recently broke ground on a new, 1800-square-foot store in Atascocita, Tx., an area within Houston. It not only raised nearly $30,000 in gross sales in its first weekend, but it'll be the sixth of 20 locations that Main Squeeze hopes to open in the Houston region over the next several years, said Nieto. 
In Texas, Nieto plans on adding more Main Squeeze shops to San Antonio and Austin. The southeast expansion includes infiltrating markets like Mississippi, Alabama, Florida, Georgia, and Tennessee. There are no plans to bring Main Squeeze outside of the southeastern United States, said Nieto.
By the end of 2019, Nieto believes that Main Squeeze will be able to open or begin development on 100 stores across the southeast. And then in 2020, he hopes that development number reaches 200 – with between 75 and 100 locations open for business.
"Two years ago, we just had an idea," Nieto said. "We had a prototype, but it was still just an idea and a dream – and here we are today, with the 12 stores that we have open doing well over a half-million dollars in gross sales. That's phenomenal, incredible growth for a company that's only two years old, and here's the cool thing: every store that we're opening, we're getting better and better and better."