Kevin Kugler has been among the most active sports broadcasters for years, working a slate that included everything from his booth duties at the Big Ten Network to radio work for Westwood One's coverage of the NFL, March Madness and the Olympics.
The pandemic, like it has for so many, changed that workload. Kugler's only assignment over the last five months before Week 1 of the NFL season was August's PGA Championship.
His Big Ten Network play-by-play duties appear to be delayed until January, but Kugler still had the NFL to look forward to — although the medium changed in an instant.
Kugler was tapped to replace Thom Brennaman at "NFL on Fox" just days after Brennaman used an anti-gay slur during a Cincinnati Reds broadcast on Aug. 19. Kugler will make his debut as a Fox Sports full-time play-by-play announcer on Sept. 13 as he joins analyst Chris Spielman and reporter Laura Okmin to call the Arizona Cardinals-San Francisco 49ers season-opening contest.
"He's one of the best people in the business," Okmin told Front Office Sports. "He's terrific at what he does. He's the perfect point guard, because he's always setting his teammates up to be successful. I've been a partner of his for years on Westwood One, but I was over the moon to get him as a full-season partner."
Front Office Sports chatted with Kugler before the NFL season kicked off.
Front Office Sports: You've done fill-in work for 'NFL on Fox' in the past, but until Brennaman used that slur, you were expecting to do an eighth season calling a full slate of games for Westwood One. The offer and decision to take it came pretty quickly.
Kevin Kugler: Yeah, it did happen fast, that's for sure. There was no hesitation on my part at all. I've been fortunate enough to do a lot of things with the Fox folks over the years, whether it be college basketball, a couple NFL games and college basketball. That's been a great side effect with the marriage between the Big Ten Network and Fox Sports.
I knew what I was getting into and I was excited for that chance. My family is just happy that I was getting out of the house and doing anything at this point.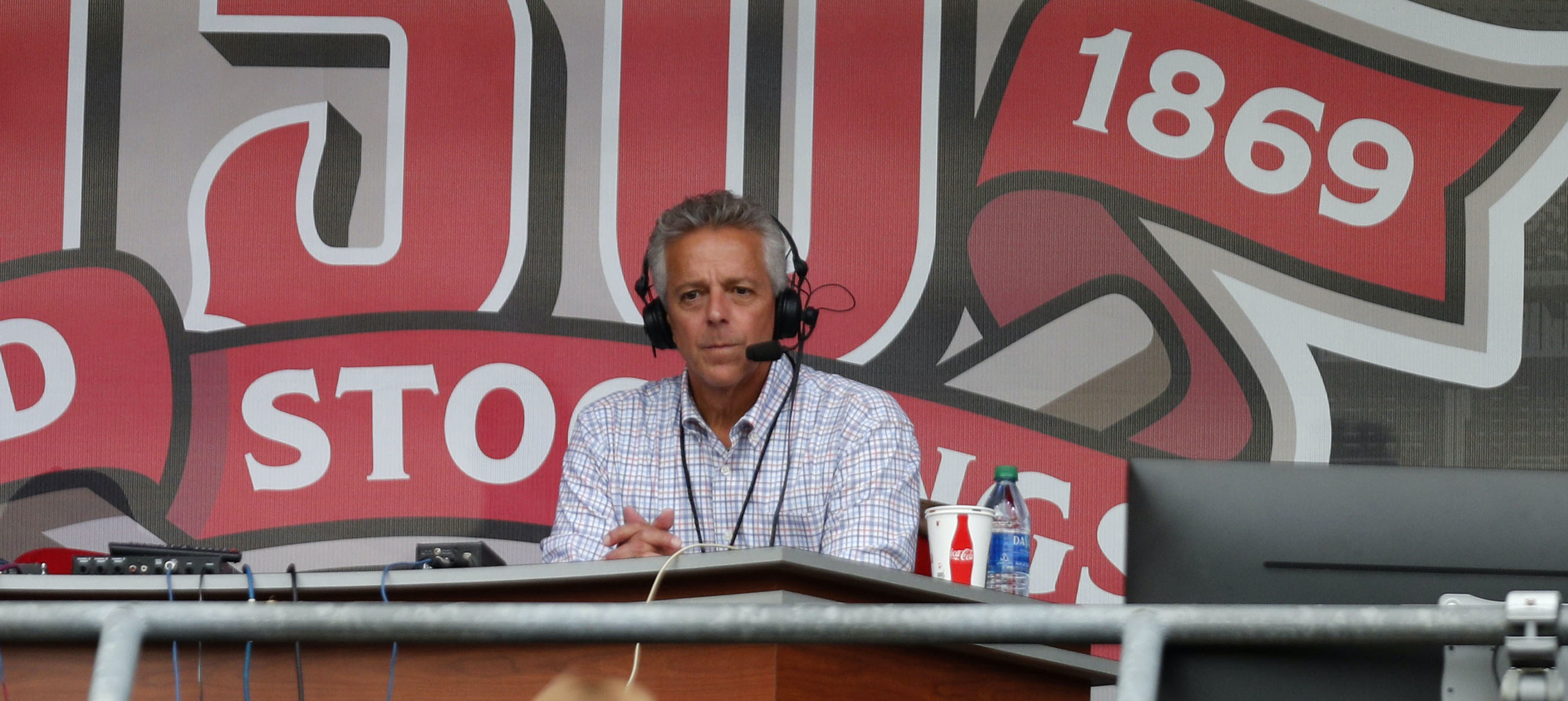 FOS: You've worked with Spielman and Okmin previously as you filled in for Brennaman. There's definitely some familiarity, especially with Okmin, who you've worked with a lot over the years. How does that help?
Kugler: I've spent Thanksgiving with Laura doing NFL games. She helped me celebrate my youngest daughter's birthday at a Pro Bowl in Hawaii. It's like having a really good family friend who just happens to be on the crew with you as you do your first year at Fox. I couldn't ask for better partners. Chris is a great guy and he's really excited about the season like we all are.
I don't know how the season's going to go. I hope we get our full slate of games. I hope COVID stays away from the NFL.
FOS: The pandemic has forced a delay in Big Ten and Pac-12 football. You graduated from Nebraska and you live in Omaha. How has pandemic impacted your state, yourself and those close to you?
Kugler: I've followed [the pandemic] a ton because it directly impacted me with the Big Ten shutting down. That took what I thought was going to be my fall schedule for the Big Ten Network. From a selfish standpoint, I was absolutely crushed with that. From a broader-picture standpoint, my heart hurts for these kids, for these coaches and I'll widen it out a little bit more. My heart hurts for these communities. I spent part of my life in Lincoln and I know how much that city relies on seven football games a year — and it's no different for State College, Columbus and other places. … It's a life-changer for so many people.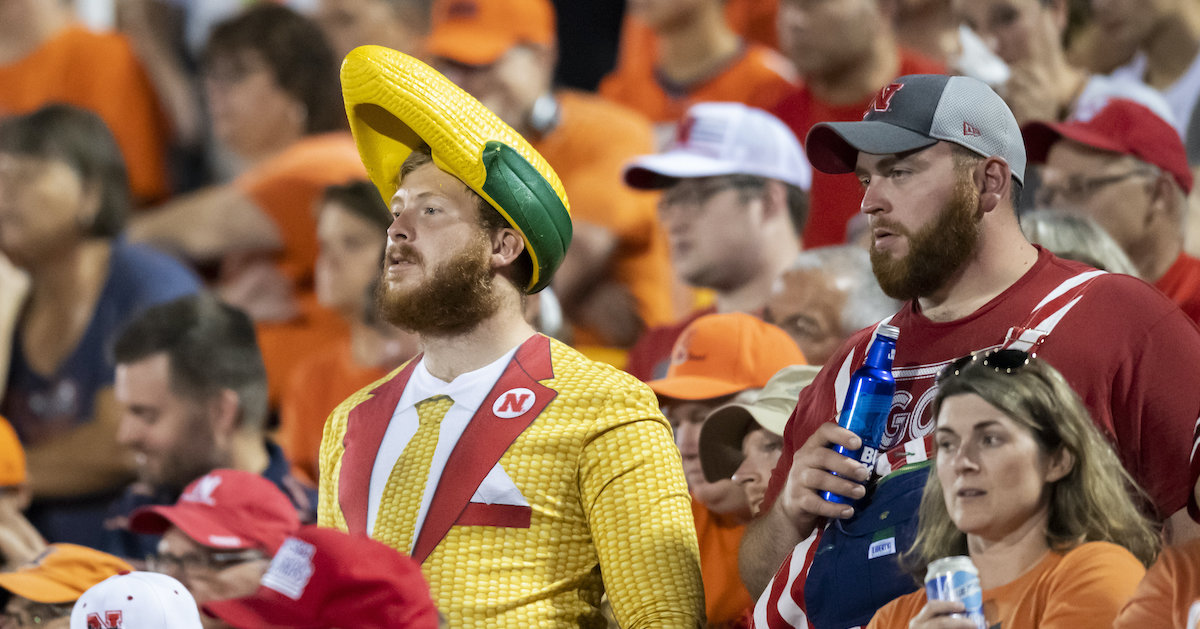 FOS: You called games alongside legendary former Georgetown men's basketball coach John Thompson Jr., who passed away at age 78 on Aug. 31. How did his death impact you?
Kugler: It was hard for a variety of reasons. One of which is that I had come over the years to so appreciate the time I spent with John Thompson. Let's be honest. There aren't a lot of opportunities in your life to sit with someone who gets called the term 'legend' in his sport. That's what John Thompson is and was.
I started working with him in 2008 and I was just some kid walking up to do these games in the Final Four. He could have very easily nudged me aside and done his own thing, but he didn't do that at all. Over the years, we truly enjoyed working with one another. I was supposed to work with him again [on Westwood One] at the NCAA tournament in March, first the regionals in New York City and then at the Final Four. Not only did I lose the chance to work with him again this year because of the pandemic, I lost the chance to work with him forever.
FOS: Joe Buck has made his thoughts about Twitter known a few times and he's not on the platform. You are. How do you approach it?
Kugler: I liken it to a slot machine. You pull down on the refresh lever and something comes up every time. You see [the feed] and go, 'Boom. New stuff.' It can be intoxicating, but it can also create problems. I get to speak at a lot of classes and I always try to tell the students that social media is no different than any other broadcast experience. You cannot say something on social media that you would not say on the air or that you wouldn't say to your grandparents.
FOS: Your radio background was extensive when you began doing TV work. You still go back and forth. How tough is that transition?
Kugler: The best advice I got was when somebody told me to remember that TV is an analyst's game and radio is a play-by-play guy's game. That's not meant to diminish the role that you have as a play-by-play guy on television, but the analyst is the star. And when I'm on the radio, I have to let people know where the ball is, what time is left in the game, what the score is. I have to paint a much broader picture on the radio side of things.
I'm interested in how it's going to play out with no crowds in the stadium this year for the NFL. One of the things I learned over the last several years doing TV with a really good crew at the Big Ten Network was how to use the crowd. Vin Scully used the fans better than any broadcaster out there. Using the crowd is one of the weapons I feel makes you a better play-by-play guy. Vin Scully said there's nothing you can say in that moment that is better than what the crowd is doing.