The pandemic shuttered gyms and fitness studios across the country, which led to people hunkering down and looking for alternate ways to stay fit. This has altered the fitness industry at every level, especially personal trainers' role in it.
With people ordered to follow social distancing and avoid enclosed spaces, personal trainers saw their sources of revenue slowly grind to a halt. The gym, where their clients and they used to congregate, was suddenly considered a breeding ground for COVID-19.
Subsequently, personal trainers are largely seeing a loss of income and a decrease in clientele. Almost 58% of trainers lost some or all of their income due to the pandemic with 23% being furloughed or laid off, according to a recent survey by Personal Trainer Development Center.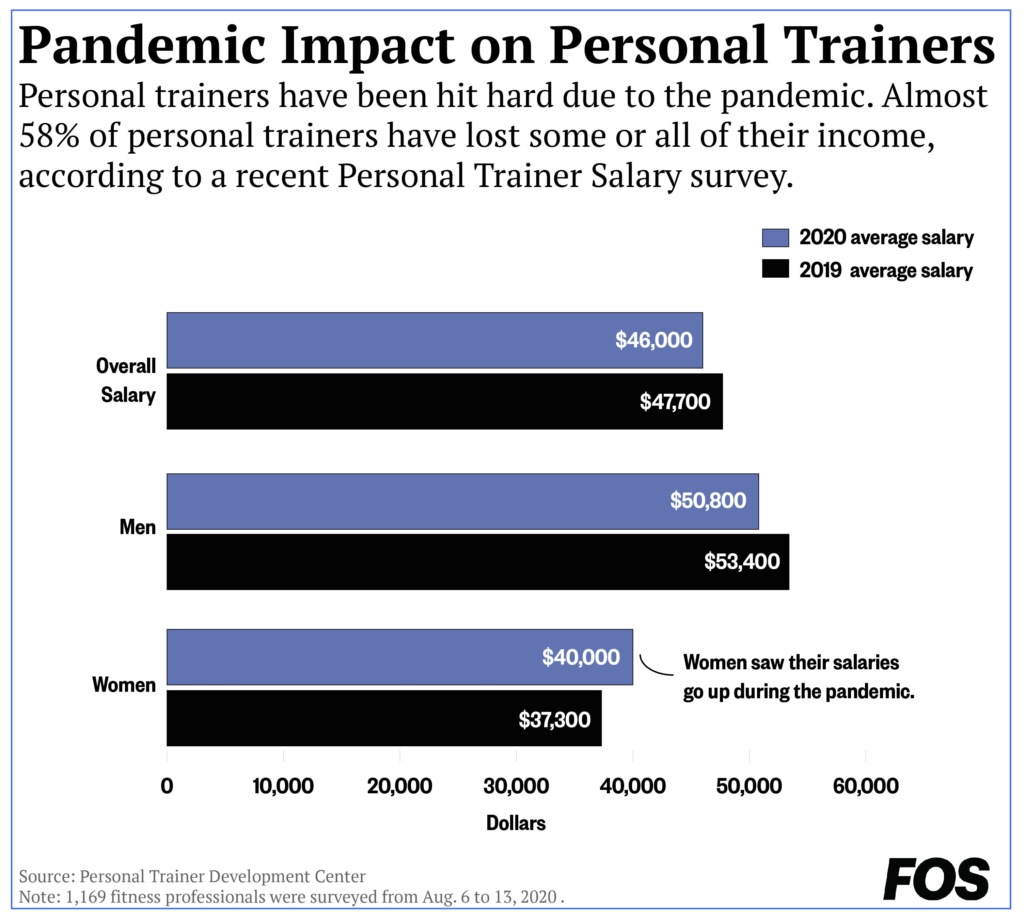 Before the pandemic, 60% of trainers worked with their clients in-person in gyms. Only 7% trained their clients online and 32% combined in-person and online training.
But the pandemic has completely flipped the fitness industry landscape.
With the rising popularity of connected fitness equipment, gym goers are finding a much needed alternative to traditional gyms. With Peloton having a breakout year as sales skyrocket, Lululemon's Mirror raising substantial funding, and AI-powered equipment like Tonal also jumping into the market, the space for virtual personal trainers is growing.
Peloton has been investing heavily in studios where personal trainers can record their live sessions. Peloton owners can subscribe for $39 per month to sync their workout classes to their equipment.
Almost 21% of personal trainers plan to continue working primarily online — a 300% increase post-pandemic; 62% are going to combine in-person and online training. Around 21% of personal trainers made more money during the pandemic as they had adopted online training techniques or had an already existent online only business approach. Women personal trainers saw their salaries increase nearly $3,000 on average.
With traditional gyms closed and the fitness industry undergoing a fundamental shift, personal trainers might be able to grow their businesses that have more of an online-first presence.