When the pandemic shut down gyms across the country, fitness enthusiasts tried to find different ways to stay active. Even as gyms have begun to reopen, a recent TD Ameritrade poll found that 59% of Americans weren't planning to renew their gym memberships.
That has helped Peloton have a breakout quarter and also a breakout year, as it has not only started to sell more exercising equipment, but also has grown its subscription business with streaming workouts beyond its hardware offerings.
That ballooned to 1.09 million connected fitness subscribers in the fourth quarter, up 113% from a year earlier. The company has roughly 3.1 million members in total, including those who only pay for a digital subscription. Connected fitness subscribers pay $39 per month to sync their workout classes to their Peloton equipment.
CEO John Foley thinks that the company can hit 100 million subscribers in the coming quarters as more and more people embrace the at-home fitness trend.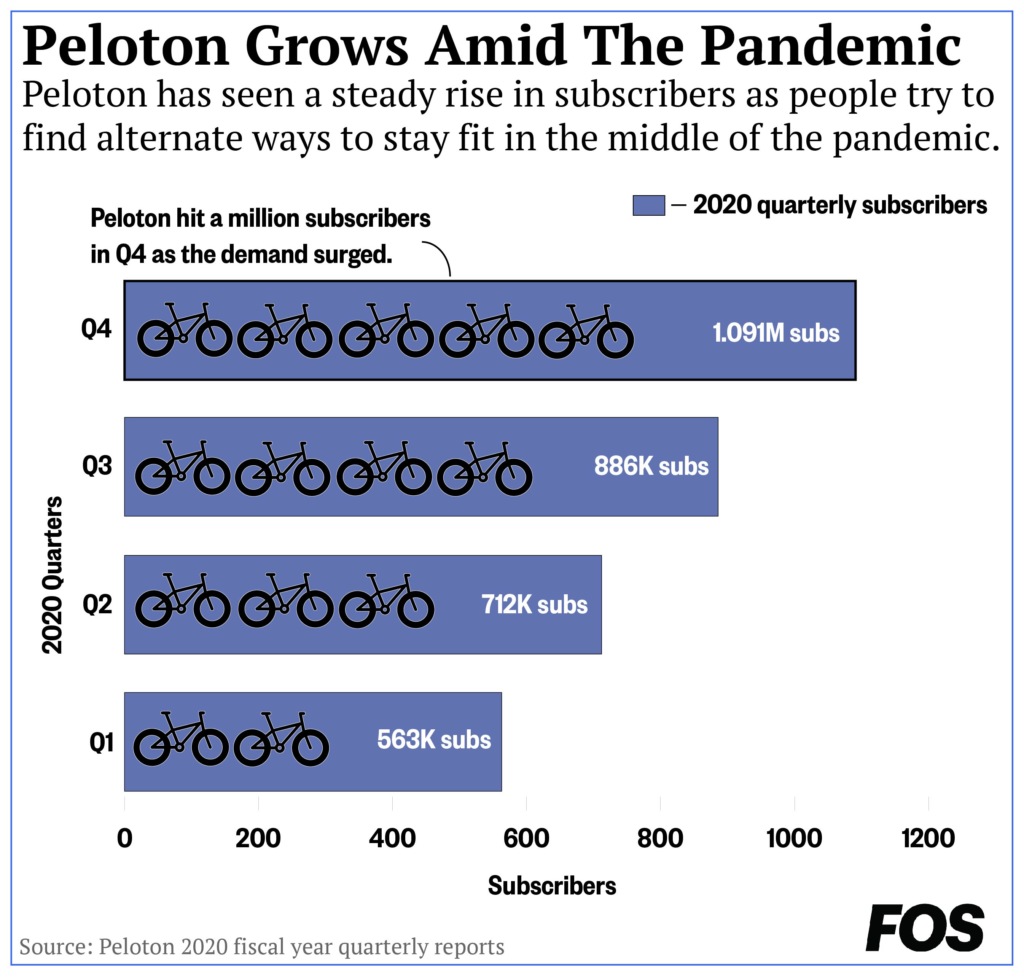 But on the other hand, with Apple launching Apple Fitness+, a dedicated fitness and workout app, the tech giant is positioning itself to carve out a piece of Peloton's subscriber base and gain market share. The launch date for Apple Fitness+, which will be $9.99 a month or $79.99 for a year, is yet to be determined.
Foley, however, welcomed Apple into the fitness streaming space. "The biggest thing I will say is it's quite a legitimization of fitness content, to the extent the biggest company in the world, a $2 trillion company, is coming in and saying fitness content matters," he said.
Amazon has also announced it is launching its own connected bike. Priced at $499, the company is working with fitness startup Echelon to launch its first-ever connected fitness product. However, it does not have an attached screen like Peloton's bike.
Going forward, Foley is confident Peloton will continue to grow.
"100 million subscribers, we believe is a reasonable goal," said Foley. "There's close to 200 million gym-goers in the world. That's 200 million people paying hard money, month after month, to access what we believe to be inferior fitness equipment in an inferior location."