When it comes to the roster of analysts on the "NHL on TNT," no one casts a bigger shadow than Wayne Gretzky.
The Great One — who scored a record 2,857 points in his NHL career — dispenses hockey wisdom from his desk in TNT's Atlanta studio.
But sitting to his left is a player who recorded just 22 points across 202 career NHL games and is quickly establishing himself as one of hockey media's elite talents.
"I guess it is shocking, considering how good I was as a player, to find myself where I am," Paul Bissonnette tells Front Office Sports. "But I think it doesn't matter. If you share that passion and work ethic and curiosity, I think anybody could probably do it."
While Bissonnette didn't have the big name that typically launches a sports media career, the former NHL enforcer's playing role and personality made him uniquely suited to star on camera and behind the microphone.
Known more for his toughness than his scoring ability, "BizNasty" did bring one essential quality to his teams: morale. The self-described "clown" and "jester" would "add a little bit of life to the locker room," as well as fight for his team when called upon.
It translated to a meager 5:18 of ice time per game over his career with the Pittsburgh Penguins and Arizona (then Phoenix) Coyotes.
But all that time on the bench allowed Bissonnette to study for the next phase of his career.
"Just getting to sit there in the NHL and even not playing much, I would absorb what the other guys were going through," he says. "From a hockey knowledge standpoint, the organizations that I got to play in and the coaches that I had, they prepared me for understanding the game."
'Let It Rip'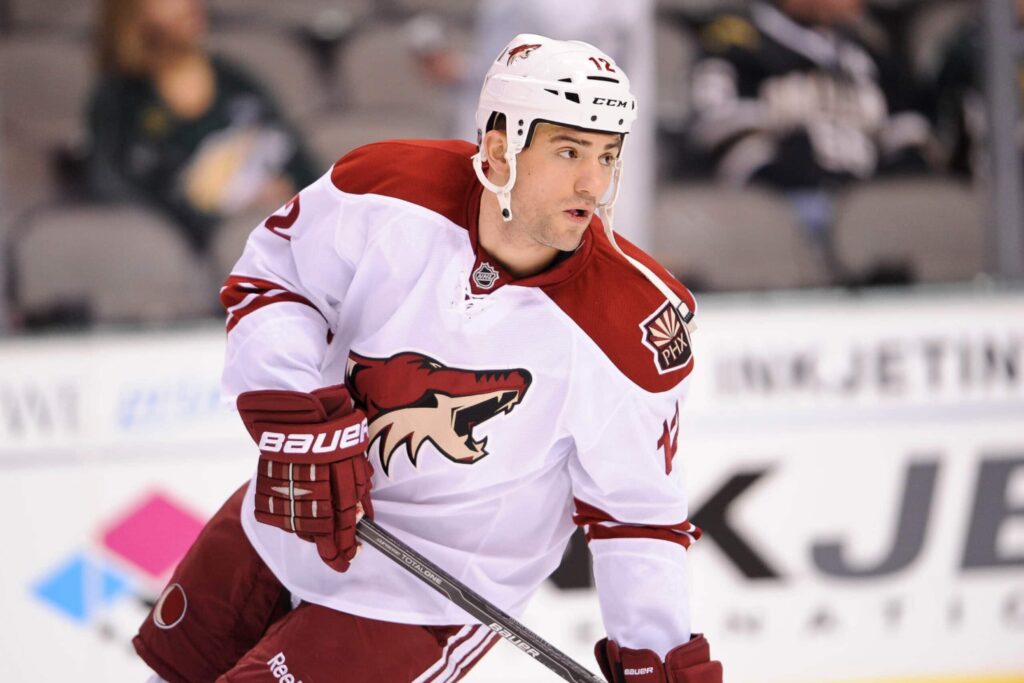 Despite his gregarious nature and friendliness with media members in Arizona, Bissonnette had never really considered a career in the field — until one of his teammates convinced him to get on Twitter.
Taking his brand of locker room humor to the app and getting real-time feedback slowly sparked the idea that he could become a hockey personality. The Welland, Ontario, native landed a role as a radio color commentator for the Coyotes in 2017.
Around that time, the Barstool Sports podcast "Spittin' Chiclets" was just getting off the ground. While still playing and beginning his media career, Bissonnette appeared on the show multiple times as a guest. Eventually, co-hosts Brian "Rear Admiral" McGonagle and Ryan Whitney offered Biz a full-time seat on the show.
"I said 'Yeah, sounds like a blast,'" Bissonnette says. "You can just let it rip and say whatever you want."
The trio has built arguably the most popular hockey podcast in the world, consistently ranking toward the top of Apple and Spotify's sports podcast charts.
When WBD (then Turner) Sports secured NHL rights alongside ESPN in 2021, they began searching for studio analysts who could bring the fun, relaxed mood that made the channel's "Inside the NBA" such a phenomenon. They found it in Bissonnette's freewheeling style.
The 38-year-old has more than held his own, measuring up with NHL household names Gretzky, Anson Carter, Henrik Lundqvist, Liam McHugh, and, for a time, current Vancouver Canucks head coach Rick Tocchet — who would engage Bissonnette with hours of hockey talk off-camera.
"I really hoped it was going to be TNT," says Bissonnette. "I really liked the way that they let their talent just be themselves and be silly.
"I felt like there was a reason they were calling and I earned the right to at least have an opportunity to prove myself. I don't want to fumble that opportunity, so I take it very seriously."
Don't Say No
For a French Canadian who didn't attend an English-language school until seventh grade, Bissonnette has created an impressive career talking on North American airwaves.
There's just one question he's asked himself throughout his second career: "What's next?"
"I like new opportunities, so I don't really say no too much," he says.
The success of "Spittin' Chiclets" led to an endorsement deal with New Amsterdam Vodka, who encouraged the podcast crew to come up with a potential collaboration.
That product became Pink Whitney — a pink lemonade-flavored vodka inspired by Whitney's favorite golf course drink. The namesake was reluctant to sell the product at first, but when he relented, Bissonnette already had the paperwork ready to go.
"I was so over the moon because I have more of a business mind," he says. "I don't really want to be at the beck and call of other people's ideas and other people's products all the time. Why not just create our own?"
Pink Whitney is shipping 1.2 million cases per year, according to Bissonnette, which gave him the confidence to go forward with another alcohol project: Big Deal Brewing, a co-production with Labatt that launched last year.
Bissonnette also says he loves acting and wants to expand his horizons in front of the camera.
It's not surprising in hindsight when you look back at his first major media project: the documentary web series "BizNasty Does BC," where he explores British Columbia with surprise NHL guests.
As any viewer can see from that doc, Bissonnette is always trying to learn; it's what continues to propel him forward in his second career.
"I just think that curiosity has led me to where I am," he says. "There'll be some failures along the way, but I know that if you ask a lot of questions and you siphon through it, you'll be able to get to where you want to go."