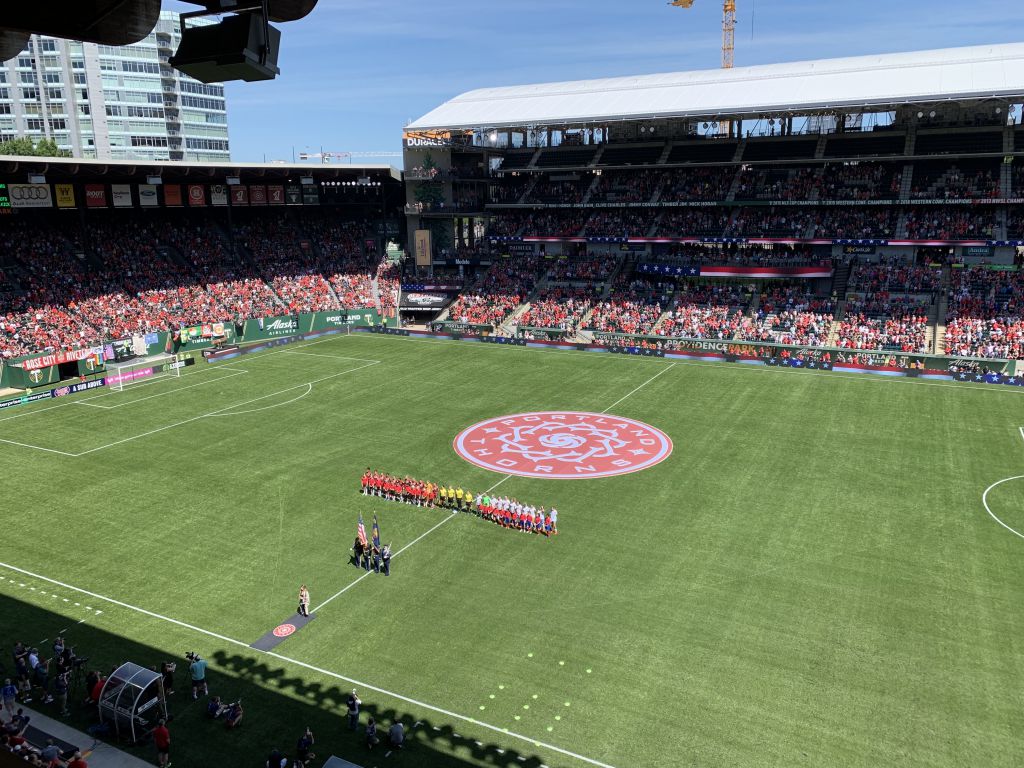 Thanks in large part to the success of the U.S. Women's National Team at the 2019 FIFA Women's World Cup as well as the overall growth of the sport of women's soccer across the globe, the NWSL's 2019 season has perhaps set a new high watermark for the seven-year-old league.
With multiple teams setting new attendance records, expansion on the horizon as soon as next season, and the sport's biggest stars from both the U.S. and the rest of the world such as Alex Morgan, Megan Rapinoe, Marta, and Sam Kerr continuing to call NWSL home, the league is looking to further supercharge its growth via a new consulting partnership with Octagon.
The deal is multi-layered, with Octagon's global media rights consulting and marketing divisions both advising the league on a variety of its commercial lines of business, including its league media rights, its sponsorship rights, and its marketing.
A big part of the relationship will be assisting the NWSL in securing new media rights partners both domestically and internationally.
The NWSL has struggled to find a consistent home for its broadcasting and streaming rights in recent years. In its inaugural season in 2013, it had a one-year deal with Fox Sports to air select matches. In 2014, it moved to ESPN with a similar structure, airing select matches and its playoffs. For 2015 and 2016, it returned to Fox, splitting its broadcasts across FS1 and Fox Sports Go.
In 2017, the league signed a three-year, multi-faceted partnership with A+E Networks, giving the NWSL its first weekly television platform, with the remaining matches streaming on Go90. It also saw A+E take an equity stake in the league and the launching of a joint-venture that aimed to lead media and sponsorship initiatives.
But the deal was ended prematurely in February, leaving the NWSL without a linear broadcast partner entering the 2019 season.
The NWSL also had a deal with Oath, around its digital rights. However, when Verizon, now know as Oath, discontinued its support of Go90, the streaming shifted to the Yahoo! Sports platform.
While the 2019 season began with matches solely streaming on Yahoo! Sports, the league subsequently signed a one-year deal with ESPN to air the remaining 14 matches of the season, as well as stream them on the ESPN app.
NWSL President Amanda Duffy said that deal with ESPN was just for this season, and all of the league's digital and linear rights both domestically and globally are now available.
The NWSL was not receiving a rights fee from ESPN for its media rights, according to industry sources, although the network was helping to cover production costs.
Verizon paid a rights fee for the league's digital rights, a source said.
"In our conversations with ESPN earlier this year, we wanted to position ourselves in a way that all of our domestic and international rights would come available," Duffy said. "As we look ahead to 2020 and beyond, we think this strategy will guide us in a strong way towards a number of opportunities."
Daniel Cohen, Octagon senior vice president of global media rights consulting, said that this next set of media rights deals "is absolutely critical for the league."
"There has never been more interest and engagement for women's soccer than there is right now, and there is still this huge wave of momentum both from the success of the national team, women's soccer and the individual player perspective," Cohen said. "Coupling that with the bigger social and cultural movement around women's sports right now, it's really the ideal time for this property to take off."
Cohen said Octagon will help the NWSL to find that "individual broadcaster or a set of broadcasters that buy into that vision and support women's soccer and sports in the way in which it should be."
Ideally, that deal will have a multi-tiered and multi-platform approach, Cohen said, one that would give NWSL matches a broad reach and exposure on a linear network while also making sure there was a strong digital platform to reach cord-cutters and other digital-first fans.
That might also bring changes to how and when matches are scheduled. Cohen said that Octagon and the league are open to working with broadcasters to better optimize the schedule moving forward.
Duffy said that the league has already seen a considerable amount of interest in the rights from various networks, but the new relationship will help NWSL have a "clear understanding of our direction, and allow us to look at what the best options and opportunities to put ourselves in the best position to move into the next stage of NWSL."
Octagon and the NWSL began conversations with potential broadcast partners in recent weeks.
Cohen declined to comment on those discussions, but he said that "everything is on the table; we're open for business."
The league is ideally looking for three-year media rights deals, and that could be with one broadcast partner or as many as three, Cohen said.
"We're looking for a partner that can provide the exposure and marketing support this league truly deserves – that will drive our decision," Cohen said.
Both Cohen and Duffy declined to comment on the what the league would be looking in terms of revenue of a future rights deal, as well as what media companies the league has already had discussions with.
Industry sources said that currently, it is unlikely that the league will renew or extend its deal with ESPN.
NBC Sports President of Programming Jon Miller said that the network was having "conversations with women's soccer leagues," but declined to comment further. He also stated that the network would like to see more sponsors also sign on to support women's soccer, further validating why media companies would also invest in those properties.
READ MORE: Twitter Amplifying Women's Sports With #GoldenTweet Awards
Helping the NWSL bring on bigger sponsors is also part of the partnership with Octagon, as the agency is helping the league with its sponsorship valuation, asset development, and brand marketing, as well as with developing deeper fan engagement insights that will also generate revenue and reach for the league.
Christine Franklin, Octagon senior vice president of marketing, said that the agency will work to connect the league with brands that "drive more than just commercial value, but also aligns with the company and their corporate values."
"That is an easy place for the NWSL to start, but the reality is that they also have a great product that has great competition, great players, great teams – that is what sports fans love," Franklin said. "We think the NWSL is a great product that is just kind of bursting at the seams in terms of opportunities."
Historically, the NWSL has not brought in bigger blue-chip brands as sponsors. In July, following the Women's World Cup, Budweiser signed a multi-year deal to become the league's first beer sponsor. Currently, the league's other partners include Nike, Lifetime, Thorne and Cutter.
All of the league's sponsorship deals besides Budweiser and Nike expire after this season, sources said.
While Octagon won't be necessarily selling rights to the league, it will be helping the league understand what will bring the most value to sponsors and what could enhance those relationships.
"Most sponsors aren't just interested in putting a label on a jersey, they want an authentic connection – we're going to work with NWSL to help them create those things," Franklin said.
Franklin said the NWSL and the owners of its clubs are "innovative thinkers, and that is helping to drive the league and the league's thinking" on that front.
She noted that that could mean new marketing opportunities, different entitlement rights and broadcast integrations for sponsors that don't currently exist.
That could also include full access to league events, which may include new properties such as some sort of All-Star Game, as well as access to teams and the players themselves, the league's most valuable assets.
READ MORE: Relevent Sports Sees Growth Ahead For Women's ICC Tournament
Duffy said that with the expectation that this new relationship with Octagon will drive new partners and revenue to the league that there is an "understanding and expectations that need to be driven at the local level – all of that ties into the understanding that there is a commitment that comes with fulfilling these investments."
"The league and teams are making important strides and doing it at a pace that allows all the teams to operate strongly when we think about expansion and media and corporate partner opportunities," Duffy said. "Everyone is on board with continuing to develop, and continuing to advance and elevate the performance of the league in all areas."
In regards to expansion, industry sources said it is expected that the league is set to announce that it will be expanding to Louisville in 2021, with a club that will be owned by the same backers as the USL Championship club Louisville City FC. The NWSL is also in discussions with MLS expansion club Sacramento Republic about launching an NWSL club as well.
Duffy declined to comment specifically on expansion, but noted that "there will be some expansion news very soon."
"We certainly have an optimistic outlook, and we feel that we're well-positioned for even stronger growth into the next few years," Duffy said.