The NFL suffered its first full season television drop in three years, with average game audiences falling 8% for the 2020 regular season.
During Week 17, NFL game telecasts averaged 16 million viewers, down 7% from the same week in 2019.
That means for the 2020 regular season, NFL games averaged 15.1 million viewers, down 8% from 16.4 million for the 2019 regular season. This season's decline comes after two consecutive years of 5% increases.
Still, the league continues to be the TV gold standard for U.S. sports.
The NFL generated 82 of the top 85 sports TV audiences in 2020, according to Sports Media Watch. The only exceptions were three college football telecasts last January: the Oregon-Wisconsin Rose Bowl; the Alabama-Michigan Citrus Bowl; and LSU-Clemson CFP National Championship.
It's difficult to make a straight apples to apples comparison between the past two seasons. The pandemic upended NFL game scheduling to such an extent the league was forced to play games every day of the week for the first time.
It's a credit to the NFL and its TV partners that they made it through the 256-game season without having to cancel a single game.
"The most remarkable thing about this NFL regular season is that it happened at all," said Mike Mulvihill, executive vice president and head of strategy for Fox Sports. "In the context of the pandemic, when most of the industries that are major contributors to American culture have been largely or completely shut down, I think that getting all our games in, and posting just a -6% viewership decline, is extremely positive."
The league's decrease was also modest compared to double-digit declines for other sports, noted Sports Media Watch, including the Stanley Cup Finals (-61%), the final round of the Masters Tournament (-58%), NBA Finals (-49%) and World Series (-30%).
The stakes are high for the NFL. All of the league's media deals expire after the 2021 and 2022 seasons.
There are potentially billions of dollars at stake as the NFL tries to nearly double its $5 billion annual rights fees from media partners Fox, ESPN, CBS and NBC.
Still, some media executives worry this season's falloff augurs a return to the 2016 and 2017 season — when average audiences fell 8% and 10%, respectively.
But Mulvihill is happy with the numbers during a "very challenging" year.
"I'd also note that both Sunday afternoon packages [on Fox and CBS] came in slightly ahead of where they were two years ago," he said. "Again, that's a tremendous achievement in the context of 2020. [Fox's Sunday afternoon] 'America's Game Of The Week' defended its title as TV's most-watched show for a 12th straight year — and the NFL put even more distance between itself and everything else in the media."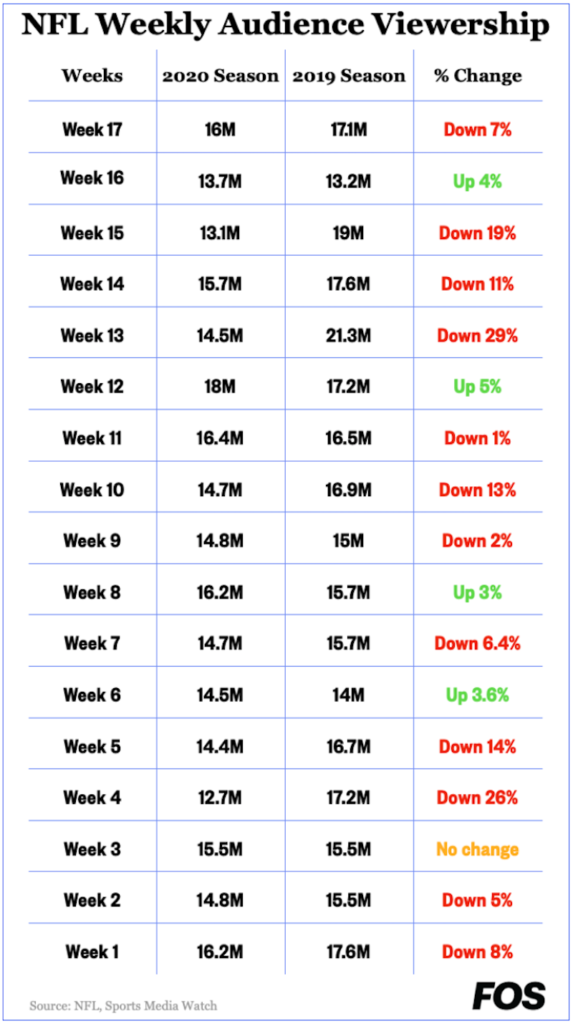 Here's a week-by-week breakdown of NFL TV audiences during a season unlike any other:
WEEK 1: (09/10-09/14)
Average Audience: 16.2 million (down 8% from 17.6 million last season).
Analysis: Tom Brady's debut with Tampa Bay Buccaneers delivered a 7% boost for Fox in its late Sunday afternoon game window. But audiences dropped for all four of the league's primetime games, with ESPN's two "Monday Night Football" telecasts falling 18% and 27% respectively.
WEEK 2: (09/17-09/20)
Average Audience: 14.8 million (down 5% from 15.5 million last season).
Analysis: TV numbers bounced back a bit thanks to several games involving teams with national TV followings. The Dallas Cowboys' comeback win over the Atlanta Falcons powered Fox to a 10% boost for its single header coverage.
ESPN's "MegaCast" coverage of the Las Vegas Raiders' first home game across ABC, ESPN, ESPN2, and ESPN Deportes delivered a big 31% increase.
WEEK 3: (09/24-09/28)
Average Audience: 15.5 million (flat vs. last season).
Analysis: The matchup between Patrick Mahomes of the Kansas City Chiefs and Lamar Jackson of the Baltimore Ravens — the league's last two MVPs — lived up to its billing TV-wise, drawing an enormous number for ESPN. Kansas City led all local TV markets with a 50.7 rating, followed by a 29.5 in Baltimore.
Meanwhile, Fox's telecast of the Seattle Seahawks' 38-31 win over the Cowboys was the top TV show of the week. America's Team still draws eyeballs.
WEEK 4: (10/01-10/05)
Average Audience: 12.7 million (down 26% from 17.2 million last season).
Analysis: The coronavirus and TV competition derailed NFL ratings during Week 4. Chiefs vs. the New England Patriots drew 14.6 million viewers in primetime Monday night. That's great compared to everything else on TV, but it's down 48% vs. the 28.11 million these same teams drew in Week 14 of the 2019 season.
Throw in wall-to-wall cable news coverage of Trump's battle with the coronavirus and the league had a TV week to forget.
WEEK 5: (10/08-10/13)
Average Audience: 14.4 million (down 14% from 16.7 million last season).
Analysis: Let's hear it for Tuesday Night Football. The Tennessee Titans' blowout win over the Buffalo Bills averaged a decent 10.8 million viewers on CBS. Could the NFL add Tuesdays to its game schedule?
But audiences for Fox's single header coverage of the undefeated Pittsburgh Steelers' win over the Philadelphia Eagles fell 23%. That was the worst drop for any Week 5 game window.
WEEK 6: (10/18-10/19)
Average Audience: 14.5 million (up 3.6% from 14 million last season).
Analysis: It was nice for the NFL to get back in the black TV-wise. Brady continues to be the top draw of the season. Despite the lop-sided score, the Bucs win over the Green Bay Packers drew the biggest audience of the week: 22.3 million viewers.
Keep an eye on ESPN's "Monday Night Football," which has grown its audience for three straight weeks. Numbers probably would have been higher if Chiefs-Bills had not been moved to a 5 p.m. ET kickoff time Monday.
But NFL TV networks can't rest on their laurels. Last season's Week 6 TV numbers were undercut by the small numbers for a London game window.
WEEK 7: (10/22-10/26)
Average Audience: 14.7 million (down 6.4% from 15.7 million last season).
Analysis: If there's one trend emerging during this unpredictable season it's that NFL game telecasts on Sunday afternoons continue to perform well but primetime games are a crapshoot.
Viewers for Week 7's "Thursday Night Football" matchup between the Eagles and New York Giants, and the "Sunday Night Football" matchup between the Seahawks and Arizona Cardinals, fell 26% and 33%, respectively. But Sunday game windows on Fox and CBS were both up over 20%.
WEEK 8: (10/29-11/02)
Average Audience: 16.2 million (up 3% from 15.7 million last season).
Analysis: The Bucs' "MNF" win over the Giants set at a local TV ratings record in Tampa. Tirico fully expects Brady, arguably the best quarterback in history, to drive big TV numbers throughout the second half of the 2020 season.
"It's the most scrutinized position in all sports. Greatest champion at that position. Did it in one place for so long. But still at a high level and going to do it somewhere else," he said. "It's like taking Bruce Springsteen away from the E Street Band and moving him up to Maroon 5. All of a sudden you're like, 'Oh my god, are you serious?' It's just that. You're taking greatness — and you're moving it somewhere else. You want to see: Is it him? Was it where he was? And you want to see if he can go win another one somewhere else?"
WEEK 9: (11/05-11/09)
Average Audience: 14.8 million (down 2% from 15.0 million last season).
Analysis: The more things changed post-election, the more they stayed the same for the NFL's TV numbers. The league continued to post stronger numbers in the late Sunday afternoon game windows than during national, primetime telecasts.
CBS' late Sunday afternoon telecast of the Steelers' 24-19 win over the Cowboys drew the biggest audience of the weekend, averaging 22.71 million viewers.
But the New Orleans Saints' blowout 38-3 win over the Bucs sent viewers fleeing from NBC Sunday night. Brady's worst-ever career loss averaged 16.9 million viewers, down 23% from the comparable game the previous year.
WEEK 10: (11/12-11/16)
Average Audience: 14.7 million (down 13% from 16.8 million last season).
Analysis: CBS' loss in Sunday's 1 p.m. game window was Fox Sports' gain.
With no competition from a Masters-focused CBS in the early Sunday window, Fox's viewership jumped 73% for the first half of its doubleheader, according to Sports Media Watch. It was also the first time in recent memory that all of the league's 1 p.m. Sunday games aired on a single network.
Fox announced its early games averaged 18.2 million viewers — making it the most-watched regional game window on the network since 2009. It was also the best regional game window ever for Fox Sports Digital, with the average minute audience up 111% to 565,052.
WEEK 11: (11/19-11/23)
Average Audience: 16.4 million (down less than 1% from 16.5 million last season).
Analysis: The post-election return of football fans from cable news seemed to finally kick in during Week 11. With President Trump's legal hopes dwindling, the NFL posted one of its strongest TV weeks of the 2020 season.
Fox's Sunday afternoon telecast of Packers-Indianapolis Colts averaged nearly 23.9 million viewers. That made it the league's second most-watched game of the season after Buccaneers-Saints Opening Weekend.
WEEK 12: (11/26-12/02)
Average Audience: 18 million (up 5% from 17.2 million last season).
Analysis: Nothing like a little family and football on Thanksgiving Day.
Fox's turkey day telecast of Cowboys vs. the Washington Football team averaged a whopping 30.3 million viewers, up 12% from last year's comparable Chicago Bears vs. Detroit Lions. It was the most-watched NFL game of the season and most-watched TV show of any kind since Super Bowl LIV.
NBC's telecast of Steelers-Ravens, originally scheduled for Thanksgiving night, still drew 10.8 million viewers on Wednesday afternoon, according to Sports Media Watch. The game outdrew all but one non-football telecast of the year (Game 6 of the World Series which averaged 12.7 million viewers) not to mention the Rockefeller Center Tree Lighting show that followed.
WEEK 13: (12/06-12/08)
Average Audience: 14.5 million (down 29% from 21.3 million last season).
Analysis: Disney simulcast this week's MNF telecast of Bills vs. San Francisco 49ers on both the ABC broadcast network and ESPN. The extra households paid off. The telecast averaged 14.2 million viewers, delivering the venerable prime time show's second biggest audience of the season. Look for the two sister Disney networks to also simulcast Bills vs. Patriots on Dec. 28.
WEEK 14: (12/10-12/14)
Average Audience: 15.7 million (down 11% from 17.6 million last season)
Analysis: There's nothing like a thriller to kickstart TV ratings. As the Ravens and Cleveland Browns traded punches like a pair of heavyweights, the audience kept growing in the 4th quarter.
Nearly 13 million viewers were watching when Jackson returned to the field to fire a 44-yard touchdown on 4th and 5. The viewership then rose to a peak of 13.4 million as the Browns regained the lead and Ravens kicker Justin Tucker drilled his 16th game-winning field goal with two second on the clock. Cleveland topped all TV markets with a local rating of 39.3. Baltimore ranked second with a 29.6 rating.
WEEK 15: (12/17-12/21)
Average Audience: 13.1 million (down 19% from 16.2 million last season)
Analysis: With Mahomes and Drew Brees going head-to-head, the Chiefs' Week 15 matchup against the Saints was a possible Super Bowl preview. The telecast delivered, averaging nearly 23 million viewers for CBS' in the late Sunday afternoon game window.
WEEK 16: (12/25-12/28)
Average Audience: 13.7 million (up 4% from 13.2 million last season)
Analysis: As usual during the COVID-19 crisis, the NFL's game schedule was a jumble. Rather than playing on Christmas Eve, Fox/NFL Network aired "Thursday Night Football" on Friday. There were three games Saturday on NFL Network and Amazon that didn't draw well.
But the Christmas Day telecast was the gift that kept on giving. Although it wasn't played on Thursday, it was Fox's best "Thursday Night Football" performance since Nov. 19, 2018.
Week 17: (01/03)
Average Audience: 16 million (Down 7% from 17.1 million last season)
Analysis: What should have been a triumphant regular season finale Sunday night turned into a PR disaster.
With the Eagles trailing Washington by only 3 points, coach Doug Pederson tanked his team's chances by inserting third-string QB Nate Sudfeld for starter Jalen Hurts. The Eagles lost — handing the NFC East crown to Washington and outraging a Giants organization denied a playoff spot.
The Eagles' obvious tank job was a bad look for the league, which had flexed the game into NBC's primetime "Sunday Night Football" and constantly harps on the integrity of the NFL "Shield" brand.
NBC's Cris Collinsworth and Al Michaels didn't cover for the Eagles during Sunday night's telecast. "I couldn't do what Philadelphia just did. I just simply could not have done it," Collinsworth said. "You've got men who are fighting their guts out, trying to win the game."
ESPN's longtime NFL Insider Sal Paolantonio called on Commissioner Roger Goodell to investigate the Eagles.
Sources: Sources: NFL, Sports Media Watch, TV networks, Nielsen Media Research, Adobe Analytics, ShowBuzz Daily, Programming Insider, FOS Reporting.