The good news: a new hockey season starts tonight. The bad news: a 10-figure revenue hit before the summer.
NHL Commissioner Gary Bettman said he expects the league and its teams to lose more than $1 billion this year, but emphasized the importance of playing the shortened season — which drops the puck today.
"It would be cheaper for us to shut the doors and not play," Bettman said. "We're coming back to play this season because we think it's important for the game."
Game-day income makes up approximately 50% of the NHL's revenue, but with just 56 games on the schedule and no fans in most arenas to start, the league is making plays for extra cash.
Teams can now add sponsors to their helmets, and the league has added existing partners Scotiabank, Honda, Discover and MassMutual as sponsors of its four re-aligned divisions.
The NHL isn't alone in its revenue shortfalls:
After NBA revenue declined 10% last season, projections suggest losses of up to $3 billion this season.
NFL revenue could drop by as much as $4 billion this season.
MLS took a $1 billion revenue hit during the 2020 season.
MLB lost up to $3 billion during its truncated 2020 season.
The Stanley Cup Playoffs should conclude by July, paving the way for the start of a normal schedule in October — potentially with full arenas.
The New Face of Louis Vuitton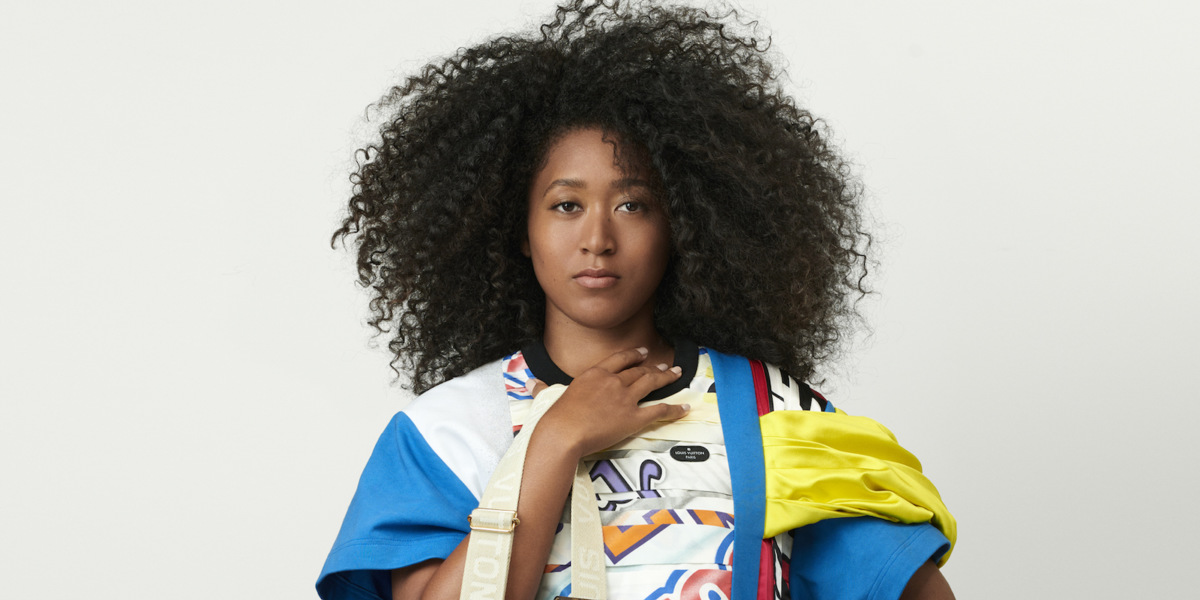 Naomi Osaka was introduced this week as the newest Louis Vuitton ambassador. The three-time Grand Slam winner and world No. 3 is the star of the women's Spring-Summer 2021 campaign.
"Aside from tennis, my most treasured passion is fashion; and there is no brand more iconic than Louis Vuitton," said Osaka.
This isn't the first time the fashion house has dipped its toes in the sports industry.
Louis Vuitton inked a three-year deal with the NBA last January, its first and only partnership with a North American sports league.
Luxury Lifestyle: The LV x NBA Collection debuted on Oct. 12, 2020. Men's Artistic Director Virgil Abloh designed the menswear capsule collection, with products ranging from a $440 pocket organizer to a $6,100 leather jacket.
Last year, Louis Vuitton also became the official travel case provider for the Larry O'Brien trophy, hoisted by the bubble champion Los Angeles Lakers.
Louis Vuitton's parent corporation LVMH has an optimistic forecast for its Q4: fashion and leather goods sales are expected to increase 13% year over year.
SPONSORED
Diverse Startups Get Their Moment To Shine

Six women- and minority-led startups will compete at the 5th annual NFLPA Pitch Day.  Held virtually on Wednesday, February 3, the early-stage companies will compete for access to funding, mentorship and NFLPA assets.
Join in to watch this exclusive presentation as companies pitch their innovations to an all-star panel of judges including entrepreneur, TV personality and retired four-time NFL Pro Bowl linebacker Brian Orakpo, USNWT and NWSL superstar Crystal Dunn, as well as WNBPA President and six-time WNBA All-Star Nneka Ogwumike.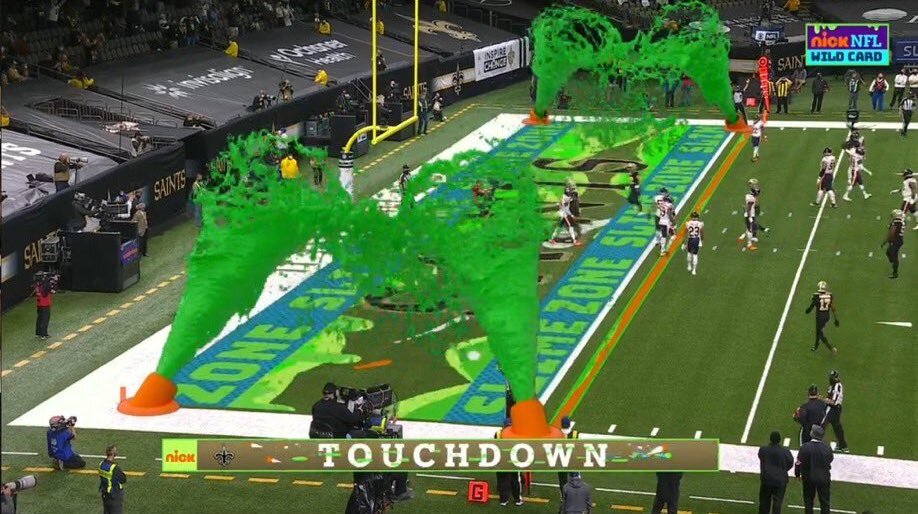 Sunday's NFL wild-card game between the New Orleans Saints and Chicago Bears, simulcast by ViacomCBS on Nickelodeon, averaged 2.06 million viewers — the network's most-watched program in nearly four years.
The game was also a hit on social media, with its virtual displays of characters like SpongeBob SquarePants going viral across platforms. Saints head coach Sean Payton got "slimed" after his team's win.
"Nickelodeon's broadcast of the wild card game was one of the greatest moments in the history of Nickelodeon," network president Brian Robbins told The New York Times. He added that the NFL was "thrilled."
The version that aired on CBS drew about 28.6 million viewers, bringing total game viewership to over 30 million.
Last year's comparable wild-card game, during a weekend with fewer matchups, drew 35.1 million viewers on NBC.
The Nickelodeon game's success could sweeten ViacomCBS' status with the league as new media rights negotiations are underway.
CBS likely landed the rights to the new wild-card round game thanks to the potential of a kid-focused broadcast to draw in new viewers, Robbins said.
ViacomCBS currently pays $1.09 billion annually for its NFL package, but rights fees are expected to double. All of the NFL's current media rights deals expire by 2022.
Disney's Freeform simulcast, an attempt to draw in younger, female viewers, didn't fare as well as the Nickelodeon game. The network's Baltimore Ravens-Tennessee Titans matchup had just 67,000 viewers.
Private Equity's Next Frontier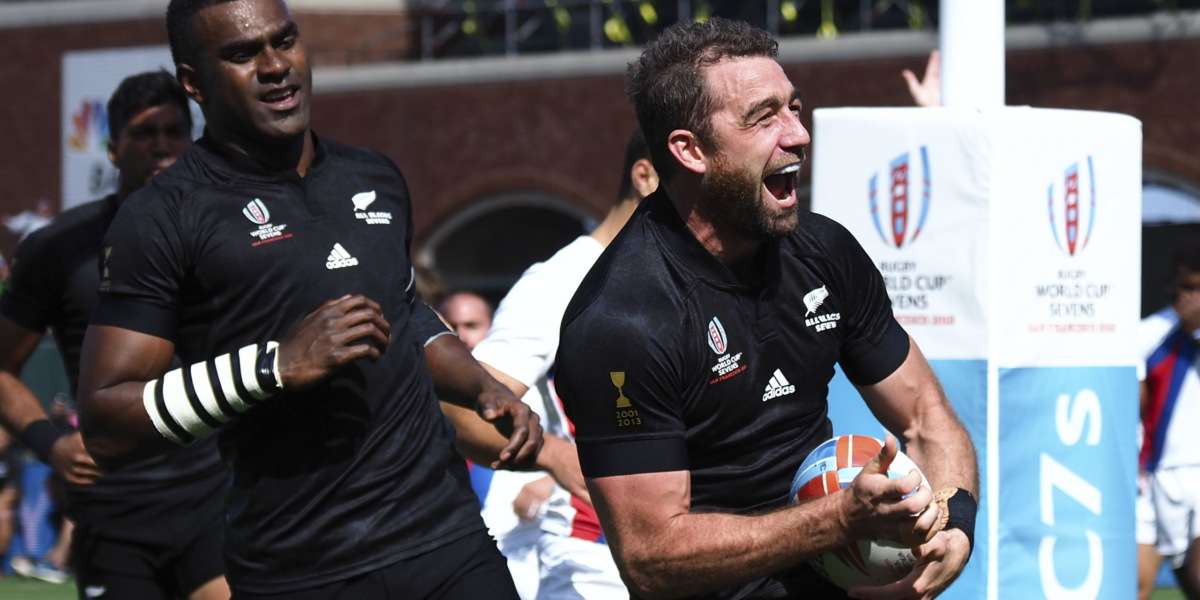 Private equity firm Silver Lake is in talks to take a 15% stake in New Zealand Rugby.
The transaction would value the national rugby governing body at approximately $2 billion.
Silver Lake is mum on the deal, but a New Zealand Rugby representative said the organization is "on a path to look at what an investor partner for New Zealand Rugby might look like — which is a very exciting prospect for us."
New Zealand Rugby would welcome an influx of cash, as it had forecast an $86.1 million decline in revenue last June. The new investment would include setting up a subsidiary for commercial assets, which could lead to new revenue streams.
The All Blacks, New Zealand's national team, are the winningest men's rugby club in the world with three World Cup wins.
Bruin Sports Capital and CVC Capital Partners have also been linked to the All Blacks.
CVC has been particularly active in rugby:
Stakes in England's Premiership Rugby and the Pro14 competition
"Protracted talks" with the Six Nations tournament
Linked to potential investment in the British and Irish Lions
Silver Lake is no stranger to world sports either. In 2019, the firm acquired a 10% stake in City Football Group, which owns Manchester City as well as teams in the U.S., Australia and China.
EVENT
Network and Sweat It Out

Get 2021 started on the right foot by making some new connections and burning some of those holiday calories.
On January 20th at 6 p.m. ET, Nike and FOS invite you to join us for a 45-minute virtual workout with Nike Master Trainer Traci Copeland, presented by CELSIUS. After the workout, you'll have the opportunity to cool down in a networking session with fellow participants. Everyone who joins will be entered to win five (5) cases of CELSIUS product.
Sign up, get moving, and maybe you'll be one of the lucky winners!
Sports-centric streaming service FuboTV is acquiring gaming company Vigtory, accelerating its push into the sports betting space. Fubo expects to launch a sportsbook by the end of this year.
Former ESPN president John Skipper and personality Dan Le Batard are partnering on a politically progressive sports media company. The new venture is described as the strategic opposite of Clay Travis' Outkick, sources told Front Office Sports.
Legends, the hospitality and premium experiences company, announced a majority investment from private equity firm Sixth Street. The deal is expected to value Legends at $1.3 billion including debt.
Would you watch an alternative NFL broadcast?
Tuesday's Answer
84% of respondents made an online purchase in the last 30 days.