The first season of "Formula 1: Drive to Survive" hit Netflix in March 2019.
At the time, it was a moderate success both in the United States and abroad, but its real power was its ability to "penetrate the zeitgeist" as Paul Martin, a co-founder of "DTS" production company Box to Box Films, says.
"Someone just looked at [my credential] and was like, 'Oh my God, you made that Netflix show, we love that show. We've never been to a race before, and we've come to the race,'" he told Front Office Sports in October about filming season two of the show. "We came away from that weekend in Austin like, 'Holy s–t, something's going on here.'"
Five seasons in, "Drive to Survive" is now a certified global phenomenon — one that has both attracted racing fans and created them.
The success of the show led Netflix to contract Box to Box for two more: "Break Point," which follows professional tennis, and "Full Swing," which follows men's professional golf.
It goes beyond the Box to Box cinematic universe, though: For years, the streaming giant has made a name for itself producing prestige sports content, from the Oscar-winning "Icarus," to the Emmy-winning ESPN collaboration "The Last Dance," to "Bill Russell: Legend," which debuted on the platform in early February.
But there's one massive elephant in the room: live sports.
While Netflix continually refuses to take the plunge, with the company's cameras following so much action as it happens, it still needs live sports — they just won't broadcast them in the moment.
The Silicon Valley-based company has barely entertained the idea — even as its competitors, like Amazon, dive headfirst into live sports rights.
While Netflix declined FOS' request for comment on this story, in December, co-CEO Ted Sarandos shared a rare glimpse into the enigmatic streamer's thought process as it pertains to sports.
"We've not seen a profit path to renting big sports," he said. "We're not anti-sports … We're just pro-profit."
Living in the Cinematic Universe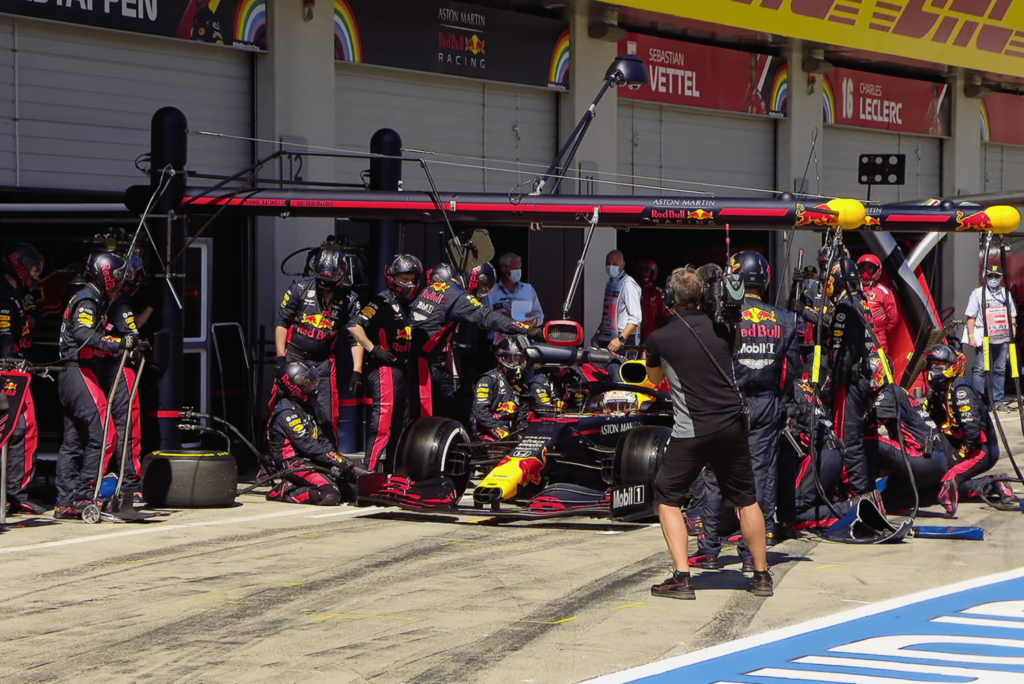 Box to Box's Netflix shows have one common thread: they all follow individual sports.
In motorsports, tennis, and golf, the responsibility of winning — and earning paychecks — falls primarily on one person.
"I think golf being such an individual sport, unlike a team, it's truly on each player's back," "Full Swing" executive producer Chad Mumm told FOS. "The pressure of that is so much more than just the pressure of winning a trophy."
Those emotional stakes, evoked through several different elements and interviews, create just as much drama as a live sports event — just retroactively.
Additionally, in all three sports, athletes are whisking themselves around the globe in private jets, making millions of dollars each week playing a game, while signing endorsement deals and attending to adoring fans.
"This show is a full immersion into a lifestyle that is pretty aspirational," Mumm says. "It's a really fun world to live in. And so for us, there was no reason to shy away."
With three different sports, Box to Box is focused on delivering truly separate entities that are entertaining in their own right.
"We want these shows to have their individual identities, and I think they do because Formula 1 is very different from tennis, is very different from golf," Martin says. "And I think, tonally, you see that in the show."
Ultimately, Netflix's universe cannot replicate the inherent unpredictability of live sports — but the product's strength is its ability to deliver predictable amounts of drama.
Blasts From the Past
In April 2020, Netflix capitalized on the absence of live sports — filling the void by moving up the premiere of its co-production with ESPN Films, "The Last Dance." The 10-part docuseries on Michael Jordan's Bulls — which featured never-before-seen footage from the team's final year — was a global smash hit.
The most recent entry is last month's "Bill Russell: Legend," a definitive look at the remarkable life on and off the court of one of the NBA's all-time most influential players.
"Netflix understands that they want to have a foothold from a global perspective," says the film's director Sam Pollard. "I think they understood, particularly with the success of 'The Last Dance,' that there was an audience for these kinds of sports documentaries … they see there's an appetite for documentaries like this."
The streamer might be asking itself why it needs to broadcast live sports when it can cut up past highlights to make prestige films that go head-to-head with ESPN's prestigious "30 for 30" — "Untold" is Netflix's renowned version — or win awards.
In 2018, "Icarus," the explosive documentary exposing the Russian Olympic doping operation, won the Academy Award for Best Documentary Feature — Netflix's first feature of any kind to take home an Oscar.
"The Last Dance" won the 2020 Emmy Award for Outstanding Documentary or Nonfiction Series.
Reality Check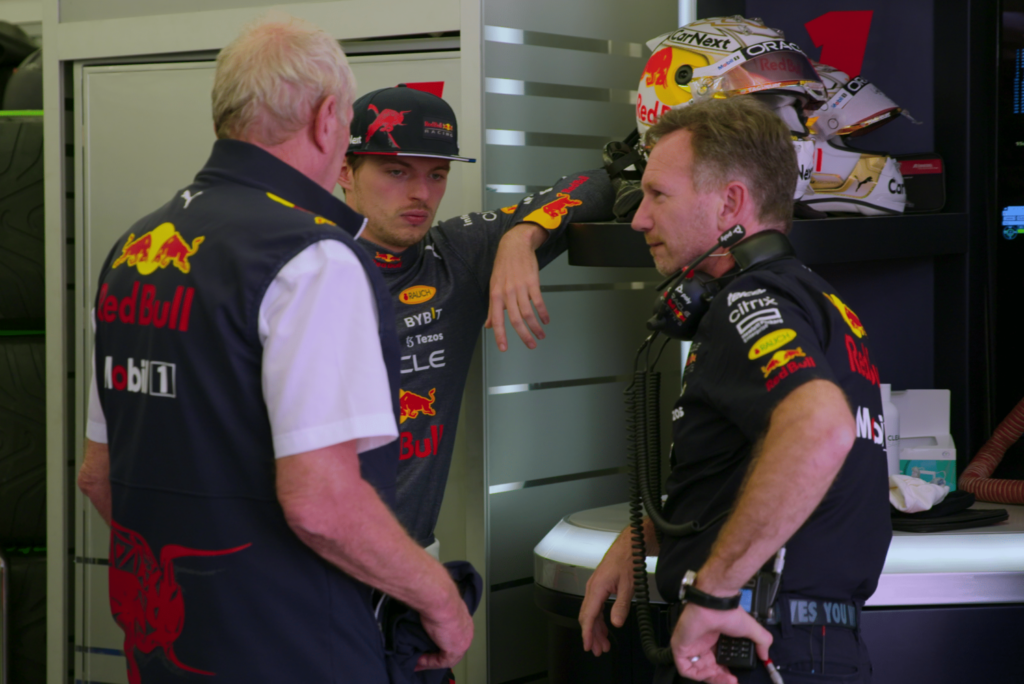 The NFL produced 88 of the top 100 most-watched television programs in 2022.
On the contrary, since its release in January, "Break Point" has struggled to find an audience, not once appearing on Netflix's Global Top 10 and only cracking the Top 10 in three countries: Australia (10), Ireland (9), and New Zealand (10).
Same goes for "Bill Russell: Legend," which did not make a Top 10 in any country.
The available Netflix data, which goes back to June 2021, also notes that no sports film or series is among the streamer's Most Popular, defined as hours viewed in the project's first 28 days.
It's hard to beat the drama and comedy that writers come up with for, say, "Stranger Things" (the most popular Netflix show ever) or "Outer Banks" (the current No. 1 show) — but Netflix will allegedly and controversially go to great lengths to try.
Two-time F1 Drivers' Champion Max Verstappen notably did not allow Box to Box to interview him for the fourth season of "Drive to Survive," saying he believes many of his quotes were taken out of context and the show manufactured drama. The 25-year-old is back for season five — and Box to Box wants to downplay that it was ever a controversy.
"It was never a big thing, I think, for us or him," Martin says. "He did it for a couple of years, decided that wasn't what he wanted to do, probably wanted to focus on becoming a world champion — which he did — and he's decided that it's the right time for him to come back into it."
But even in season five of "Drive to Survive" Netflix can't escape its own contrivance.
In the second episode, a meeting between the F1 team principals gets particularly contentious — leading Red Bull's Christian Horner to wonder if they were "playing to the cameras" and whether the meeting would be more productive off camera.
Mercedes' Toto Wolff's response in the scene: "No. I don't care."
You Get What You Need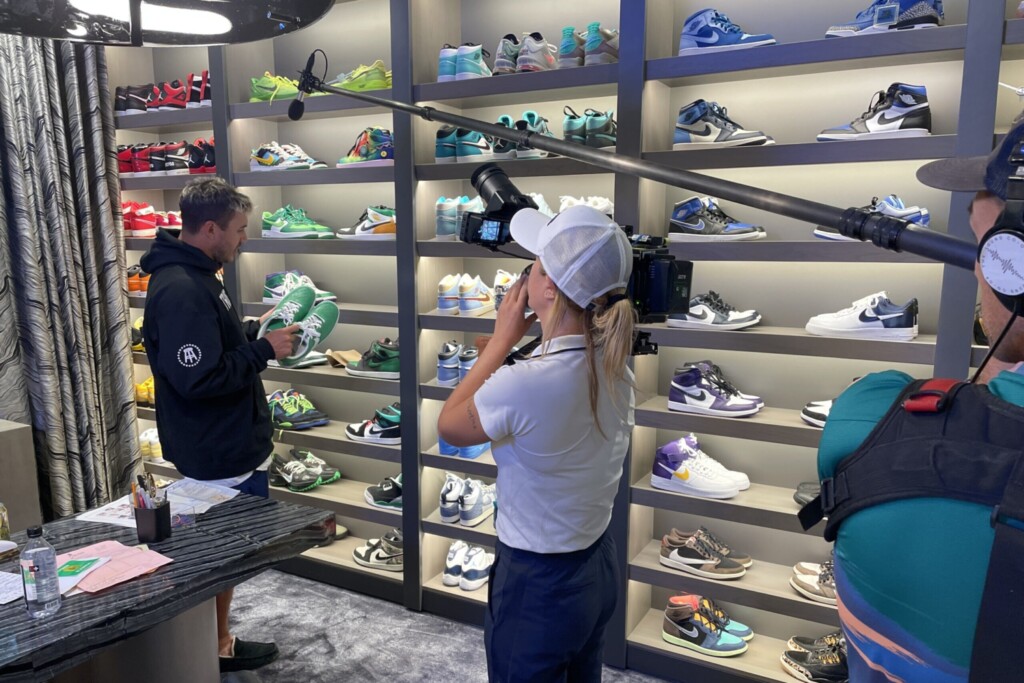 Whether or not its manufacturing drama, Netflix's 40-plus sports documentaries hold one advantage over live sports: The degree to which moments are so deeply personal and candid.
"I think a good story, ultimately, is a good story," says "Break Point" showrunner Kari Lia. "I think a lot of the things that we have in the series — that feeling of loss, about perseverance — you can relate to."
Two-time PGA Championship winner Justin Thomas told FOS that "Full Swing" will work the same way: "I just think it's going to give people that didn't know anything about golf or new viewers a reason to maybe relate to it or connect with it, or with a certain person or player."
Netflix will have its biggest opportunity yet to capitalize on this type of content, as it recently got its hands on American sports' most coveted media property: the NFL.
Of course, the original streamer getting in on live NFL rights would be "dramatically expensive," as Sarandos characterizes it. The most recent NFL media contracts signed in 2021 add up to an eye-popping $113 billion over 11 seasons.
So, no, Netflix won't shell out $1 billion a year for a weekly game, like Amazon. But it will produce its latest drama-filled series from the voices and highlights — gathered this past season — of Patrick Mahomes, Kirk Cousins, and Marcus Mariota in "Quarterback."
"Maybe athletes will realize that we're not necessarily interested in the things that traditional sports media are interested in," Martin says. "We're probably not going to dissect that missed shot in that game, we're much more interested in the emotional side of the journey through these worlds."
Not committing to live sports rights may be an economic decision for Netflix — but its symbiosis with live sports, and our continued appetite for its packaged drama and storytelling, dictates it doesn't need them.