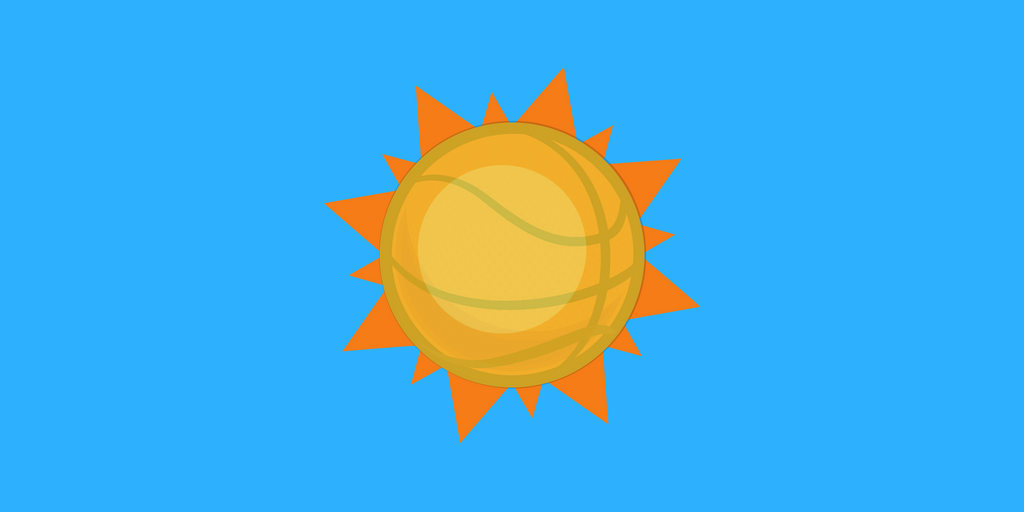 The NBA Summer League drew a record number of fans to UNLV's Thomas & Mack Center in Las Vegas throughout the better part of July, during which teams and the league had a chance to try out new initiatives on the court that will continue to move the sport forward.
That's all well and good, but even more exciting is what took place off the court.
While the Summer League has long been known as a place where players and teams evolve gameplay, this year, ESPN and the NBA took that experimentation to an entirely different level by focusing on new ways to leverage technology to possibly revolutionize the way the sport is broadcast.
[mc4wp_form id="8260″]
As Jason Dachman, chief editor of Sports Video Group, said, "This year, NBA, ESPN, NBA TV and its various partners really seemed to take it to the next level, with a major focus on testing on new live-production technologies and alternative viewing experiences."
Summer League broadcasts have become almost unrecognizable, as they've developed into full-fledged efforts rife with innovation, experimentation, and, of course, enormous production crews.
Patty Mattero, operations manager at ESPN, made sure to point out that "our operations team continues to rise to every challenge. I am extremely proud of the teamwork and accomplishments, especially this year."
She also made sure to explain what made this drastic evolution possible, noting that it's "ESPN's unique partnership with the NBA that enabled us to assist with technical testing, heightening game coverage. At times, this year's operations and technical planning/collaboration felt like a small-time NBA Finals with continued collaboration."
The effort made during the Summer League is yet another example of how the National Basketball Association has continued to stay ahead of the curve as one of the more forward-thinking sports leagues. As Dachman mentioned, "all major leagues are exploring these initiatives, but the NBA is really leading the way, and has always had its eye on the future technologically."
More importantly, the league has also done an excellent job "serving their fans' evolving consumption habits, distributing content and highlights to social media, and offering Mobile View options," Dachman stated.
The league isn't just using new technology for technology's sake, as its broadcast partners have a clear strategy behind many of the "experiments" they're trying.
While ESPN and the league rolled out an extensive list of features, such as a "SkyCam View" similar to what you'd experience in a video game such as NBA2K; "Dueling Analysts," where in-game broadcasts become almost like the conversations you'd have watching the game at a bar with a rival; and a host of others. However, Sports Video Group found something called the "Vertical View" option as the most exciting.
Traditionally, mobile broadcasts are produced with a 16 X 9 horizontal view in mind, which means you're either holding your phone sideways, or flipping it and only filling up a tiny portion of the screen. Yet what the NBA has found is that more fans than ever are watching live games and highlights on their phones, and beyond that, NBA's deep-dive into the data shows that these mobile consumers drastically prefer watching the content vertically.
NBA Broadcast Director Paul Benedict and his team realized that they could do something to make the mobile viewing experience more engaging and better. "We thought, 'what if we just shot a game in 9 X 16 instead of the traditional 16 X 9?' Viewfinders were calibrated, ESPN graphics redesigned, and everything was focused on keeping the ball in the center of the frame," Benedict told Sports Video Group.
Explaining the nitty-gritty of what made this all possible, NBA EVP of Media Operations & Technology Steve Hellmuth dove into what was necessary from a production front to make the innovative broadcast possible by saying, "We're trying to truly cover the game in a more of an up-and-down format."
Hellmuth also explained why something like optimizing the mobile view is such a priority for the NBA, mentioning "obviously, this is important because our data shows that many fans have no intention of ever flipping their phone horizontally to watch a game."
Beyond that, the new Vertical View format also lends itself to being more shareable via social.
"We've all seen vertical video taking off with Snapchat and now Instagram's IGTV vertical-video platform," Dachman stated, "and it's only going to grow from there."
[mc4wp_form id="8260″]
He commended ESPN and the league for paying attention to the data, being responsive, and remaining dedicated to broadcast innovation. "They've embraced that and are trying to figure out how to best produce a game for the 9 X 16 aspect ratio that truly utilizes the full screen," which he pointed out is "yet another example of the NBA being ahead of the curve technologically."
While it remains to be seen which — if any — of these experiments roll out this season, the NBA and ESPN have done a terrific job utilizing the NBA Summer League as a way to improve the fan experience, turning the games in Vegas into what one NBA official called a "content and technology incubator."
Dachman agreed, terming this year's NBA Summer League in Las Vegas an "innovation lab to better engage with fans and their rapidly changing media-consumption habits."