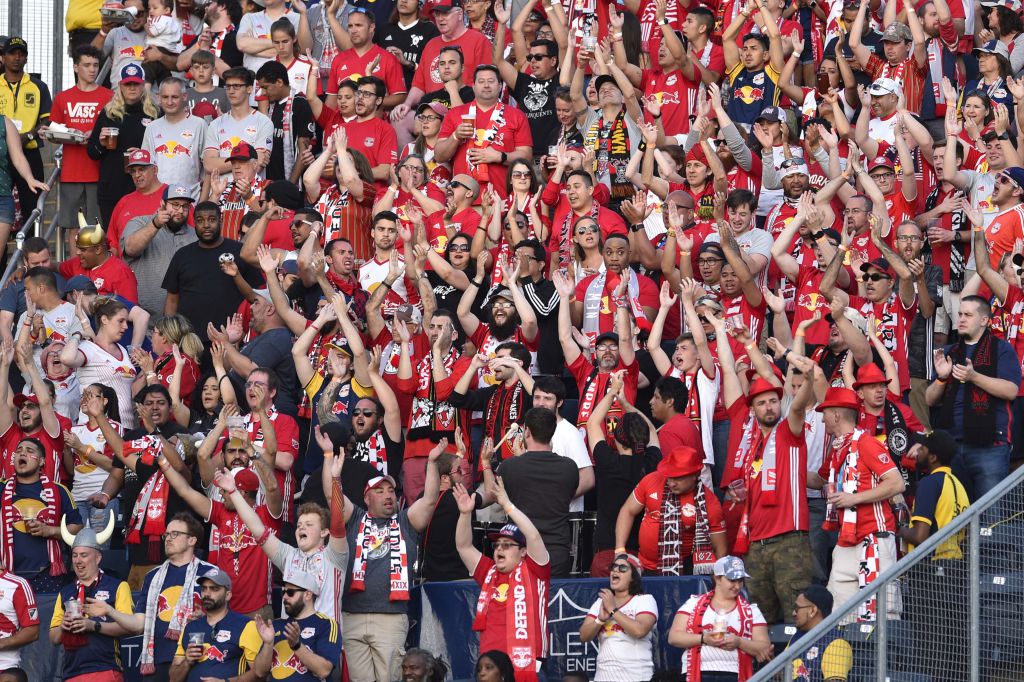 MLS has altered its commercial guidelines, and will now allow its clubs to sign jersey-front sponsorships with companies in both the sports betting and spirits categories. In addition, the league has liberalized several other policies as it relates to partners in those categories, which will also allow for a sports betting or spirits company to sign a stadium naming rights deal with an MLS club.
The changes, which were discussed by the league and its board of governors at its two most-recent meetings in December and April, are effective immediately.
Several clubs across MLS have already been in discussion with companies in these categories ahead of these changes being formalized, sources across the league said — especially in states where sports betting has already been legalized, or is expected to be in the near term. Both the New York Red Bulls and Philadelphia Union have discussed stadium naming rights deals with sports betting companies, sources said, while D.C. United have taken steps towards allowing a sports betting facility operate at Audi Field.
Carter Ladd, senior vice president of business development at MLS and Soccer United Marketing, said the commercial guideline alterations are a reflection of the changing social landscape around sports betting, as well as putting the premium spirits category more in line with the beer and wine category. Ladd acknowledged that MLS clubs area already talking to potential partners in these categories, and said that the league's expectation is that several deals could be signed during the 2019 season, declining to comment further on the state of those negotiations.
MLS signed its first-ever league-level deal in the sports betting category in March, a non-exclusive deal with MGM Resorts.
While no company in the beer and wine category currently has jersey-front or naming rights deals in MLS, there are no restrictions against it.
The change also applies to the sleeve patch sponsor location that MLS will allow its clubs to sell starting next season. Currently, none of the 26 clubs set to play in 2020 have announced a sleeve sponsor yet.
READ MORE: Major League Soccer Seeks Digital Innovation Through Four-Pronged Approach
Beyond jersey and naming rights opportunities, the commercial guideline changes also open up other ways MLS clubs can partner with sports betting companies. For example, a partner in this category would be able to use club markets in connection with its sports book and its advertising, and can also have its brand and logos appear on stadium signage and digital field board advertising. MLS clubs and their local broadcast partners are now also allowed to sell advertising spots to sports betting companies during game broadcasts, and can also create other programming that features sports betting information such as game odds or betting lines. It has also been cleared for clubs to create their own alternate live betting feed.
Regarding in-stadium betting, the change also allows clubs to establish sports betting at their stadiums, either in private lounges or at a property adjacent to the stadium. However, clubs themselves cannot become a licensed sports betting operator, and would instead need to work with a different operator.
Ladd said through the change in the guidelines, the league not only expects to bring on partners that help connect fans in new ways to the league, its clubs and players, but also open up new revenue opportunities as well.
"While spirits is not a top five category for us [in terms of revenue], it's also not super low," Ladd said. "We're fairly confident that with these simple changes, this can double or triple the enterprise value of that category."
Considering the "burgeoning potential of sports betting," Ladd said he expects that by opening this category up for jersey and naming rights deals will "lift the entire enterprise – these are two very lucrative and engaging categories."
READ MORE: Soccer fans prefer full games to highlights, study says
As a general rule, MLS is requiring clubs to make sure that all advertising for sports betting or spirits be directed to an age-appropriate audience for both products, That means no MLS players under the age of 21 can be included in advertising for spirits, and no sports betting or spirits partner will appear on youth-sized replica jerseys or on the front of club youth academy jerseys.
Ladd said MLS will continue to monitor and evaluate its commercial guidelines in the future, as well as how this specific change alters the league and its clubs.
"We think this can be a big differentiator for the league," Ladd said. "Sports betting has been in the fabric of the game for a long time and is something international soccer consumers are accustomed to – we think these changes will put us not only at the forefront of the North American landscape, but also tap into the roots of the game."