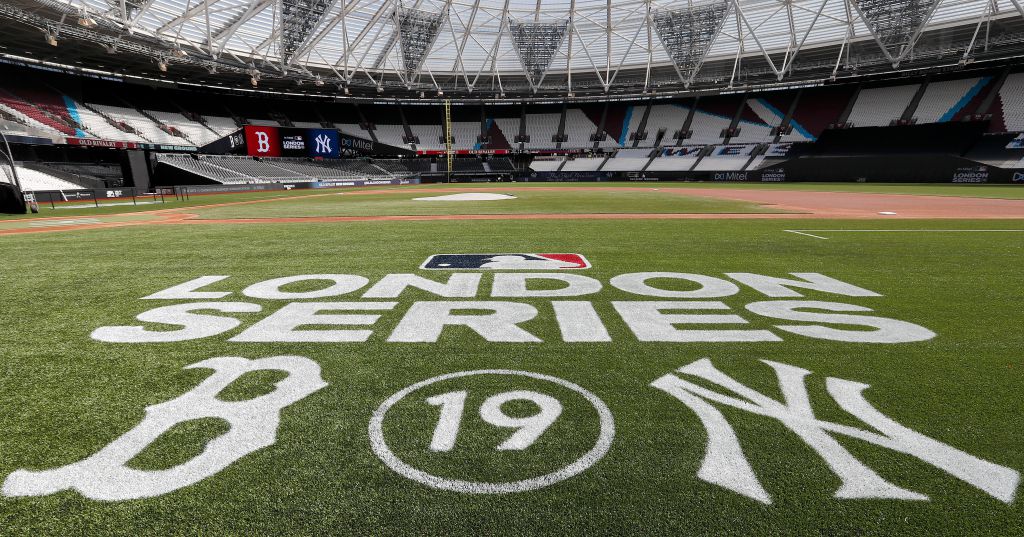 Nothing sells a sport more than an official regular season game. That explains why Major League Baseball is finally invading Europe, with the Boston Red Sox playing the New York Yankees in London on June 29 and 30.
America's Pastime has dreams of turning Europe's 743 million people into baseball's next big global market. But that was never going to become a reality until MLB came directly to European fans with something more than just exhibition games, according to Jim Small, MLB's senior vice president of international.
MLB has played regular-season games in Australia, Japan, Mexico and Puerto Rico. But the league has never ventured across the pond to Europe during the regular season. And who better to make that first introduction than MLB's two most-famous teams: the 27-time World Series champion Yankees and defending champion Red Sox.
"What's so special about this event it's never been done before. We actually played a minor league series in London in the early 90's — but certainly not anything of this stature," said Small. "So playing in a stadium that's never held baseball before, in a city that's never seen a major league team, with our two biggest and arguably most popular franchises coming over – it is a big deal for us. It's an awful lot of work. But so far, I think it's been worth every hour that we spent on it."
While there is still room for MLB to grow its business in the U.S. – for example, ticket sales are down 1.5% to-date in the 2019 season – for the league to truly be global, it means moving into these uncharted waters.
Bringing baseball to Europe for this weekend's two-game series at London Stadium has been no easy undertaking for MLB.
In just 23 days, Small's 150-person team built a baseball field from scratch inside a venue originally built for track and field events at the 2012 Olympics. That involved moving 345 tons of dirt and importing 50 tons of artificial turf.
The little details make a difference. Small recruited 700 local volunteers to teach Brits the nuances of the American sport, including how to sing "Take Me Out To The Ballgame." They'll also remind fans that, yes, they can keep foul balls – cricket fans typically throw the ball back.
MLB will further try to replicate the North American game atmosphere. There will be vendors prowling the stands, selling beer, hot dogs and Cracker Jacks, all of which are atypical for a European venue which typically only sell food and drinks at concession stands. There will also be mascot races like you'd see at Nationals Park in Washington D.C. or Miller Park in Milwaukee.
That work is expected to pay off. Inside of 30 minutes, more than 130,000 tickets were sold for Yankees vs. Red Sox. Roughly 70% were sold to fans who reside inside the United Kingdom, compared to 20% from the U.S.
MLB also has built an email list of 125,000 European fans, according to Small. While many won't be able to attend this weekend, they could buy tickets the next time MLB comes to London: Cubs vs. Cardinals on June 13 and 14, 2020.
Sponsors have lined up for the European games as well. That includes title sponsor Mitel, Taco Bell and Johnnie Walker. Small estimates MLB will reach another 30,000 fans via daily youth activations, such as this week's Play Ball event at Queen Elizabeth Olympic Park.
MLB lags behind behind soccer and the NBA in Europe. But that's partly due to the nature of the sport, according to Dr. Jack Lule, chair of the Department of Journalism and Communication at Lehigh University, who specializes in globalization.
Soccer and basketball are beautifully simple from an equipment perspective, noted Lule. You have one ball, two teams. Players need cleats or sneakers — and that's it. Baseball and tackle football, on the other hand, require specialized fields and all sorts of equipment that's hard to find in Europe.
"It's hard to play them without bats and gloves and pads and a funny-shaped football. Basketball has the simplicity of equipment — and the simplicity of space," Lule said. "You have one round ball. Put a hoop above a garage, or on a pole somewhere, and you have a game. I think that's probably one of the major reasons, if not the major reason, why the NBA's become a global sport."
Small agreed. The single biggest reason why MLB has not previously played regular-season games in Europe is the lack of facilities.
"We cannot fit a baseball footprint into a traditional soccer stadium. It's just too small without pulling out seats and, you know, a lot of people don't want us to do that," Small said.
If you think refitting London Stadium, which is home to the Premier League's West Ham United, was easy for MLB, think again.
This weekend's field will still be wonky. At only 385 feet to dead center, it will be one of the shortest center fields ever for an MLB game, according to ESPN.
Baseball has also been hamstrung by the lack of European players in MLB. One reason why baseball has exploded in Asia and Latin America is the "hometown hero" factor, according to Small.
Baseball fans in those regions are used to watching their top players ascend to global MLB stardom. Think Hideo Nomo, Ichiro Suzuki and Shohei Ohtani from Japan. Or Hispanic legends like Roberto Clemente, Pedro Martinez and Albert Pujols.
MLB has been investing heavily to develop the continent's first breakout star. Over the past three years, players like the Yankees' Didi Gregorius and the Minnesota Twins' Max Kepler have featured at the big league level, and who were born in Holland and Germany, respectively. According to MLB spokesman Michael Teevan, there's another 20 players under contract from nations such as France, Russia, Germany, Italy, Czech Republic, Lithuania, Moldova and Spain.
Small said he is already meeting with two other major European cities about bringing MLB regular season games there in the future. The impact of playing regular season games in Europe will pay off down the line as more kids follow the path of the Berlin-born Kepler.
"When you're having a big event like this, we know we're going to touch some kid, boy or girl, in a way that we wouldn't if we didn't have these games," he said. "So it's going to hopefully bring more kids into the game. And then allow them to follow the path that Max Kepler did."