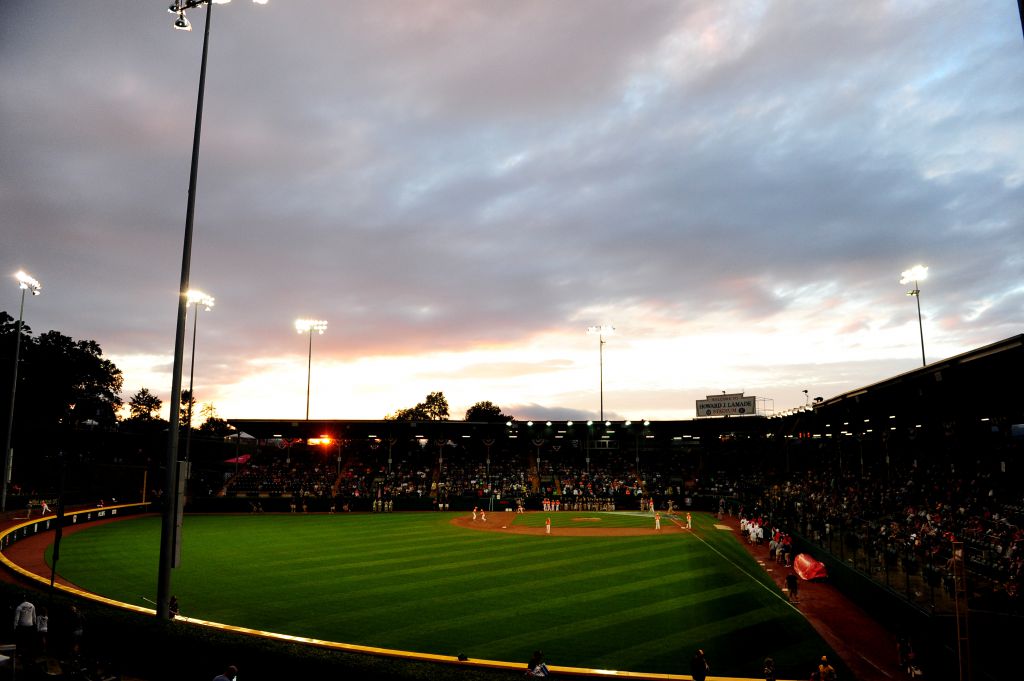 For Chris Chavous, he grew up with a passion for baseball similar to many across the world.
As a former Little League player, and now as the president of Warner Robins American Little League in Warner Robins, Ga., is eagerly tuning in to the 2019 Little League World Series to see youth players who also have that same passion.
But while millions of people have been tuning in to watch these 10-to-12-year-old kids, that hasn't led to higher Little League registration numbers – and Chavous is unsure why.
"I wish I could put my finger down on what we could do to bring up numbers because I grew up playing Little League and it was a great experience in my life," said Chavous. "I don't know, because it seems like everything is being done, it's just not getting the participation out here."
Since becoming president of Warner Robins American Little League in 2015, Chavous has witnessed the continuing drop in participation of a system that, in 2007, won the Little League World Series. After winning that title, he estimates that Warner Robins had roughly 1,000 kids aged 6 to 12 registering for Little League. After his appointment, participation has dropped every year since and, as of 2019, stands at 524.
What's occurring in Warner Robins is no different than what's happening in Little League as a whole. In the 1990s, as many as 3 million kids participated in Little League. Since then, involvement has decreased between 1.5 and 3% annually, according to The Daily Herald of Everett, Wa.
In other parts of the country, communities' Little-League organizations are shrinking annually. The Atlanta-Journal Constitution estimated that Little League participation in the Southeast Region – composed of Alabama, Florida, Georgia, North Carolina, South Carolina, Tennessee, Virginia, and West Virginia – has dropped 43% since Warner Robins' 2007 championship run. The Hartford Courant revealed that the Glastonbury Little League had 947 kids register for either baseball and softball, down from over 1,500 in the mid-2000s.
A recent survey from the Aspen Institute, a non-profit think tank based in Washington, D.C., highlighted the complexity of baseball's relationship with youth. While only 38% of kids aged 6 to 12 participated in youth sports – down from 45% in 2008 – it didn't impact youth baseball. According to Jon Solomon, editorial director of the Aspen Institute's Sports & Society Program, youth baseball participation is the highest amongst kids actively involved in sports.
While he's encouraged by baseball's popularity with the youth, Solomon has noticed a disconnect with Little League. Many factors have contributed to this, he said, especially cost. While some parents spend as little as $0 annually on baseball, others have spent as much as $14,500. The average cost that parents spend on sports registrations and camps is $124.96 and $80.96; for those with budding ballplayers, they pay roughly $165.90 and $99.85, respectively.
"What happens a lot in baseball – and it happens pretty quickly – is as you get into the travel ball culture, some families just can't afford to keep up with it," said Solomon. "Unfortunately these days there aren't as many local community neighborhood leagues providing quality coaching or a quality experience for kids that's also affordable."
Seeking that out, Solomon says, is what forces many parents to enroll their children in travel teams. The immediate increase in quality coaching, competition, and equipment also means that parents are spending more on registration and travel. Despite the apparent advantages of playing travel baseball, both Chavous and Solomon are cautious about it becoming the norm.
READ MORE: ESPN Puts Kids First In Little League World Series Coverage
Solomon believes that, like other sports, some kids in travel baseball aren't developed enough for the commitment it entails. According to him, it exposes every player to a cut-throat environment often enforced by no-nonsense coaches. For those players who need more time to improve, they are forced into a culture that's both serious and, given its round-the-clock schedule, demanding.
"Quite a number of kids, who are in the competitive pathway in that travel culture, probably shouldn't be there," said Solomon. "[They] feel like they have to keep up with the Joneses – but developmentally, they probably aren't even there. [They] can start running into the issues of, 'I'm just not enjoying myself' – there's a lot of expectations to continue playing that can lead to burnout."
"A blessing for the kids that need to be playing travel ball, but a curse for your local rec league," said Chavous regarding the benefits and costs of travel ball in Warner Robins. "We can't play on weekends. I say that because if we did play on weekends, then we would lose even more kids to the travel ball community. We almost have to cater to that so we can keep our numbers at where they're at."
While people in the industry are aware of Little League's perplexing times, many are confident in the direction that baseball is heading. A Wall Street Journal article from February 2019 showed that nearly 15.9 million people played baseball in 2018 – a 21% increase from 2014. Even in Warner Robins, Chavous says that getting six-to-eight-year-olds to play Little League is the easy part. It's getting them to continue into the "Minor Leagues" – for kids aged eight-to-ten – that proves to be most difficult.
READ MORE: From Chula Vista To Maine-Endwell: Two Towns' Journeys After LLWS Triumphs
According to David James, vice president of baseball and softball development at MLB, the league is strengthening its relationship with numerous youth-focused initiatives. Launched in 2015, "Play Ball" was established to bring baseball to those unfamiliar with it. Its website includes a database that shows how kids can play the sport outside of traditional baseball organizations – from playing catch and Wiffle Ball to finding skills competitions like "Pitch, Hit & Run."
Another program intended to drive youth participation in Little League is Reviving Baseball in Inner Cities (RBI). Created in South Central Los Angeles in 1988, RBI was intended to keep 13-to-16-year-old boys off the streets through baseball. In its first season, RBI attracted 180 participants; through 2019, it has grown into an international operation, with over 150,000 players worldwide – boys and girls – ranging from five-to-eighteen years old.
According to James, MLB charges no fees for people to be apart of RBI or run the RBI program out of youth academies. Coupled with Little League's "Grow The Game" grant – a $4 million plan created in 2015 to provide financial assistance to struggling Little League organizations – James believes baseball has done well to make itself more cost-friendly to the public.
"I think that that's something that has started to gain hold and has had an impact on the uptake and participation," said James. "Kids and families that were priced out because of the travel ball circuit, they still have an opportunity and a place to play. When we're talking both Little League and Major League Baseball – it doesn't get much better than playing in either one of those programs."
Despite the annual attention for the world's top teams in August at the Little League World Series, both Chavous and James want growth coming from the ground up. They want to see those younger, unsure players who want to improve through Little League and its development – without paying attention to results.
"The 15 players that are currently playing on a travel-ball team – those aren't the players we need to worry about," said James. It's the kid who's [seven-to-ten years old] and he or she doesn't know yet if they're going to be good. The only way they're going to find out if they are any good is to continue to play more games."
"Everybody who signs up their son or daughter for Little League – the goal is to get to the World Series or even the regionals just to be on ESPN," said Chavous. "That's always been the goal and it's what you hear parents talk about all the time – I almost wish it wasn't there. I wish it would be to develop their kids to be better ballplayers and then get to the goal."