SAN DIEGO — World Lacrosse president Sue Redfern was very clear when she took the podium before a game between the United States and Canada to open the 2023 Men's Championship.
"We want lacrosse to return to the Olympic Games," she said. "We want that to happen in 2028."
That year, the Summer Olympics will return to the United States for the first time since 1996.
Los Angeles would be the culmination of a multi-decade plan to reintroduce North America's oldest sport to the world stage and make it the global, multicultural game it was perhaps designed to be.
"I think lacrosse today has made so much progress," the NLL's San Diego Seals owner and Las Vegas Desert Dogs co-owner Joseph Tsai told Front Office Sports. "There's no reason why lacrosse shouldn't be in the Olympics."
"There were just six countries playing when I first came in [almost 40 years ago]," Redfern told FOS, "and to see it now in 86 countries is just astonishing on the international stage." Eight teams remain out of the 30 that began the Men's Championship.
Lacrosse was contested at five previous Olympics, most recently in 1948 as a demonstration sport with no medals awarded. The sport has slowly built a global presence outside North America — and in 2005, the sport's governing bodies made a collective decision to return in 30 years, Redfern says.
The International Federation of Women's Lacrosse Association and the men's International Lacrosse Federation merged in 2008 to create the Federation of International Lacrosse — which was then rebranded to World Lacrosse in 2019.
"We wanted to be viewed as a serious contender for Olympic inclusion," World Lacrosse CEO Jim Scherr says of the merger and subsequent rebrand. "We wanted to modernize our logo and brand, and change the name to reflect that."
Those were smart decisions: Men's and women's lacrosse gained full International Olympic Committee recognition in 2021, and the sport was one of nine shortlisted for inclusion by the LA28 committee in August 2022.
"We have been the fastest of any international federation to actually get to a shortlisting for a hosted city," says Redfern. "Other federations talk to me and say, 'How did you do that?'"
Aside from the merger and rebrand, Redfern attributes the success to the fact that the U.S. — where lacrosse has its biggest presence — is hosting the '28 Games. Hiring Scherr, a former Olympic wrestler and CEO of the U.S. Olympic Committee, was also helpful.
Now, the tight-knit lacrosse community will anxiously await the LA28 committee's decision to recommend the sport or not — and if successful, the final decision will come at October's IOC Session in Mumbai.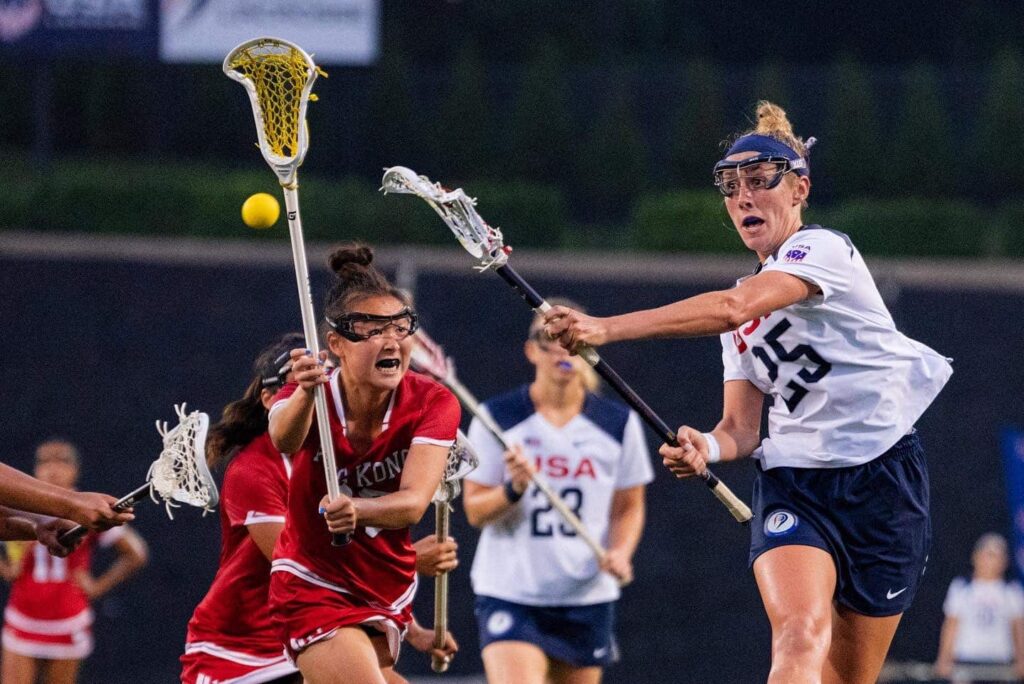 Less Is More
In both its men's and women's iterations, field lacrosse traditionally consists of 10 players per team on a large field, which sometimes leads to low scores and moments of inaction. Box lacrosse (typically only played by men) increases the speed and scoring but doesn't fit the bill for a Summer Olympics, as it more closely resembles indoor ice hockey.
World Lacrosse responded by helping develop "sixes" — a six-per-side field version — combining the best of both disciplines.
"In terms of the visibility and watchability factor, having a closer relationship to an already internationally recognized sport such as basketball, which sixes mirrors very closely, I think is going to be easier for people to get involved in the game," Athletes Unlimited director of lacrosse Abi Jackson says.
Following the 2020 Games, the IOC set a quota of 10,500 athletes who could participate in a Summer Olympics. Fewer players on the field means smaller rosters, which ultimately gives this version of lacrosse a more convincing argument for inclusion.
"If we take a game that we try to get into new countries, smaller countries, sixes is an ideal model," says Redfern. "They don't have to find so many athletes in the first place to get together and start playing. It's a really great developmental game, so it's a core sports strategy that we wanted anyway. Spain said to us after COVID that if we hadn't had sixes, they would probably have folded as an association at that time."
"It's the great equalizer," says Tsai. "You don't have to have all the depth, and it makes the sport more competitive."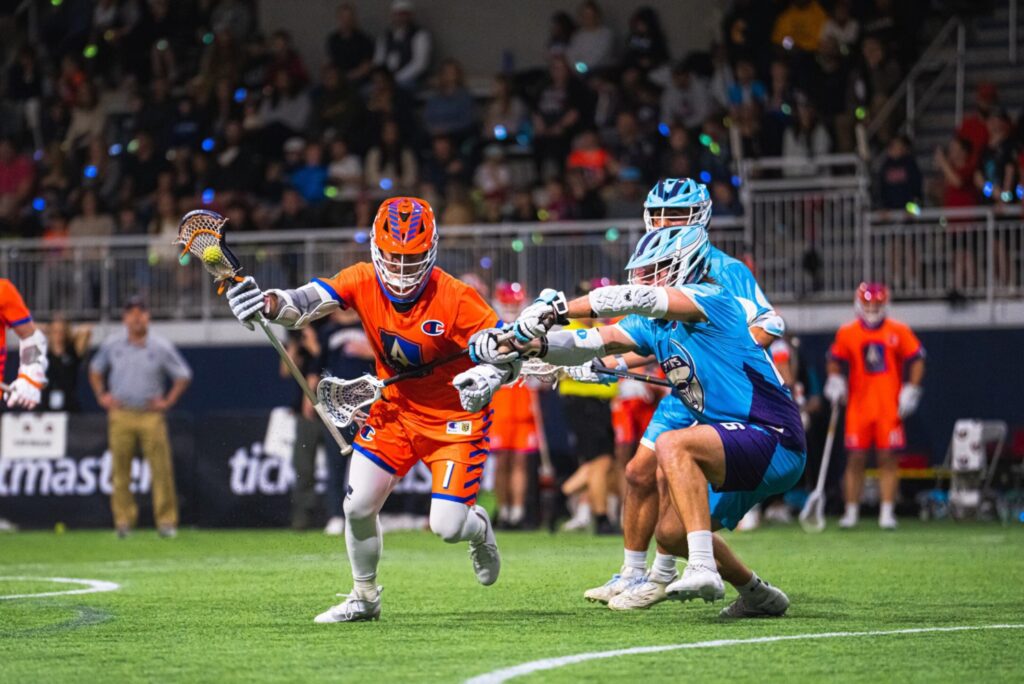 Pro Support
As part of the Olympic push, World Lacrosse has received ample support from burgeoning U.S. pro leagues like Athletes Unlimited, the National Lacrosse League, and the Premier Lacrosse League.
Redfern and Scherr say all three leagues have been cooperative, including meeting with the federation to suggest strategy and encourage players to promote international competition — the best example of this practice being the PLL's Championship Series, an offseason tournament between the league's top teams in the sixes format.
PLL CEO Michael Rabil told FOS, "We can't just talk about [getting to the Olympics], we have to be about it, and we have to invest our own dollars as well to really try to build the sport."
Getting a spot would be mutually beneficial: Softball, for example, saw a significant bump after the sport's inaugural inclusion in the 1996 Games.
"The appeal of being able to watch the USA, Canada, and other countries participate in the Olympic Games for a U.S. audience would strike that chord with thousands and potentially hundreds of thousands of youth in the United States, and would create a resurgence of the growth of lacrosse," says Scherr.
"I think the continued development and the renewed focus on youth participation in lacrosse is only going to drive the sport to a higher quality," Jackson says.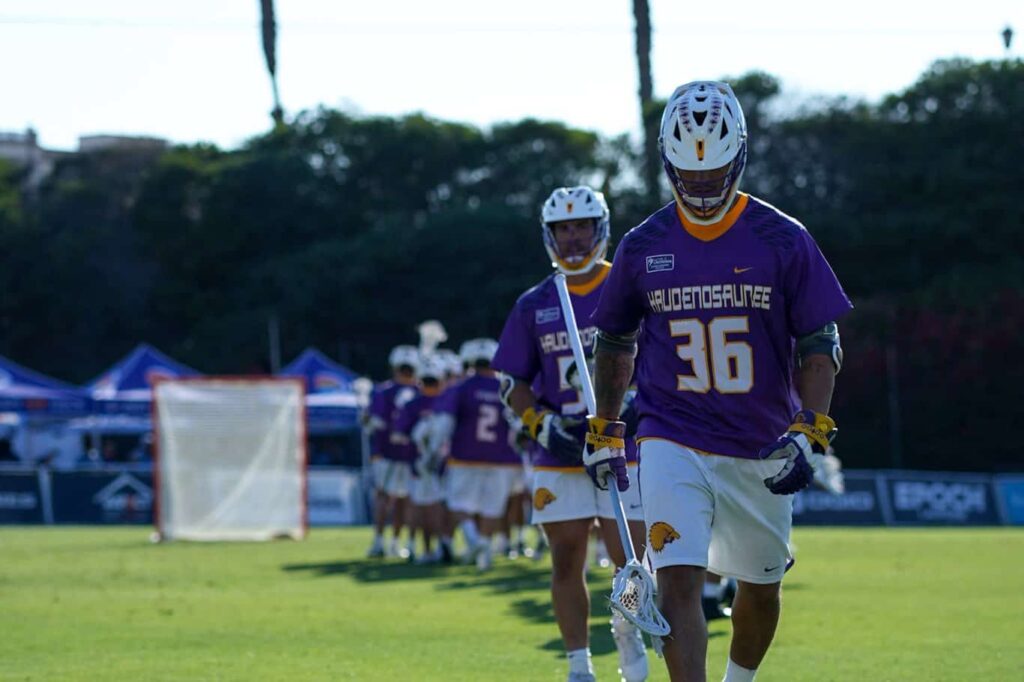 The Olympic Spirit
Lacrosse has one unique argument for Olympic inclusion: It hopes to make the Haudenosaunee the first indigenous nation to play under its own flag at the Games.
The Haudenosaunee Nationals — who changed their name from Iroquois Nationals in 2022 and are representing a confederation of Native American tribal communities — are the descendants of the people who invented the sport in the 12th century.
The organization is recognized by World Lacrosse and was permitted to participate in the 2022 World Games. It's currently unclear whether the IOC would permit the Haudenosaunee to compete independently, but World Lacrosse has the team as part of its Olympic plans.
"Native Americans invented the sport, and that heritage, I think, is something that the Olympic movement really should pay attention to," says Tsai. "The Olympic movement is about inclusiveness and wide participation."
Lacrosse faces stiff competition for an Olympic spot. Other sports on the optional shortlist — such as baseball, softball, and cricket — enjoy wide participation across the globe. And even if lacrosse does make it, it will have to keep pushing to be included in subsequent Olympics, which Redfern says World Lacrosse is prepared to do.
But for now, the Olympic dream is alive and ready for its spotlight.
"The Olympics is the pinnacle of competition," Jackson says. "It's the perfect illustration of the ultimate spirit of athletics and competition."