Compared to baseball, basketball, and American football — which all began in the late 19th century — cricket could be considered an ancient sport. Yet, for all its longevity, it has never truly moved the needle in American sports culture. 
That's about to change.
Cricket originated in the early 17th century in southeast England and owes its initial expansion to British traders, settlers, administrators, and soldiers from the British Army. 
During the early 19th-century colonization, these groups exported the game to other parts of the globe, such as India, Australia, New Zealand, South Africa, Pakistan, and Bangladesh.
Now, professional cricket is about to ship its product to the most prominent sports economy in the world. Major League Cricket — the first official professional American cricket league — plans to launch in summer 2023.
The Baseball Barrier
Today, cricket is the world's second-most popular sport after soccer, attracting a global audience of over 2.5 billion across 180 nations.
Some argue that cricket never became a thing in the U.S. because baseball — being somewhat similar — monopolized any space the British game could conceivably gain. 
But factory settings in American sports have reset dramatically in the last decades, and the pie is getting bigger and fast — creating new opportunities with huge potential for other sports.
Cricket is already popular enough in the U.S. to gain a foothold:
The U.S. has

over 20 million cricket fans

, but most rely on foreign cricket broadcasts at unusual hours. 

The U.S. is one of the world's

top five cricket media markets.

According to SponsorPulse, it ranks

eighth

in the percentage of consumers engaged with cricket worldwide and

third

in absolute population behind India and China.

In total,

63 million

Americans engage with cricket annually — around 40% of those weekly.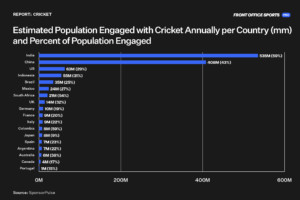 Major League Cricket knows that extensive existing demand is a no-brainer when starting a league.
But first, MLC needs structure, strategy, and resources — which have been years in the making.
MLC Structure
In the United States, MLC holds the exclusive license from the International Cricket Council (ICC) and the national American cricket governing body (USACA) to develop the competition around the T20 form of the game — which lasts ~3 hours — keeping game duration close to other sports Americans are accustomed to watching.
In essence, you can think of the license as a patent of a product — no entity can set up a professional cricket league in the U.S. other than MLC. 
It's a massive competitive advantage because it virtually raises the barrier of entry to infinity, eliminating competition and buying time to build a moat around the product and experiences.
Cricket seasons are usually very short — varying between three-to-six weeks — and players are hired for the duration of the season. Unlike traditional sports, quick cricket tournaments allow the world's best players to rotate around the globe and play in multiple leagues per year. 
The first MLC seasons aim to last three weeks with a total of six franchises, then gradually expand both in terms of venues and schedule. 
Short campaigns are effective talent magnets, as schedule flexibility will allow the MLC to find and pay for the best players in the world.
A Holistic Approach
An integral part of MLC's strategy to establish solid pillars for the major tournament was to own and operate a minor league with youth tournaments and academies — which it's done since 2021.
This holistic, almost fully vertically integrated approach is critical in developing a professional competition. 
It develops domestic players to raise the performance standard. 

It builds rapport with the local community and kickstarts fan bases across MLC's 20 host cities.

It serves as a testing ground for venues.
Apart from the minor league, the vision for the MLC includes investments in stadiums, training facilities, and international talent. Still, the MLC requires capital and resources to make it all happen.
The Value of Key Stakeholders
A new league doesn't begin and end with just the quality on the field — those running the show are crucial.
MLC is backed by many prominent investors, some of which have relevant South-Asian roots, including Microsoft CEO Satya Nadella, Adobe CEO Shantanu Narayen, and billionaire investor Vijay Shekhar Sharma.
Earlier this year, the league raised a gigantic $120 million Series A round from a list of over a dozen well-positioned investors within tech and venture capital — most with ties to Asia.
The segment of a prosperous demographic of investors with such ties is advantageous because they're familiar with the popularity and strength of cricket in Asia, and it's in their best interest to translate these metrics to the American game. 
MLC's management team also includes vital players. The founders have a long history of involvement with cricket in the U.S., having co-founded Willow TV, the largest cricket broadcaster in North America, while also serving as the principals of The Times of India Group, India's largest media conglomerate. 
Willow TV already delivers overseas cricket content to around 4 million households.
The tripod of a solid network of influential personalities, existing media exposure, and strong financial backing gives MLC a much-needed platform — and, thus, a privileged position to kick off the first season.
Setting the Stage
The league is investing heavily in a suitable infrastructure.
The first season has yet to begin, but there's enough evidence to prove that things are moving in the right direction:
Knight Riders Group — the owners of the Indian Premier League (IPL) team, Kolkata Knight Riders —

teamed up

with MLC to build a 10,000-seat stadium in Los Angeles.

There are ongoing conversations to

include

cricket in the 2028 Los Angeles Olympic Games and host the ICC T20 World Cup in the U.S.

Toyota, Sling TV, and Sunoco are

already

sponsoring the minor league.
Looking forward, MLC expects the Grand Prairie — the first stadium, based in Dallas — to be finished by Spring 2023, but it's not stopping there. Several franchise and stadium projects for 2024 and beyond involve the Bay Area, New York, and Seattle. 
Establishing a presence in relevant markets taps into the right audiences, attracts local investments, and builds the MLC's brand reputation.
They aim to have over six international-grade stadiums in critical American markets that can hold over 30 national and international events with over 200,000 annual attendees and generate billions of broadcast views annually.
The Potential
When you blend up the right group of individuals with enough capital, world-class infrastructure, and a holistic strategy, it's substantially easier to keep the ball rolling and generate opportunities in a virtuous cycle. The above will allow MLC to then:
Close

multimillion-dollar deals

with Tier-1 commercial partners, sponsors, and naming rights.

Generate

billions in revenue

from TV rights deals domestically and internationally.

Establish the US as an

international cricket hub for world-class competitions.

Build a brand capable of attracting international partners, capital, and resources.
Major League Cricket is working with the American cricket community to establish cricket as a leading sport in the United States in coming years, explained league co-founder Vijay Srinivasan.
"There are already millions of cricket fans in this country — this investment provides the platform for the sport to thrive domestically and reach those that love the sport while generating new audiences."
Similar to pickleball, the increased interest from private equity in professional sports and the introduction of a more robust digital ecosystem powered by new technologies are now giving other sports a shot at thriving in America. 
The outlook and beginning stages of MLC's approach to deploying resources, leveraging network effects, and building a professional league from scratch are worth monitoring because they will set the tone for expected growth and the likelihood of commercial success in the world's biggest sports economy.