MMA fans all over the globe were glued to their televisions and streaming devices to see Dustin Poirier's compelling TKO of Conor McGregor at UFC 257. Along with the exciting victory, UFC fans witnessed the increased emphasis the company has placed in recent months on broadcast graphics and packages.
For on-air graphics, the UFC utilizes products from Vizrt: the world's leading provider of visual storytelling tools for media content creators in the broadcast, sports, digital and esports industries. Specifically, they have made use of Viz Trio and Viz Artist.
Viz Trio is a control interface that works in conjunction with Vizrt's powerful real-time graphics Viz Engine. Meanwhile, Viz Artist is a powerful graphics design tool that supports a range of production use cases including live motion graphics, virtual sets, augmented reality, and complex 3D animations.
Offering an advanced toolset, Viz Artist creates scenes, templates, and packages for other Vizrt applications to maximize creativity and deliver stronger audience engagement through immersive viewer experiences for all types of programs.
In addition to using these tools to create graphics for broadcasts of big fights like UFC 257 on partner networks, the UFC also utilizes these tools for smaller events, such as Dana White's Contender Series.
Dana White's Contender Series is now produced in an all-new, state-of-the-art facility known as UFC Apex, then streamed on ESPN+, another Vizrt customer.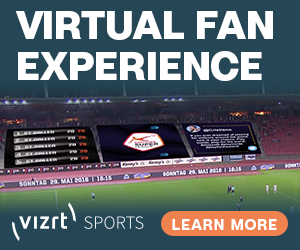 While the impact of COVID-19 temporarily halted the UFC's touring schedule, and some events were moved to a safe zone in Abu Dhabi earlier this year, Apex's capabilities were greatly expanded to accommodate the scale-up of producing a UFC event as opposed to the much smaller production of Dana White's Contender Series.
Because of the size of the facility, UFC Apex was also able to become a broadcast-ready "arena" for events beginning in October 2020. UFC Apex houses three full control rooms for the English, Spanish, and Portuguese broadcast teams.
Brian Wright, Director of Engineering – Live Production at the UFC, spoke with Front Office Sports regarding the brand's partnership with Vizrt, and the advantages of this strategy for growing the brand and the quality of the organization's television broadcasts.
"Now that we've got a broadcast facility and all this equipment onsite, we look at Apex as an R&D lab for us," Wright said. "Because these tools are full-time at our disposal, our staff can start coming up with creative ideas and ways we can continue using the equipment in our broadcasts and even add new production enhancements as we see fit."
Tim O'Toole, Senior VP, Event Production at the UFC, has been with the brand for 15 years and witnessed its production department go through a number of changes. In fact, the production department has become the largest in terms of personnel within the entire organization. The team within this unit combines their capabilities with Vizrt's tools to create a unique experience for the viewer from within UFC Apex.
"UFC Apex has lower ceilings than what you would find in a large arena," O'Toole stated. "We've got a confined space, but by adding virtual graphics from Vizrt, we are able to make the space look a bit larger than it actually is."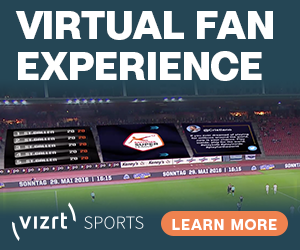 All UFC events now air or stream on ESPN platforms. While in the past the UFC utilized Chyron for graphics packages while partnered with other networks, using Viz Trio allows them to use their own high-quality graphics packages on all broadcasts.
After making the switch from Chyron to Viz Trio, Wright and his team seem content to continue to utilize them in the future.
"We wanted to ensure that there were no technical issues to bring in a separate platform," Wright stated. "Our show is as complicated as can be already.
"Our shows are six to seven hours long just for the event, not including pre and post shows So when you start adding all that up and you add the complexity of doing some additional content or enhancements on a pay-per-view event, you want to try to minimize the technical aspects where you can without compromising the integrity of the product or the broadcast. We're able to do that working with Vizrt."