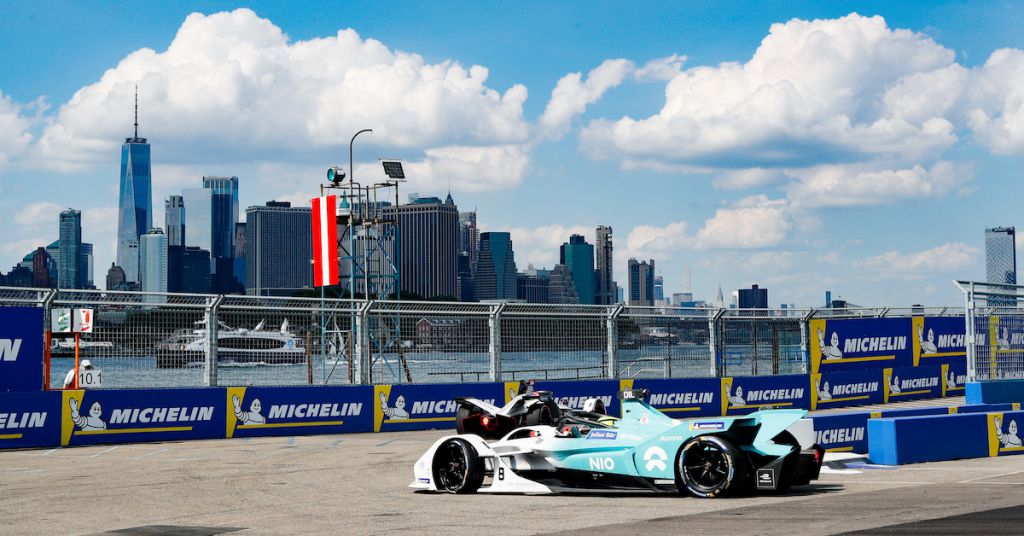 Formula E finished up its fifth and latest season this weekend in New York City, capping off a 13-race circuit as the organization looks toward a promising future.
On the verge of bankruptcy four years ago, Formula E Chairman and CEO Alejandro Agag expects the all-electric race series to be in the black next year as its value surges beyond $1 billion thanks to investments and major brand partnerships like the multi-year, nine-figure deal signed by title sponsor ABB last year.
The races, now using the Formula E Gen 2 car, last for 45 minutes plus one lap, with the battery-powered cars reaching nearly 180 miles per hour. The cars can use technology developed by the manufactures leaving more room for what CMO Jerome Hiquet says are more exciting races and higher chances different drivers win each race.
Along with the non-dominant racing field, Hiquet said a vision for the future is helping drive the audience.
"We have a mission for a cleaner, faster future of motorsports," Hiquet said. "The younger generation seems to embrace the idea of cleaner energy and we have a young, dynamic fanbase engaged with our brand."
Formula E boasts Liberty Global and Discovery Communications as shareholders, and its partners include BMW, Hugo Boss, Heineken, DHL, Tag-Heuer, Allianz and Michelin.
"The partners are definitely joining because they share the vision and purpose behind sustainability," Hiquet said.
Formula E is the exclusive sanctioned electric race circuit until 2039 under the International Automobile Federation, or FIA, the same organization that oversees Formula 1.
"Formula E is the perfect showcase of new electric vehicle technologies and attracts more and more interest in the mass adoption of clean mobility solutions in urban settings around the world," FIA President Jean Todt said in 2017.
Manufacturers — such as German companies BMW and Audi or India's Mahindra — are fielding teams in Formula E and using technology from the Formula-E circuit and starting to implement within consumer cars. Jaguar's new Rapide E, the manufacturer's first electric vehicle, uses a Formula E Gen 1 battery.
"We are getting enormous technology feedback from there," said Anand Mahindra, chairman of Mahindra Group. "Formula E is our laboratory in that sense, and that is part of the reason we will succeed in the high end of electric vehicles."
Harley-Davidson, which used the New York race to debut the company's first consumer demonstrations of its electric motorcycle, is also seeing value from aligning with the circuit.
"Formula E is where we can connect with a global audience who are just as passionate about electric-powered performance," said Harley-Davidson CMO Heather Malenshek.
READ MORE: Team Penske Uses 5G Test To Help Secure Indy 500 Pole Position
Races take the series' 22 drivers to marquee cities across the globe, including Ad Diriyah, Saudi Arabia; Marrakesh, Morocco; Santiago, Chile; Sanya, China; Bern, Switzerland; Mexico City; Hong Kong; Rome; Paris; Monaco; Berlin; and New York City. Hiquet believes continuing to bring the races to large metropolitan areas on each continent is a surefire way to continue growing the sport.
The audience is growing and Hiquet expects that to grow in the coming years. With 80 broadcast partners in 197 territories, including Fox Sports and BBC, Formula E expects its final numbers to reach 400 million viewers this season.
The U.S., in particular, poses a large market opportunity, Hiquet said, potentially taking from major U.S. race circuits like NASCAR and IndyCar, but also attracting new fans drawn to the sustainable mission or the fact the electric motors can race in more urban settings than their combustion counterparts. According to Hiquet, streaming viewership in the U.S. was up 167% year-over-year, averaging 24.6 minutes per unique streamer.
READ MORE: How NASCAR Stays Up to Speed in the Ever-Changing Digital Space
Furthering outreach to fans is Formula E's gamification, which includes its Attack Zone, Fan Boost and Ghost Racing apps. Using the technology, fans can race alongside the Formula E drivers in real-time in virtual reality.
The gamification will continue to have an expanding role in growing the fanbase, Hiquet said, as Formula E also expands into more cities and more television markets.
"We'll keep bringing the sport to fans in new places," he said. "But right now seeing that connection between sport and gamification is highly important. We're pushing that idea in racing, that of course innovation and technology is important, but we want to make the sport even more relevant by bringing sports and gaming closer together."