2021 and the Shift to Digital Fitness
Fitness technology saw an explosion in growth beginning in 2020 due to pandemic-related tailwinds. The shift to work from home included a shift to "work out" from home as well. Due to social distancing measures and government-mandated shutdowns, the fitness world had to reorganize, and participatory classes, facilities, and multi-person sports were all shut down.
The shift in behavior was drastic and, in some respects, has resulted in some secular changes to the industry. According to data collected by International Health, Racquet & Sportsclub Association ("IHRSA"), by the end of 2020:
17% of clubs permanently closed
Industry revenue fell by 58% relative to 2019 sales
44% of the fitness industry workforce lost jobs
These pains were felt throughout 2020, causing many gym operators and trainers alike to embrace or shift entirely to digital.
By some accounts, 2021 started strong—member traffic was up in January 2021 from December 2020 but still down relative to January 2020 prior to any pandemic-related shutdowns. According to the data from the IHRSA, payment processing companies have shown that member joins are down Q1 2021 vs. Q1 2020 by 30-40%. Visits and bookings are also down Q1 2021 vs. Q1 2020. The New Years' gym rush usually provides a strong context for the health of the gym and fitness industry from a participation standpoint. As new year's resolutions tend to center around fitness-related goals, gyms, and fitness studios price their memberships accordingly. As data for 2021 became available, it was clear that while participation was in line with 2020 figures, a behavioral shift has occurred.
According to data from MindBody, the company matched its typical 30% increase it usually sees in the new year, largely thanks to the pivot to virtual workouts. The data indicated about 50% of the platform's virtual bookings shifted to yoga as more customers sought classes focused on mindfulness. All in all, the landscape is changing.
Some more data for context:
The shift to digital fitness has already demonstrated a level of stickiness. The shift online has contributed to what experts have said will permanently change how the ~$32 billion industry works. More than 25% of respondents to a survey conducted by Mindbody will be implementing digital fitness as part of their permanent routines.
Locality matters. According to Mindbody, class bookings everywhere fell as much as 85%. The return to in-person studio classes has been sporadic. This is thanks in large part to a different state and local restrictions which are now being re-implemented in various cities and states. In New York and California for example, bookings were roughly 50% of 2019 numbers, whereas in states such as Arizona and Georgia they were down only 15%.
A November study by ClubIntel of 2,000 U.S. gym members revealed that 54% of those surveyed either froze or cancelled their memberships.
ClubIntel also found that the percentage of members who returned to a fitness facility was considerably lower than what members previously indicated their response would be when facilities reopened – meaning they were less comfortable than anticipated
26% of the members returned to their former facility, which was 8% points lower than what was indicated by members who said they were very likely to return and nearly 40% points lower than what members who said they would be fairly/very likely to return once health/fitness facilities re-opened.
Sensor tower – an app data research provider – published 2020 data on the fitness app ecosystem and cited a 45% increase in app adoption (app store and Google play) year-over-year
From Q4 2019 to Q4 2020, total gross revenue from health and fitness-related apps increased 44% to $209 million (up from $145 million)
Health & fitness apps exceeded $800 million in user spending in 2020 off of 42 percent year-over-year growth, including 55 percent Y/Y growth in Q3 2020
Given the data context, it appears that the change observed in the fitness space is two-pronged, first, on the secular nature of the change.
Sustained Change or Temporary Blip?
The Commuter Effect:
One of the key reasons driving the behavioral change stems more from daily commuting routines than a fundamental change in fitness behaviors. According to an analysis done by the National Renewable Energy Laboratory's analysis of INRIX data, major metropolitan areas have seen a substantial decline from their 2019 peaks.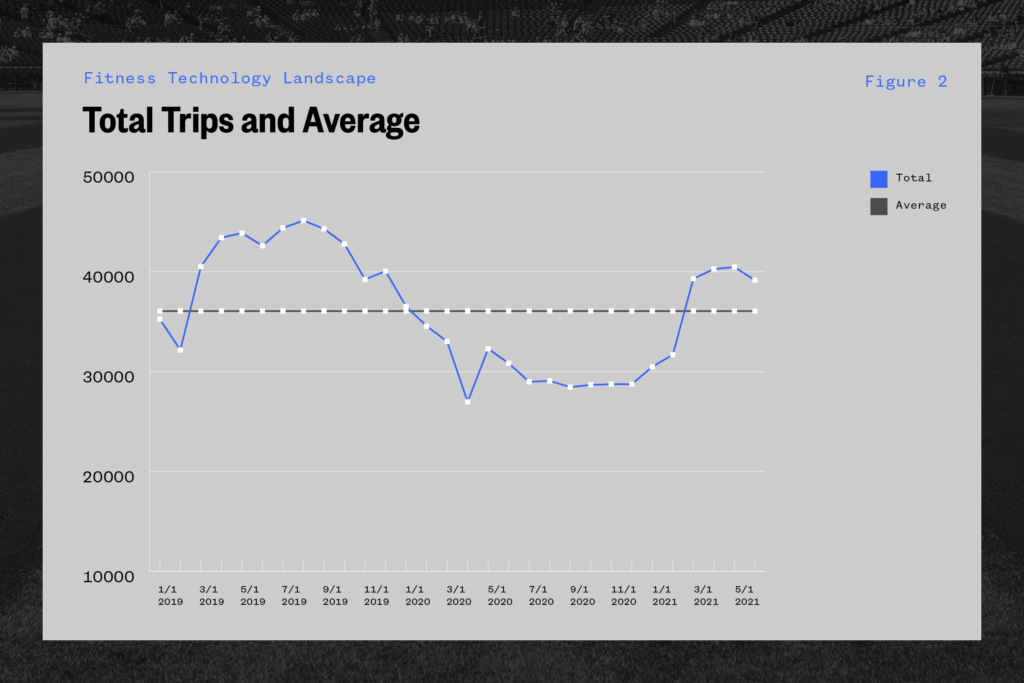 This begs the question of whether this will be a sustained change. While there have been reductions in traffic in the past due to holidays, natural disasters, etc. They have rarely (if ever) been accompanied by a change in work habits as well. According to research from the University of Chicago, Stanford, and Instituto Tecnológico Autónomo de México, 20% of workdays in the future will be "supplied through work from home and telecommuting." In its concluding remarks, the study indicated that most workers expressed a willingness to accept sizable pay cuts in return for the option to work from home two or three days a week. While some employers are still reluctant to make any shift to work from home (see the reaction of certain firms in the banking industry), the economic benefit of employee's willingness to take lower salaries not to return to the office could be financially beneficial.
The lifestyle change – particularly in metropolitan areas of decreased (or eliminated) commutes and increased work from home shifts the fundamental social movement pattern. A sustained shift in mobility – particularly away from metropolitan areas – will likely have a meaningful impact on the total foot traffic within gyms within these metropolitan areas.
The Infrastructure Effect
Another key factor in determining whether or not the change to digital fitness will be sustained is the sunk cost associated with existing exercise infrastructure. Prior to the pandemic, American individuals would spend roughly $397 million in unused gym memberships annually as purchasers liked to keep their membership as a safety net of sorts. About 82.7 million adults spent an estimated $8.2 billion on gym memberships each in 2020. While the total spend may seem larger, this is actually down 76% from 2019, when $34.8 billion was spent on memberships. According to survey data collected by Finder, ff 32.4% of Americans currently holding a gym membership:

43.3% indicate a price point under $30 a month,
14.4% indicate spending between $31 and $50 per month,
8.2% indicated spending between $51 and $70 per month,
3.9% indicated spending between $71 and $90 per month,
And 30.3% spend more than $91 on their memberships
The survey also provided insights into the impact of COVID-19 on behaviors related to home gyms. In terms of weekly participation, nearly a quarter of all Americans hit the gym at least once a week. Of these ~25%, approximately 54% of Americans workout near where they live – stating they have gym equipment at home, an increase of 19.2% compared to year-end 2019.
NPD, a retail consultancy firm, also indicated that the market had grown exponentially through the pandemic. According to their research, Health and fitness equipment revenue more than doubled, to $2.3 billion, from March to October. More specifically, sales of treadmills soared 135% while sales of stationary bikes nearly tripled, depleting inventories.
With an average cost of home gym installation in the $3,000 range – individuals who opted to "build for the long haul" have invested significant "capital expenditure" in their workout from home facilities. Products such as Tonal, Mirror, Peloton, and LiteBoxer all come with the dual costs of hardware purchase plus software subscriptions in order to utilize the technology. Furthermore, the cost of "regular way" weight training equipment (i.e. barbells, dumbbells, plates, bands, etc.) which were purchased during the pandemic came at a high premium. With a shortage of equipment throughout much of the pandemic due to materials costs, logistics issues, and trade restrictions, the cost of equipment was inflated by up to 300% (and in some cases more). Individuals who purchased the main components of their home gym infrastructure during the height of the pandemic likely paid a heavy premium to do so.

Funding Data and the Future
As previously stated, the pandemic drove a wave of home-gym-related purchases. Consumers were not able to attend brick-and-mortar gyms or work with their trainers face-to-face. As the pandemic subsides, vaccination rates increase, and consumers return to physical retail, it seems clear that those consumers will not abandon the substantial capital invested in their home gym infrastructures.
Individuals have not only invested heavily in equipment but also in online digital communities. With fitness app downloads increasing by ~10% year-over-year and individuals' potential relocation to areas outside of their work locations may mean they no longer have access to their old brick-and-mortar gym. Given these factors, we expect omni-channel fitness experiences that combine at-home and in-person experiences are likely to see sustained demand.
Furthermore, the digital fitness category falls within another, more broad category, which has seen equal amounts of growth and hype since the onset of the pandemic. Retail Health & Wellness is the overarching category that encapsulates "digital fitness."
Given increasing healthcare costs, the idea around functional medicine, preventative healthcare, overall improvements in nutrition, and other patient first categories have seen green shoots. The healthcare landscape as a whole is making a shift towards a consumer-first model, with the treatment of chronic disease at the heart of the product offering. The rise and availability of biometric traceability (think WHOOP, Levels, Eight Sleep, Oura, etc.) has made the mobile and digital experience of healthcare, and by proxy, fitness more and more of technology play than simply a health investment. Since 2019 we have seen an explosion of companies within the fitness technology space receive funding and continue to grow in popularity.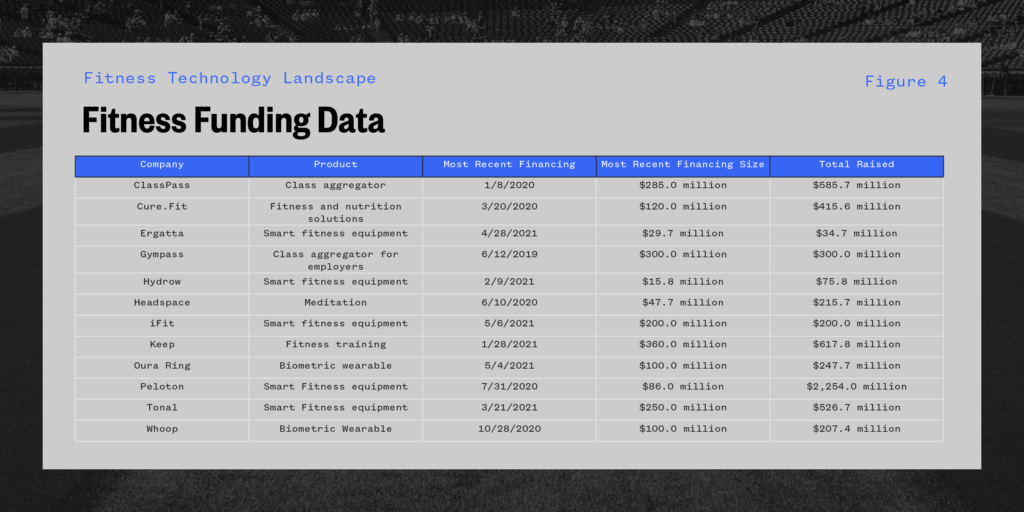 It is clear that funding within the space has been ample – particularly within the last 18 months. Connected fitness, biometric wearables, and "gym enablement" software are all multi-billion dollar markets which are just now coming to the forefront of the consumer consciousness. According to data from McKinsey & Co., the physical recreation and enabling fitness sectors are both $300 billion-plus in market size.
Recreational activities:
Fitness: $109 billion
Sports and active recreation $230 billion
Mindful movement: $29 billion
Fitness enabling sectors:
Equipment and supplies: $109 billion
Apparel and footwear: $333 billion
Fitness technology: $36 billion
While growth is projected at a 6% compounded annually, there is a significant runway as fitness converges with more traditional consumer products in the apparel space and the ever-growing virtual reality and gaming spheres. Gamified fitness and more sophisticated biometric apparel (think Hexo Skin from Asos) will allow for TAM expansion and propel digital fitness to the forefront of the entire retail health and wellness sector.
Where do we go from here?
Whether considering software or hardware, it seems clear that the capital investment in at-home digital fitness technologies will be a forcing factor in changing the overall fitness landscape. Digital fitness does not only enable at-home fitness but is also beginning to find its way into traditional brick-and-mortar fitness. Aside from legacy gyms such as Equinox building out their sophisticated apps and digital product offerings, corporate and box gyms are also investing in some of the digital fitness hardware to bolster their value propositions. The proliferation of digital is here and is here to stay.
The next phase of digital fitness? VR and gamification. Peloton and Zwift are already deep into the gamification aspect of fitness as Zwift has built an entire fitness company around immersing riders in a virtual competitive world. The largest publicly traded digital fitness company, Peloton, has launched a "members only beta" of their new gaming feature. Black Box VR, a Boise, Idaho-based company that focuses on introducing VR and AR into the boutique gym experience, has made significant strides in creating a fully immersive, gamified fitness experience. In the coming months, we expect to see extensive investment in VR/AR applications for digital fitness as two growing markets converge to help solve some issues related to chronic healthcare. As has been the case in fintech (financial technology), retail and institutional are beginning to blend. From a digital fitness standpoint, this means individuals investing capital in order to take agency over their physical well-being.