Growing a larger stateside fan base is one of many goals.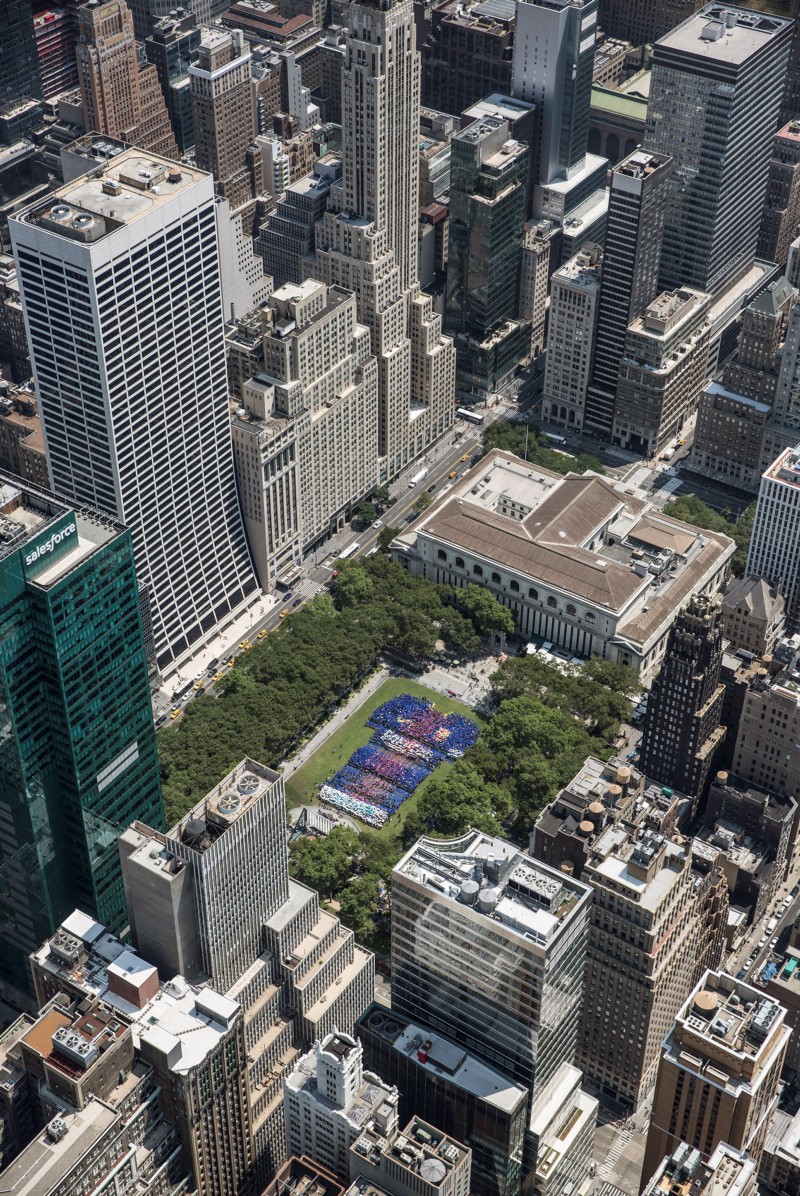 The International Champions Cup is an annual opportunity for European soccer teams to come to the United States and play in a series of pre-season friendlies while developing their American fan base. While the friendlies have no impact on regular season standings, they are a great opportunity to connect with a growing audience that is usually thousands of miles away.
Growing a fan base takes on-the-ground effort and understanding. It's rarely something that happens organically, particularly in such a saturated sports market like the U.S. That being said, how effective is the ICC?
As the saying goes, you get what you put into it. And FC Barcelona is putting in the effort.
The club started off its United States tour with a bang as it took on the reigning Serie A champion, Juventus, at MetLife Stadium in New Jersey.
Before the match, club leaders were on the ground in New York City building relations with fans and leaving an impression on the city that never sleeps by creating a giant human soccer jersey in Bryant Park.
The park takeover was a great way for Barcelona to show off its new jersey sponsor, Rakuten, which officially replaced Qatar Airways on July 1. The Japanese e-commerce firm's logo could be seen from the sky as fans, Barcelona executives (including club president, Josep Mari Bartomeu and CEO, Oscar Grau) and Rakuten CEO Hiroshi Mikitani came together to create the larger than life human jersey.
To create the jersey, the club relied on old fans, like members of FC Barcelona's Penyes (official fan clubs) and FCBEscolas, the club's youth academies, and new, giving them the opportunity to participate in an eye-catching and truly memorable activation in the heart of New York City.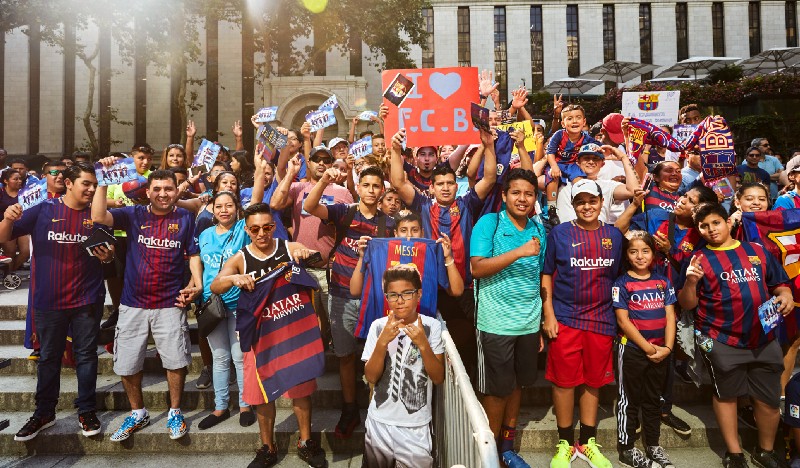 That night, the club took on Juventus. The ICC clash led to a record-breaking attendance of 82,104 fans, officially became the most attended soccer match in New Jersey history.
From the get go, Barcelona has taken the U.S. Tour seriously. One of the biggest indications is that the club is traveling with, and actually playing, the majority of its top-tier players including Lionel Messi, Neymar and Luis Suarez.
To be able to watch the same players you see on TV play in person is huge and a great way to strengthen American interest upon clubs' return back to their respective countries.
https://frontofficesports.com/how-to-boost-a-clubs-brand-start-young-413097c4c575
The absence of a star player, though, can be a disappointment to the average casual American soccer fan who may not be familiar with the up-and-coming players on a club's bench thus reducing the incentive to attend a match.
Such may have been the case when Real Madrid took on Manchester United last weekend in Santa Clara causing a slightly underwhelming attendance of 65,109, notably under Levi Stadium's 68,500-person capacity.
A big factor in the lower-than-anticipated attendance could have been the absence of Madrid star Cristiano Ronaldo, who skipped the U.S. Tour to do promotional work in China, and captain Sergio Ramos.
Additionally, Madrid and Manchester United have been based out of UCLA throughout the tour and have done less eye-catching, on-the-ground activations than other clubs like Barcelona and Juventus, who sent its players and mascot on tours in New York, participated in adidas' Tango League finals, and hosted the Boiler Room: #BlackAndWhiteAndNYC party to unveil the club's new identity to the United States.
Barcelona continued its efforts to connect with the American fan base in the D.C. area before its match versus Manchester United at FedEx Field in Maryland.
As a part of this, the club secured a meeting with former U.S. President Barack Obama, a sign of their commitment to the expansion of Barcelona's presence in the United States.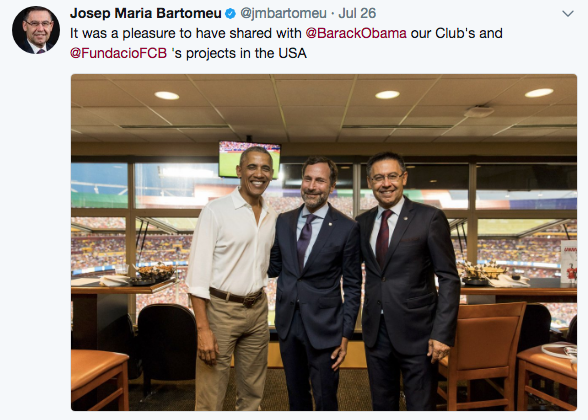 This match, similar to the one in New Jersey, sold out the stadium and brought in crowd of 80,162.
On paper, a tournament of pre-season friendlies doesn't mean a lot. Yet if you look at the big picture, a well executed ICC and U.S. tour can have a huge impact on a club's brand moving forward.
https://frontofficesports.com/how-to-boost-a-clubs-brand-start-young-413097c4c575
Heading into the highly anticipated El Clasico this weekend, Barcelona has laid a strong foundation for itself in the United States ahead of the regular season.
Whether it be the mark the giant human jersey left on Bryant Park, the memories of seeing Messi play live, or a small taste of what European soccer culture feels like in a sold out stadium in New York, Barcelona has made a strong impression on the young and fast-growing American soccer culture.
---
Front Office Sports is a leading multi-platform publication and industry resource that covers the intersection of business and sports.
Want to learn more, or have a story featured about you or your organization? Contact us today.