As perhaps the only part of parent company Disney's business to be unaffected for much of the summer, ESPN's audio department put up record numbers all year with podcasts as niche shows took fans inside the comeback of live sports and the network's top talent leaned into the medium.
The company is now looking to further invest in its podcasting infrastructure, but will do so as it staves off a growing number of competitors in the space.
Podcasts at ESPN were downloaded more than 69.5 million times in October, ESPN said, a record month for the company. Shows like "The Right Time With Bomani Jones" and the company's trio of NBA shows were up more than 100% year-over-year in recent months.
ESPN producers and talent executed a fairly seamless transition to at-home production of podcasts. Creators relied on events like "The Last Dance" and virtual drafts to get through the long, sports-less summer, but now, with just about every major sport in-season or facing news boosts from offseason transactions, the audience has returned for ESPN's audio department.
And after a sweeping round of layoffs this fall, podcasting could be part of the path forward for ESPN, should they choose to keep ramping up investment in digital audio.
As a result of their growth, ESPN will likely continue to "double down" on production value and investment long-term, said Tom Ricks, the company's vice president of audio. "With all of sports happening at this time during this part of the year, we're probably producing more titles on a regular basis now than we perhaps ever have," Ricks said.
The number of podcasts running across ESPN platforms is currently around 30, in addition to on-demand episodes of the network's original and syndicated radio shows.
The radio lineup was also shuffled this summer, with a more diverse set of hosts taking prominent roles in place of veterans like Mike Golic Sr. and Will Cain. Those moves were made in part with an eye on the podcasting space, as with the popular "Dan Le Batard Show with Stugotz," which was shortened to two hours, with digital-only "pre- and post-game shows" being uploaded daily. Those plans will need to be adjusted with the news that Le Batard will leave ESPN in January.
Prior to that announcement, the "Le Batard & Friends" podcasts were successful for ESPN. The group of shows was up 64% year-over-year as of late November, while "The Dan Le Batard Show with Stugotz" itself averaged 91,000 downloads per episode, up 35% since 2019, according to data provided to Front Office Sports.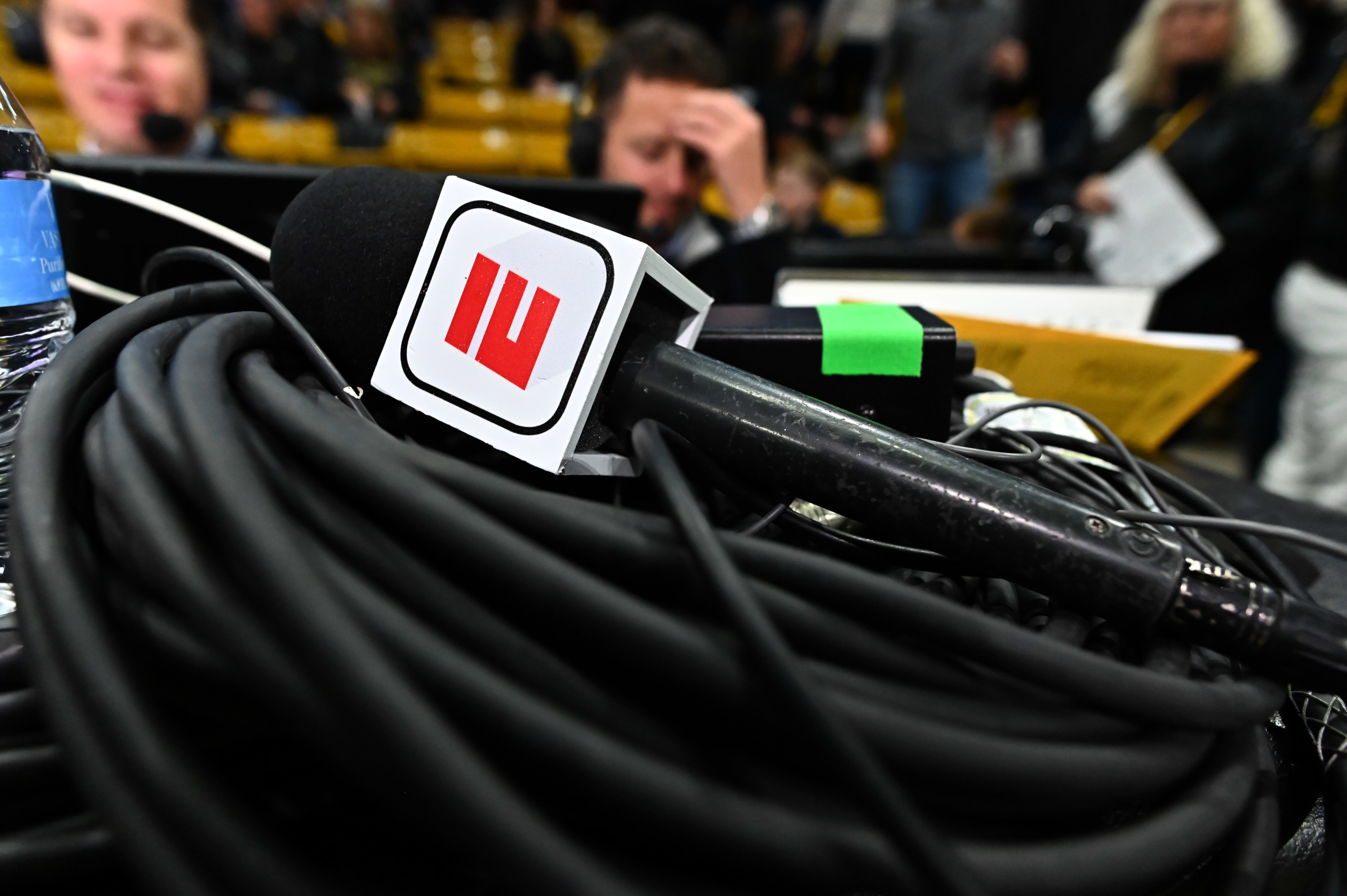 ESPN can still take away from the shows' success the power of personality-driven podcasting, though the pandemic has changed how the company produces podcasts overall. Depending on the audience and the focus of the show, podcasts have continued either virtually or with strict social distancing rules.
Some podcasts like "Around the Rim," ESPN's women's basketball show hosted by game analyst LaChina Robinson, were stopped midstream by the shut down of sports, while others like "Fantasy Focus" had more time to adjust.
"Around the Rim" producer Terrika Foster-Brasby had to pivot to virtual interviews and 2020 WNBA Draft preview capsules right away so as to keep the audience's attention without the college basketball tournaments to reel them in, while "Fantasy Focus" producer Daniel Dopp, like the NFL league office, had the luxury of time.
Foster-Brasby was busy scheduling big-time live shows at the women's Final Four when it was canceled, but quickly realized the show would be a reprieve for its listeners during quarantine. Though Robinson was unable to jet over to ESPN's Atlanta affiliate for studio access, the company sent microphones around as needed, and "Around the Rim" became a homemade product.
"[The audience] never really left," Foster-Brasby said. "We tried to fill in the gaps with content that was loosely women's basketball-centered, so we just did little podcasts to ensure that from a marketing and production standpoint that our audience is still engaged, and from a social standpoint, we have an account that we don't want to limit to just what we're doing."
The same was true for Dopp come NFL training camps, when "Fantasy Focus" hosts Field Yates and Matthew Berry returned to the ESPN campus in Bristol to inform fantasy players about a season which didn't feel real to many until the first kickoff. "Fantasy Focus" was one of the first shows to shoot in-person in Bristol, Conn. after many months of bare-bones "SportsCenter" crews being just about the only folks on campus.
Among the adjustments ESPN made to accommodate the show were limited occupancy for studios, improved ventilation, outdoor post-production meetings, and even storing pillows from the couch where Yates and Berry usually sit for the show to avoid cross-touching by staff and the hosts. Berry's printed stat notes are among the only surfaces in the entire studio touched by multiple people.
The "Fantasy Focus" crew, which also includes coordinating producer Ed Eck and guest stars Stephania Bell and Mike Clay, understood the fortune they had getting the chance to work when others cannot, and to go through the fantasy season with fans yearning for a distraction.
"To say you experience every emotion on the gamut of emotions, at one point in time, you feel it," Dopp said. "I'm all about being able to get back and have some semblance of normalcy, it's definitely a big thing the way that it affects people's mental health, socially distancing and quarantining, and I feel that.
"As football came around, that changed and it was like, alright this is back and we can grab onto this. … As sports fans, we were so starved and there's this thing that's actually in front of [us], [we're] just going to consume it 125%."
For a show like "The Right Time," which features veteran radio host Bomani Jones either going solo through the sports-adjacent news of the day or bringing on a relevant guest for an interview, the transition was more seamless. In fact, there hardly was one.
"Being able to do it from home in a virtual format where Bomani can actually see his guests, it kind of simulates that face-to-face with your guests and being able to have a level of communication where non-verbal cues can be given and it enhances things," said Gabe Basayne, the show's producer.
"That's a cool thing, because we are separated geographically, so as close as our relationship may be, getting to see him makes the communication that much easier, makes the show flow in a different way."
The other way in which Jones' show was so well-equipped to roll with 2020's numerous punches was that his commentary has always threaded the needle between social commentary and sport. That made it a natural transition when those worlds collided in the aftermath of the police killing of George Floyd on May 25.
Jones is a go-to voice on these and other topics, and the loose, conversational nature of "The Right Time" made it an even better format for his thoughts on issues like racism and police brutality and how they intertwine with sports than "High Noon," the television show he co-hosted until February.
Just as Jones was already set up with a microphone at home when the pandemic hit, he also had a built-up trust with his audience and was ready to tread into social issues more aptly than most ESPN talent.
"That's something the audience expects from Bomani, so there wasn't anything different for us," Basayne said.
Podcasting has proven to be a particularly natural place for Jones' talent. Perhaps as a result, "The Right Time" listenership is up 134% as Jones puts more focus on podcasting.
Unlike talent on shows like "The Six" or "First Take," ESPN has given more freedom to podcast hosts to touch on social and political issues. This was illustrated starkly when Le Batard, who often departs from the company line, went viral in late spring when he re-enacted the final moments of Floyd's life on his show.
For Robinson and Foster-Brasby — two Black women — the world of women's basketball provided an easy outlet for such conversation on "Around the Rim."
"People very much know that we're upset about what's happening and that there are just some things that we can't say that our guests can say, and that we all share the same sentiment in that," Foster-Brasby said.
Still, there is always a give-and-take even when the medium allows for more opinionated, wide-ranging takes, though Ricks trusts his talent.
"It's always in the back of your mind," Ricks said, "[But] I work at ESPN and these are professional broadcasters and professional sports talents. They understand the concept of how to have the right types of conversations."
Yet even as ESPN aims to be driving conversation with thoughtful hosts and a growing digital infrastructure for audio, the podcast marketplace is increasingly competitive.
Just this spring, the man who in many ways introduced ESPN to podcasting, Bill Simmons, credited the podcasting strength of his company The Ringer with being ready to react at any moment to the sports, pop cultural, and political news of the moment, something ESPN does not always do with its podcasts.
The Ringer has only increased its footprint since being sold to Spotify last spring for roughly $200 million. Even innovations like The Athletic's "Headline" podcast, populated by small blurbs from a rotating cast of reporters from the site, could pose a challenge to ESPN, which tends to use television to react and podcasts to explore.
ESPN is careful but eager in crafting podcasts around popular talent, making sure hosts have put genuine thought into the type of show they want to make while also capitalizing on talent with large followings.
"The brand of ESPN is incredibly powerful and well-known," Ricks said. "That being said, in the podcast space today, people migrate and find someone they like. … It largely comes back to the talent and the people [who] are behind those shows developing a connection with the listener and continuing to feed that relationship over time."
In addition to personality-driven shows or those centered around sport-specific insiders, ESPN will continue to add projects to the "30 for 30 Podcasts" feed, as well as a new show called ESPN "Investigates," which was launched with a project by long-form journalist Wright Thompson.
Still, as companies like Spotify and iHeartMedia invest in content creation and advertising infrastructure, ESPN also faces an industry in which it wouldn't have the vice grip on the audience that it has in the sports television space. ESPN sells ads in-house and brings expertise in that space from radio sales, but a bumpy transition from radio to digital audio challenged the company in recent years, said former producer Steve Ceruti.
When he produced "SVP & Rusillo," as well as Ryen Russillo's solo podcast, Ceruti grew frustrated by ESPN's slow uptake when it came to monetizing podcasts, even as the company pushed the medium.
"[The perception] was that radio is the bread and butter and radio brings in money," Ceruti said. "It did seem like other companies, their main source of income is podcasts. [We always wondered,] 'Why are we not there yet?'"
Indeed, Simmons sold The Ringer to Spotify largely on the back of its successful audio arm, while popular shows like "The Pat McAfee Show" or Barstool Sports' "Pardon My Take" appear well-funded by sponsors despite far less corporate backing than ESPN provides.
Hosts like Russillo and Le Batard or even Cain seem to gin up internal controversy in the company when they veer off course, even as they remained popular enough to stay on-air for years. No one at ESPN is allowed to push the envelope as much as, say, Big Cat and PFT Commenter do on Barstool's "Pardon My Take."
"I think people [at ESPN] sometimes wonder if they can be true to who they are and can't be as edgy as [other shows]," Ceruti said.
While the brand is clearly strong, as Ricks noted, and ESPN boasts talent that other production companies cannot match, the coming years will dictate whether they can win this space the way they do television and radio.
"ESPN is always going to be what it is, but it's whether or not they're going to be a dominant player in the audio field," Ceruti said.