Emmanuel Acho is enjoying a meteoric rise in sports media. The 30-year-old Acho is poised to land his own solo show from Fox Sports, said sources.
The ex-NFL linebacker currently co-hosts FS1's "Speak for Yourself" with Marcellus Wiley. It hasn't been decided whether Acho will host "SFY" on his own or get a new program as part of a revamp of FS1's weekday studio show lineup. Fox declined comment.
On his own, Acho also created the popular video series, "Uncomfortable Conversations with a Black Man," which seeks to educate people on social justice issues.
Among his high-profile guests was NFL commissioner Roger Goodell, who used the platform to express his regrets about how the league handled the Colin Kaepernick-inspired player protests for racial justice. The series has attracted over 500,000 subscribers on YouTube.
Acho has a small army of fans on social media, with 1.4 million followers across Twitter, Instagram and Facebook. The son of Nigerian immigrant parents has also scored a national ad campaign for the luxury automaker Lexus, along with Tiffany Pham, founder and chief executive officer of Mogul.
Like fellow Fox Sports star Michael Strahan, Acho is making strides in the world of entertainment. ABC recently tabbed him to replace Chris Harrison as host of "The Bachelor's After the Final Rose" episode in March.
The Dallas native jumped to Fox Sports last year from ESPN, where he gained studio experience on shows like Mike Greenberg's "Get Up" morning show. 
The former University of Texas star broke into the sports media business in 2016 with ESPN's Longhorn Network. FS1 hired him for SFY after original co-host Jason Whitlock turned down a contract extension with no raise.
Acho is highly thought of inside Fox. Landing a solo headline gig would put Acho in the same league as Fox's biggest star, Colin Cowherd, host of the "The Herd with Colin Cowherd."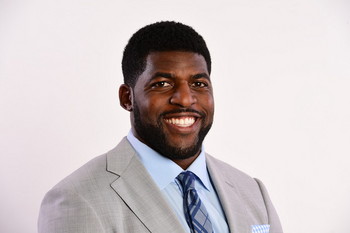 With Troy Aikman musing about leaving sports TV for a front-office NFL job, Acho could be the heir apparent to the ex-Dallas Cowboys quarterback on Fox's No. 1 NFL broadcast team with Joe Buck. If Aikman moves on, Acho would likely battle it out with newly hired analyst Greg Olsen for the top job.
"I think I'd be really good if I did it. I've never gone into anything not expecting to be successful," said Aikman about becoming an NFL team executive on a podcast with Cowherd. "Working hard doesn't faze me, so I'd put in whatever time was required. With all that being said, is it the life I want? That's what I can't answer."
Another option: the 54-year-old Aikman could slide over to the "Fox NFL Sunday" pregame show, opening up the top game analyst gig for the younger Acho. "Fox NFL Sunday" has been the top-ranked pregame show for decades. But it could use a shot of youth to go along with 72-year-old Terry Bradshaw and 77-year-old Jimmy Johson.
Meanwhile, FS1 is also considering solo projects for Skip Bayless, the provocative co-host of "Skip and Shannon: Undisputed." Among the most intriguing projects on the board is a Judge Judy-like courtroom show where the self-styled king of embrace debate judges sports arguments.