In the News
The New Consumer, published by Dan Frommer, released its 2022 mid-year consumer report on July 13. The report identifies key consumer trends and preferences that have developed over the course of the first half of 2022. One of those trends: is a shifting interest in plant-based alternative foods. From bioengineered proteins and healthy beverage alternatives to 3D-printed options, consumers are increasingly exploring plant-based options. 
While the survey provides valuable context to the changing preferences of consumers, there have also been large moves in the capital markets that indicate that some of the largest firms are strategically adopting consumer behavior. Kellogg's, one of the world's largest manufacturers of consumer packaged food goods, announced in June that it would be strategically splitting its enterprise into three verticals. 
Snacks

Cereals

Plant-based foods
The move comes as the grocery industry is undergoing massive changes with the rise of delivery services, surging energy prices, and a reconfiguration of the supply chain. The shift will allow Kellogg to focus on its biggest and fastest-growing business line: Snacks were responsible for 80% or $11.4 billion of sales last year.
It will also allow the newly formed plant-based foods division (such products generated $340 million in revenue last year) to focus on R&D. Kellogg's plant-based division will use Morningstar Farms as its anchor brand. The new public entity will give investors an option other than Beyond Meat. 
Consulting firm EY-Parthenon has also provided some market forecasts that cast plant-based alternatives in a favorable light. According to the consulting firm, the alternative meat market could reach 9% market share by 2030. Furthermore, the report indicates that fermentation-based meats (using biomass) could reach cost parity with traditional meat as early as 2024. 
Then there's venture capital. This year has seen some significant deals for plant-based protein startups. 
In January, Redefine Meat raised $135 million in a Series B led by Hanako Venture Capital and Synthesis Capital. A month later, Next Gen Foods secured $100 million from investors, including K3 Ventures and GGV capital. So far this year, $586 million in venture funding has been invested worldwide across 52 deals, according to Pitchbook data. 
New Consumer Survey
The Consumer Trends midyear report highlights the fact that plant-based meat specifically has "potential for mass adoption," but predicts that more innovation will be required for scale. 
In the report, Beyond Meat is used as an initial proxy for the overall adoption curve of plant-based meats. Since the company's debut in the public markets in 2017, revenues have steadily increased (20% YoY growth) through late 2020. Since then, Beyond Meat (and by proxy the plant-based food market) is facing near-term plateaus. These plateaus are due in large part to broader market concerns, not a shift away from new consumption patterns.
According to the survey, about a third of U.S.-based consumers anticipate that they will eat more plant-based foods, particularly when it comes to protein alternatives. This behavior is most prominent in millennials — with 48% of respondents indicating definitive plans to adopt more plant-based alternatives.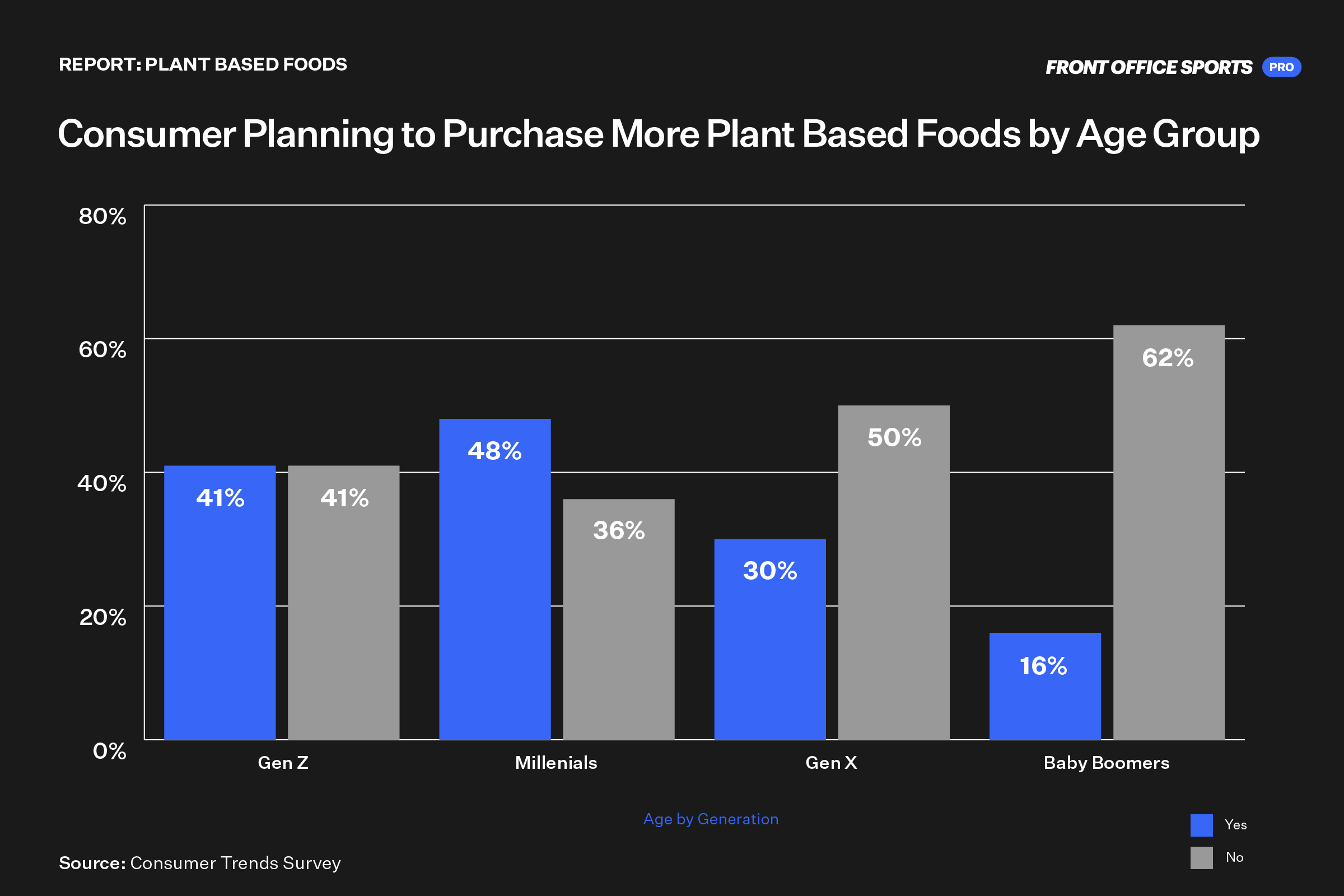 Additionally, when it comes to income brackets, the consumers most interested in adopting the behavior are also the highest earners. The survey showed that individuals who make more than $150,000 per year had the highest interest (55%) in adopting more plant-based alternatives in food consumption and purchases.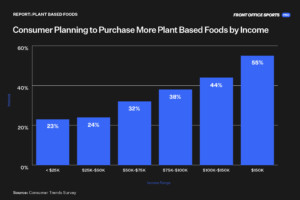 And when it came to overall interest in the idea of changing consumer behavior, most respondents indicated that they would be at least somewhat interested in plant-based alternatives. Baby boomers were the only demographic that has a lower than 50% interest level in adopting plant-based alternatives.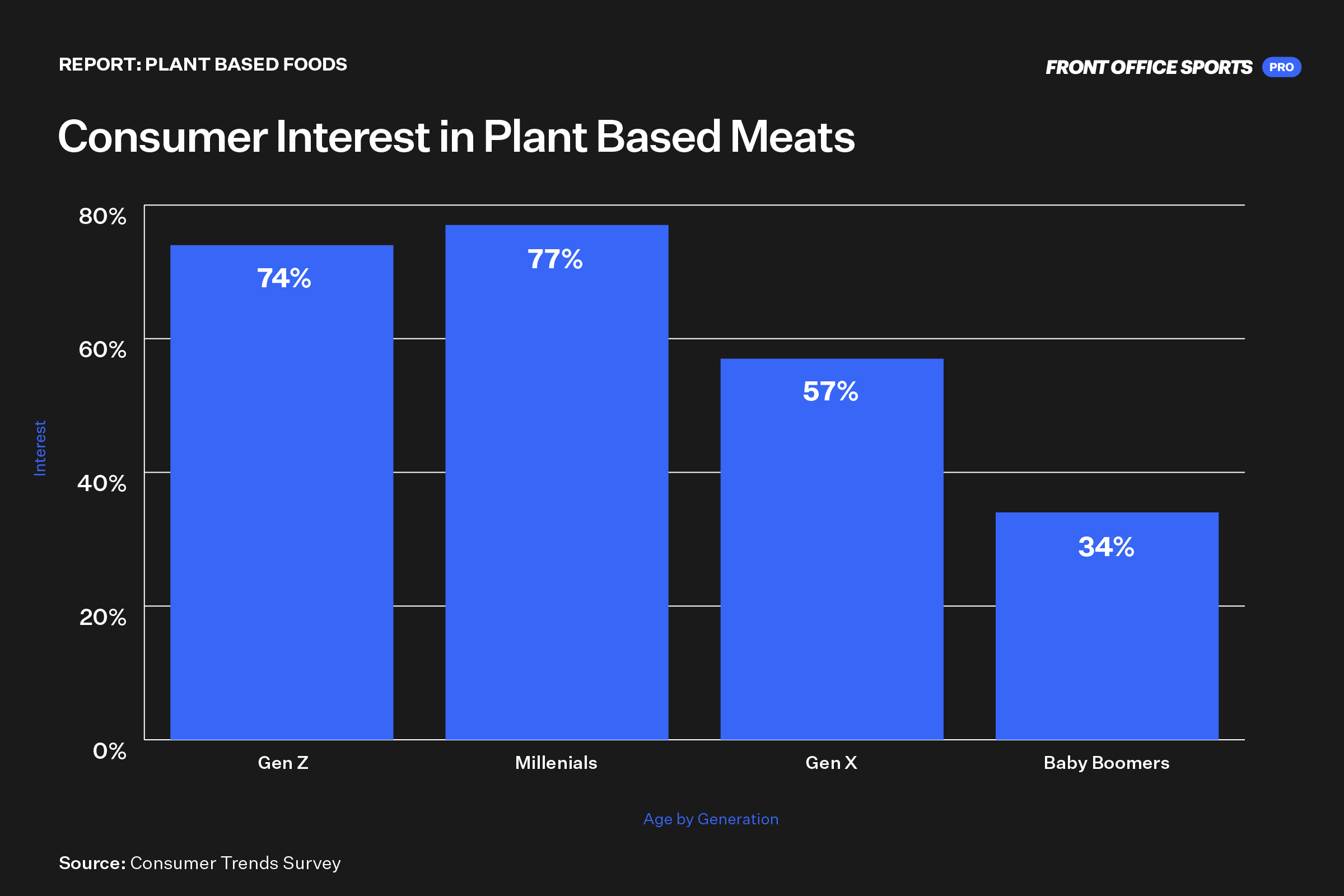 From a consumer standpoint, particularly with younger consumers, there is a growing interest in changing existing behaviors. Whether it is for sustainability, culture, or any other reason is unclear, but the data indicates that a change is coming. 
Technology, Funding, and Initiatives
From a funding standpoint, investors have identified 3D food printing as one of the main investment categories in agtech and foodtech. 
3D printing is constructing a three-dimensional object from a digital model. 3D printers typically operate by printing thin layers of material in succession. Although plastics are the most commonly used material in 3D printing, edible ingredients can be used to 3D-print food products. 
According to analysts at Pitchbook, the next wave of technology is 3D bioprinting, which involves printing living cells, growth factors, and other biomaterials to produce meat. From a funding standpoint, the industry has seen some significant traction. 3D food printer companies logged $185.7 million in VC funding in 2021, up 15.7x from 2020's annual total.
One of the current challenges of cultivated meat (defined as "real meat" grown directly from animal cells) is the form the cells take when the cultivation process is complete. Cultivated meat cells form a non-store-ready form of meat that needs to be combined with fat and other flavors to provide a form and taste familiar to consumers. 
This is where 3D bioprinting comes into play. 
3D bioprinting uses a liquid mixture of animal cells and other biomaterials onto a scaffold to create a three-dimensional structure. 3D-printed meat companies are developing techniques to "print" whole cuts of meat into attractive shapes. They include multiple cell fibers (muscle, fat, and connective tissue) to provide a realistic product.
Two cultivated meat companies, MeaTech and SavorEat, are working on 3D-bioprinted whole cuts of meat, while NovaMeat is developing a 3D-printed hybrid meat product containing both cultivated and plant-based ingredients. 
Plant-based steak can be produced using 3D printers as well, and the process is less complex than animal-based steak because no cultivated animal cells are used. This makes the process simpler and more scalable. 
In 2018, Redefine Meat developed its 3D-printed plant-based whole cuts of meat and first introduced its products to restaurant patrons. Since then, the company has expanded rapidly. Its plant-based steaks are now available at over 200 restaurants.
The rise in funding can be attributed primarily to growing enthusiasm for any and all types of alt-proteins and a desire to create alt-meats that better mimic animal meats in form and flavor. Other, non-meat use cases will remain relatively underdeveloped in the medium term. Printing is relatively slow, and food paste can be challenging to manipulate.