November 2022 was probably the first time most Americans had heard of Campobasso FC. That was when celebrity power couple Kelly Ripa and Mark Consuelos became part-owners in the small Italian soccer club by investing in its parent company, North Sixth Group.
But the story of the new Campobasso started two months before, when North Sixth Group chairman Matt Rizzetta signed on the dotted line to give his company full control over the club after a couple of years of minority ownership.
With the summer transfer window closed and the season quickly approaching, North Sixth had to scramble to sign free agents to a team that could compete within a week and for the rest of the season.
"We had no players, we had no coach, we had no GM, we had no CEO," Rizzetta tells Front Office Sports. "I kid you not, there were mushrooms literally growing out of the field because it had been months since it had been maintained."
Campobasso won its first match and 27 more — with the last win on May 7 earning it promotion from the regional Eccellenza league to the semi-national Serie D in its first season under new ownership.
Rizzetta and his partners in the project, celebrity or otherwise, are building up Campobasso FC not only as a business venture — but also to bring pride to a region of Italy that is often an afterthought.
"There's a saying in Italy, 'Il Molise non esiste,' which means 'Molise doesn't exist,'" says Rizzetta. "Campobasso is almost forgotten because it lives in the shadows of Naples and Rome, which are massive cities with massive clubs and massive fanbases."
Star Wars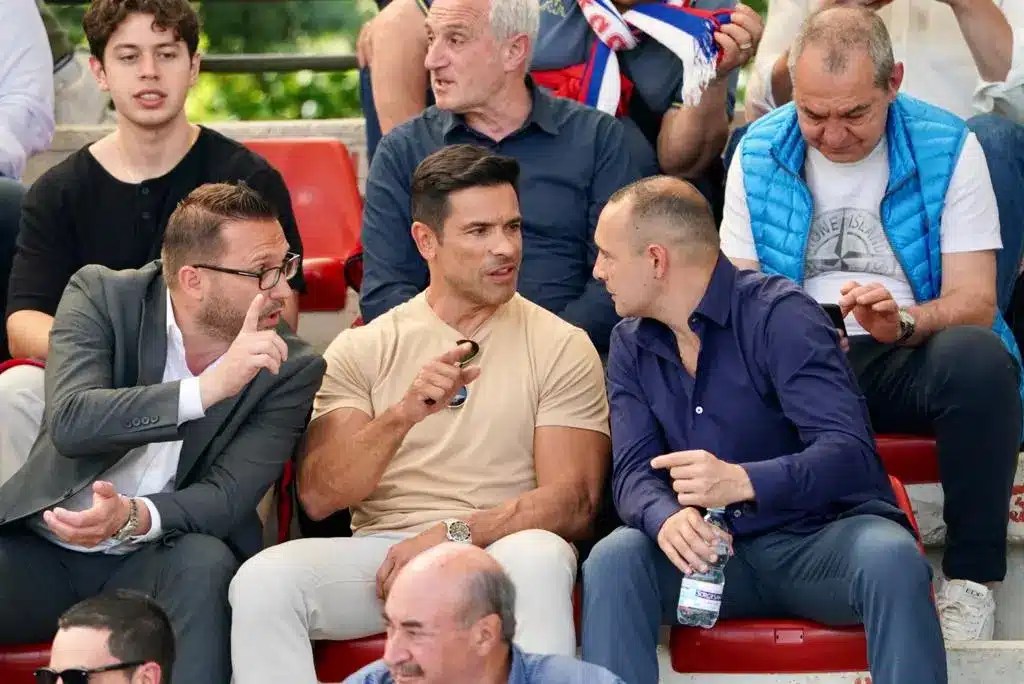 If a very old soccer team emerging from the obscure reaches of Europe with celebrity owners sounds familiar, it should.
Since acquiring Wrexham AFC in November 2020, actors Ryan Reynolds and Rob McElhenney have turned the club into one of the feel-good stories in soccer, taking Wales' oldest club back to League Football and documenting every step of the way on their FX docuseries, "Welcome to Wrexham."
"I actually have been enamored with the Wrexham story. I followed it extremely closely for obvious reasons," Rizzetta says. "But in our case, I didn't have a list of celebrities when we first invested in Campobasso. I didn't have revenues back then because it was COVID, and the stadiums were closed. All I had was risk, and I did it because I believed deeply in the long-term vision."
"We feel we are assembling a great team and, most importantly, we are building a club that stands for something much bigger than soccer," Consuelos told FOS via email. "Wherever we land in the future, we are proud of what we are building."
Molise, the newest and second-smallest region in Italy by both area and population, has "untouched beauty" and "genuine people that capture the essence of true Italian culture," Consuelos says.
A piece of the ownership group's strategy is exporting the brand to Italian expats, curious Americans, and lovers of Italian culture worldwide.
Molise has a population of just over 300,000, but has over a million expats from the region living abroad — with 800,000 in North America alone, per Rizzetta.
As of the 2020 Census, approximately 18 million Americans of Italian descent live in the U.S.
For Rizzetta, descended from Italian immigrant grandparents, and Ripa and Consuelos, who also have Italian heritage, their culture is part of the club's fabric.
"When you invest in European football, you're investing in so much more than just a football club," says Rizzetta. "You're investing in a community, in a region, in a social message. You're investing, in our case, in an expat community and an immigrant community."
A New Hope
Campobasso's story isn't totally dissimilar from Wrexham's; after all, there's a reason American celebrities have invested in professional soccer teams in droves.
Liverpool: LeBron James
Austin FC: Matthew McConaughey
LAFC: Earvin "Magic" Johnson, Will Ferrell, Nomar and Mia Hamm Garciaparra
There's also, of course, the NWSL's Angel City FC, which counts several celebrity owners who followed founding partner Natalie Portman into the project.
"I think the storytelling is something that is extremely interesting to celebrities and well-known figures," Rizzetta says. "There is a romance to European football that can never, in my opinion, be replicated in the American sports system."
"Everybody can relate to the story of Campobasso in some way," says Consuelos. "Regardless of whether you are Italian or even if you like football, this is a story that transcends sports. It is the quintessential underdog story of hope, redemption, and dreams that we all have inside of us."
As they do on television and in movies, actors tell stories — and Campobasso's has the potential to be big business.
The club should benefit from any elevated TV money from its promotion to Serie D and subsequent leagues in the short term — and could benefit from larger revenues if it accomplishes its goal of getting to Serie A in the long term.
After years of complacency and losing ground to England's Premier League and Spain's La Liga, Italy's top league has gotten serious about expanding its media horizons: It is making $658 million in its current international media rights deal that expires in 2024 but is hoping to triple that number by 2030.
Campobasso will also add significant revenue through a new apparel deal with Adidas after being restricted to local Italian manufacturer Errea this past season; Rizzetta says the team has already tripled what it made in merchandise sales this year in presales for next season.
Merchandise will feed into what Rizzetta calls the club's "competitive advantage" in the lower levels of Italian soccer: its marketing in North America. Having a revenue base outside of Italy is a luxury many of the other Serie D clubs don't enjoy — and even if it helps Campobasso rise up the ranks quickly, North Sixth is willing to be patient with its investment.
"There's a multiyear plan and we're never dependent on winning one year to see the plan through," says Rizzetta. "I think the key for soccer owners is that you have to run these clubs to be self-sustaining. Ego gets in the way so many times, and they make mistakes based on ego."
Part of the plan is taking the projected increased revenue and investing it back into the team through player signings, a potential new stadium, and into the Molise community — which, in particular, needs an injection of hope for its favorite soccer club.
"It was so rewarding to see the joy and emotion on the fans' faces as they were able to celebrate after many years of frustration," Consuelos says. "In many ways, it felt like a celebration of hope and rebirth for a fanbase and a region that had too often been burned in the past."
"The fans in Italy get crazy," says Rizzetta. "They want to hear that American owners are coming in and are going to spend money. They want you to be bankrupt, basically.
"I just wasn't going to do that. So I said, 'Look, my promise to you as fans is that we are going to be the longest-tenured ownership group in the history of this club, which is 10 years, by the way. If that happens, I believe success on the pitch will be a byproduct of that.'"