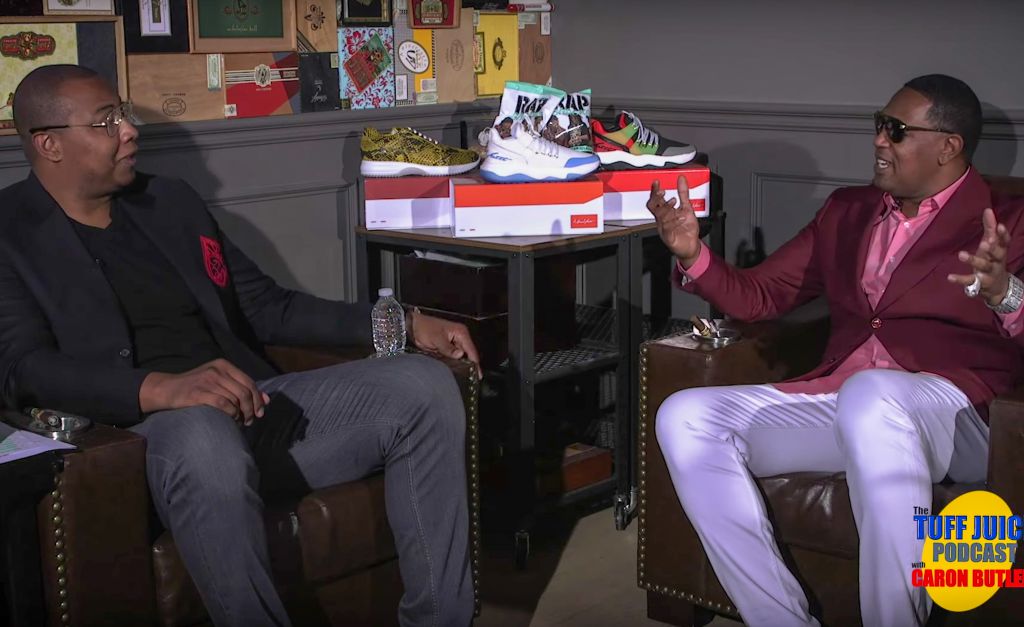 When Caron Butler was 12 years old, he was dealing drugs on the streets of Racine, Wisconsin and looking up to pimps and drug dealers as his role models.
Now at age 39, the former NBA star admires successful athletes who have turned business moguls like Magic Johnson and Michael Jordan.
As Butler launches his new HiStudios original podcast, "Tuff Juice," the ex-NBA star wants to spread the word to athletes that the time to become financially literate and plan your future is now – before you retire from the game.
"I always tell people, when they put 'ex' in front of your name, the doors close and it's really tough. But if you open up those doors while you're active, then your opportunities increase," said Butler.
"If you're active, people want to hear from you, they want to hear your thoughts. Once you retire, it's tougher, it really is. Your assets and opportunities are more limited if you don't create that momentum for yourself while you are active," said Butler, who also authored a book,"Tuff Juice: My Journey from the Streets to the NBA." "People say that's not true. But it's 100% true. As a matter of fact, it's a 1,000% true." 
Butler had a tough upbringing. He was arrested more than a dozen times before the age of 15 years old, he told Oprah Winfrey on national TV. Busted for possession of a pistol and drugs, the teenager ended up in solitary confinement at a maximum security center.
There, during the lowest moment of his life, Butler wrote letters to his Mother, vowing not to hurt her again. "It was from this moment I knew that I could do anything in life," he told Winfrey.
Realizing basketball was his ticket out, Butler earned Big East Player of the Year honors at the University of Connecticut.
All through his 14-year NBA career, with nine different teams, Butler was preparing financially for life after basketball.
While still in the NBA, the two-time All-Star took business classes at Harvard Business School and Duke University.
During his championship run with the Dallas Mavericks, he asked billionaire owner Mark Cuban to shadow him on his rounds.
As a youth, Butler worked at Burger King. Figuring that was one business he knew from the ground up, he invested in Burger King restaurants. Butler now owns six nationwide.
The key for pro athletes is to formulate a personal/financial plan and stick to it, according to Butler. His checklist didn't end with beating the odds to make it as a pro athlete. Instead, it started there. Butler's ultimate goal is to win at the game of business.
"That's always been the mission. One of my goals was to make it to the NBA. Check. To win a championship and be an All-Star. Check. Check. In life after basketball, to be the best possible husband and father I could be – and make a seamless transition into the business space. If you want to make a seamless transition in life, you have to be ready and prepared."
That's where Butler's new podcast comes in. He's lined up an eclectic group of guests, including rapper Master P, ESPN's Cari Champion and former drug dealer Freeway Rick Ross, who was the real-life inspiration for the FX show "Snowfall", to talk money.
It's rare to find athletes like former New England Patriots tight end Rob Gronkowski who lived off their endorsement dollars while banking their paychecks, noted Ryan Kwiatkowski, a former pro volleyball player turned wealth advisor at Retirement Solutions in Naperville, Illinois.
READ MORE: Derek Carr Intent On Providing Others With Opportunity
Instead, he said, many young athletes waste their money on expensive purchases like houses, cars and jewelry, while failing to save for retirement.
Consider 3-time NBA All-Star Antoine Walker. Over his 12-year career, he burned through $108 million in salary due to overspending, lousy real estate investments and gambling. Two years after retiring, he filed for Chapter 7 bankruptcy protection By that time, he had $12 million in debt – and only $4 million in assets. 
Kwiatkowski's financial advice to athletes sounds similar to Butler: "Have a roadmap before that first dollar ever hits your bank account. A lot of guys should really sit down and understand what that roadmap looks like for them financially. And how long they want to make that money last?"
READ MORE: Aaron Donald Emerges As One of NFL's Most Marketable Players
The National Basketball Players Association offers multiple programs to help educate young players about finance and possible post-playing careers, said spokesman Kiran Prakash. Both the Rookie Transition Program and Top 100 Camp focus on financial education.
"Our programs at the NBPA are focused on helping players explore different career tracks (real estate, broadcasting, entrepreneurship, tech, etc.) so they can maximize their platform while they are playing and also be prepared for their post playing career," Prakash said.