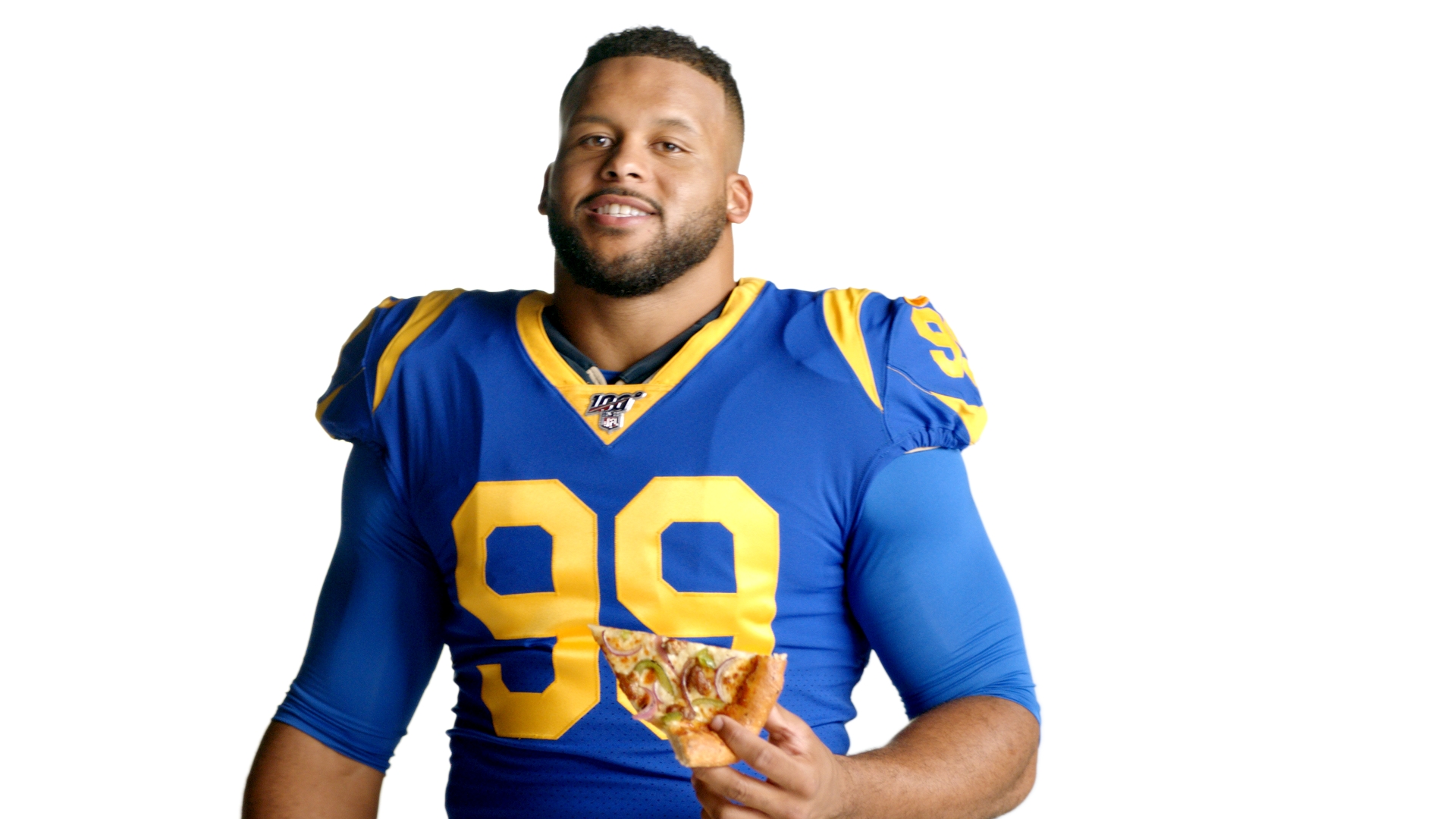 Aaron Donald of the Los Angeles Rams is emerging as the modern-day Mean Joe Greene in more ways than one.
Like the ex-Pittsburgh Steelers Hall of Famer before him, Donald reigns as the NFL's best defensive player.
Also like Mean Joe, the 28-year old defensive tackle is one of the few defensive stars to become a sought-after endorser by major brands.
Most NFL endorsement deals flow to quarterbacks like Patrick Mahomes of the Kansas City Chiefs and Tom Brady of the Super Bowl champion New England Patriots.
But the back-to-back NFL Defensive Player of the Year has scored deals with Pizza Hut, Dick's Sporting Goods, Electronic Arts, Dr. Teal's and electric car maker Karma Automotive.
The Pittsburgh native is also poised to land another big deal in his hometown, said sources. Although he plays across the country for the NFC Champion Rams, the city has embraced the former local high school football and Pittsburgh Panthers star as one of their own.
With Pizza Hut in its second season as the league's official pizza sponsor, the company signed Donald this summer. He was chosen to be the face of its new "Order Pizza Hut, Play Hut Hut Win" sweepstakes this season.
The pizza chain has aired several national TV spots starring Donald and Rams teammate Todd Gurley. Pizza Hut uses an array of players as pitchmen, including JuJu Smith-Schuster of the Pittsburgh Steelers and Tyler Lockett of the Seattle Seahawks.
"Aaron's an incredible player on the field, and an even better guy off of it, down to earth and well respected by his peers – all things we gravitate towards as a brand. His personality is a perfect fit for our brand and we've had a lot of fun with him so far," Rachel Meyer, Pizza Hut's director of brand marketing, said in a statement. "I think that really comes through when you see him in our TV ads and also with what we have planned for him later this year and into the offseason."
This December, Donald will star in one of Pizza Hut's "Homegating" episodes, where he and some teammates watch Monday Night Football while noshing on pizza and wings.
Donald loves ping pong, according to Meyer. During the off-season, Pizza Hut will sponsor a ping pong match between Donald and a fan in Los Angeles.
Meanwhile, Donald and Dallas Cowboys tight end Jason Witten have signed on as the newest promoters of Dr. Teal's Epsom Salt Soaks muscle recovery product.
The 6-1, 280-pound Donald posted a sponsored Dr. Teal's video to his Instagram account overturning what looks like a giant monster truck tire.
"My Dad used to tell me: 'If man made it, man can lift it,'" he says in the video.
In addition, Donald has also signed a deal with Karma Automotive, which designs and manufactures $100,000-plus electric vehicles in his adopted home of Southern California.
Karma custom designed Donald's $130,000 Karma Revero. His wheels featured a "Mar Pacifico" exterior and "Midnight Dune Twist" 22" alloy wheels with red calipers.
For an added touch of luxury, Karma delivered the new car directly to his house in Los Angeles. The football superstar is about to upgrade to the new Revero GT, according to Matthew Clarke, vice president of marketing for the Irvine, Calif-based startup.
"It's great to be aligned with a local hero," said Clarke. "There's a bit of synergy there too. He was, and probably still is in some respects, a bit of an underdog in his position. He's excelled the last (few) years."
READ MORE: 80 Years Ago Today, NBC Televised NFL Game For First Time
Over the past two years, Donald has "become one of the faces of the NFL," said agent Bob Philp of CAA Sports, which represents him on and off the field.
Donald's national profile only rose after his formerly lowly Rams went all the way to the Super Bowl 53 in February before falling to Brady and the Patriots.
"Beyond his accomplishments on the field as a five-time pro bowler and two-time Defensive Player of the Year, Aaron's personality, relatability, and humility have enabled him to transcend the position he plays," said Philp. "Brands are excited to align with him."
Yes, most corporate sponsorship deals for NFL players go to offensive players. But it's not unheard of for defensive stars like J.J. Watt of the Houston Texans or Richard Sherman of the San Francisco 49ers to land national endorsements, noted Jeff Diamond, the former Minnesota Vikings executive turned sports business consultant.
"J.J. has done pretty well. I can see Aaron Donald certainly cashing in with endorsements," said Diamond. "Not that he needs it very badly at $24 million a year or whatever he's making."
READ MORE: NFL Exec: Love Seeing 'Woke' NBA Hoisted By Own Political Petard
Diamond's referring to the 6-year, $135 million extension with the Rams that Donald's CAA player agents Todd France and Brian Ayrault negotiated in August 2018. His new contract will pay him more than $22 million a year. The pact also included a $40 million signing bonus – and $87 million in guaranteed money.
It's the richest deal for a defensive player in league history, according to NFL.com. But it would be tough to argue he doesn't deserve it. In a poll of fellow NFL players, Donald was named the best player in the league, according to NFL Network. Even Donald was surprised by that honor.
"Number 1… a D-tackle, huh?" he asked.