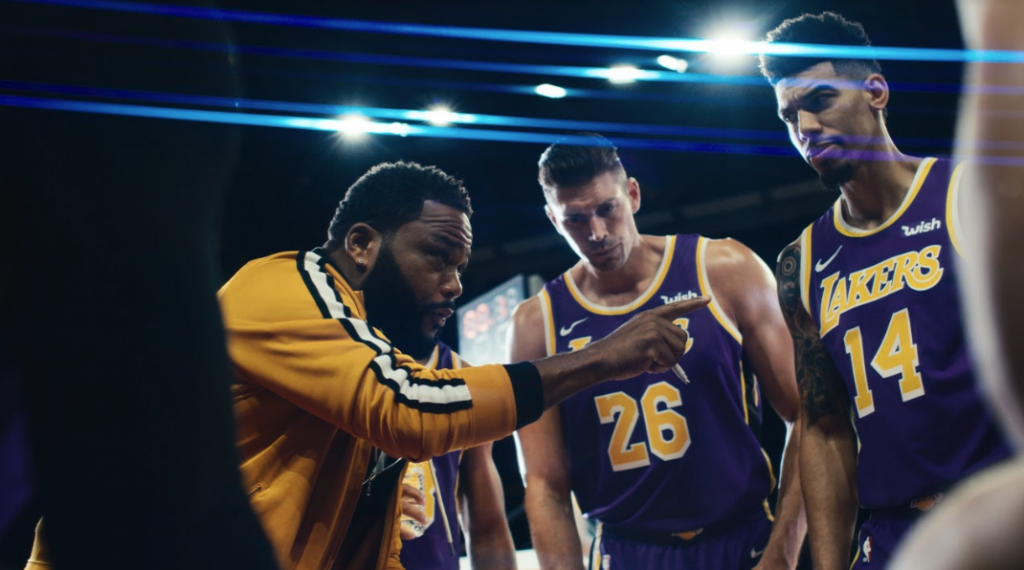 With a freshly-renewed NBA partnership deal, Budweiser is kicking off its 22nd season as the league's official beer with a responsible message, hydrating between Buds.
The previous four-year deal between the two was set to expire at the end of this season. Details of the new deal were not disclosed. The brewer has been a partner of the league since 1998.
Anheuser-Busch's overarching partnership with the NBA spans across all leagues, including the NBA, WNBA, NBA G League, NBA 2K League, as well as USA Basketball. The cornerstone of the partnership is Budweiser's status as the official beer of the NBA.
Kicking off the partnership extension, Budweiser will look to expand its responsible drinking messaging.
"For more than 20 years, Anheuser-Busch has effectively connected with our fans throughout the year-round basketball calendar," NBA Senior Vice President of Marketing Partnerships Kerry Tatlock said. "We're excited to continue to evolve our partnership, building on the long-standing responsibility programs we've implemented together and also creating new initiatives."
The newly renewed deal now allows Anheuser-Busch to expand its "360-degree responsible drinking platform" to Budweiser with the "Drink Wiser" campaign, which encourages consumers to "Hydrate Between Buds." The Drink Wiser campaign originally launched in 2018.
The message behind the campaign is emphasizing the importance of alternating beers with water. Budweiser Vice President of Marketing Monica Rustgi said at the core of the campaign is now using the discipline of athletes to showcase why it's important to drink responsibly.
This year, the duo of actor Anthony Anderson and Los Angeles Lakers guard Danny Green will launch the new season's efforts of the campaign with a short film. The film was produced with the National Basketball Players Association and will broadcast during NBA games on TV, online and in arenas across the league. The message will also be on all Budweiser primary and secondary packaging.
Anderson and Green were selected because they're both accomplished in their fields, said Adam Warrington, Anheuser-Busch vice president of corporate social responsibility. Anderson is an Emmy-nominated actor and executive producer of the TV shows "black-ish," "mixed-ish" and "grown-ish," while Green is a two-time NBA champion.
"We wanted to demonstrate to fans how they can drink wiser by hydrating between Buds and believe Anthony and Danny would allow us to breakthrough in a way that would resonate," Warrington said. "Working with NBA athletes, in this case, Danny Green, provided us a key opportunity to influence change and further encourage fans to act responsibly."
The ability to work with current professional athletes is still relatively new for Anheuser-Busch. The company reached deals with the MLB and NBA player associations in 2018 to use active athletes.
"For us, it's a huge milestone as it pertains to how we advertise and market," Rustgi told FOS earlier this year. "Budweiser has a long legacy of sports marketing, one of the first to understand the opportunity to bring our message to sports. But we realized we had to evolve, pivot from being the billboard in the stadium to being a meaningful part of the sports story."
READ MORE: NBA, Budweiser Bringing Fans Together With Branded Beer Cans
Anderson said it was great working with Green.
"As a real-life NBA fan, I think the message behind this campaign is increasingly important and I'm proud to be part of the Budweiser team to show fans how they can drink wiser at the game, at home, or anywhere else they're having a Bud," Anderson said.
Additionally, the campaign includes The Drink Wiser Challenge which will give fans the ability to win NBA Finals tickets and signed memorabilia.
According to Anheuser-Busch, it's just the latest responsible drinking campaign by the company since the first it launched 35 years ago – something it has invested more than $1 billion into efforts around that messaging since that time.
"'Drink Wiser is our largest responsible drinking marketing effort to date and we're excited about other ways to bring this to life to further promote responsible drinking behaviors," Warrington said.