Biking saw a boom this summer as Americans gravitated toward cycling as a fun, socially distant activity for individuals and families. That, combined with others choosing to ride a bike over public transportation, helped bring bike sales to a new height.
In June, bike sales grew 63% year-over-year, according to market research firm NPD Group. Sales of sport performance road bikes grew 87%, gravel bikes were up 144% and e-bikes jumped a whopping 190%. Along with that, sales of bikes with average prices above one thousand dollars experienced growth in 2020 compared to last year.
"With a continuation of working from home for many, and as gyms and health clubs are unable to reopen in many states, consumers may be more willing to invest in higher-priced, performance-oriented bikes as a fitness option for the long haul," said Dirk Sorenson, sports industry analyst at the NPD Group.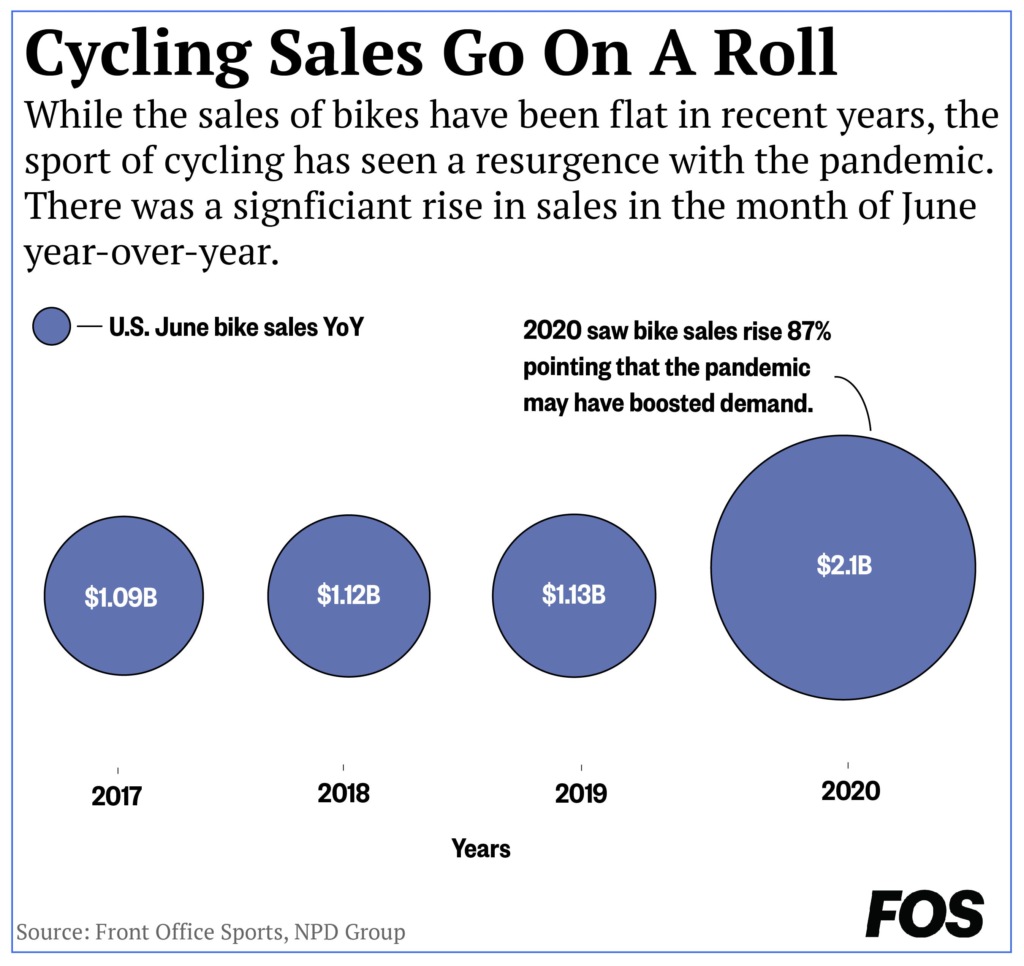 The demand for bicycles had been increasing before the pandemic, with this summer pushing it into another gear. With more Americans embracing biking as a healthy and fun activity, analysts predict that the demand will continue into next year.
"I do think heightened interest and sales from pre-COVID-19 norms is likely. I believe the cycling purchases that happened in 2020 will set up a strong buying season for 2021, when looking back at the years prior to the pandemic," Sorenson said. "Consumers have invested in cycling as an activity. These new riders are more likely to upgrade and continue in the activity, resulting in more purchases."
But as demand continues to rise, a looming problem weighs on the biking industry.
As the coronavirus spread initially, China went into a lockdown which disrupted global supply chains. Many industries suffered as factories shuttered in China and manufacturing slowed, but the effects of the slowdown are just starting to hit the biking industry.
When TheBikeShop in Clifton, N.J., opened this summer, they saw a tsunami of demand for bikes. But that influx has also meant the business has dealt with a shortage of parts and late deliveries from Chinese factories that are working on a backlog from earlier this year.
"It sucks right now, the business is there but there's no stock," said Debbie Kocsis, who runs TheBikeShop along with her husband.
Kocsis worries that the seasonal nature of biking could be a double whammy for her business if the parts and the new bike orders from China do not come before the summer ends.
With China being the global manufacturing hub, the biking industry sources parts from Chinese factories as they are often produced at a lower cost. And even though bikes are being made in the U.S, it doesn't necessarily mean that the parts are manufactured in the U.S. too.
The struggles of the biking industry reveal how dependent global supply chains are on China, which could be detrimental to local bike shops that in many cases only have one supplier source.
The trade war with China has also not helped supply chains. Major import tariffs on many American products included bikes for some time, which not only increased the production cost for suppliers but also raised costs for bike shops shipping from China. Along with increased production costs, the trade war also introduced a lot of uncertainty as the rules kept changing.
But over the next five years, companies will change their supply chains in a huge way, according to a recent report from McKinsey Global Institute. It estimates that "16% to 26% of exports, worth $2.9 trillion to $4.6 trillion in 2018, could be in play — whether that involves reverting to domestic production, nearshoring, or new rounds of offshoring to new locations."
Even if the supply chains change, the ongoing trade war could mean that bikes become more expensive, which may have a negative effect on the growing demand.