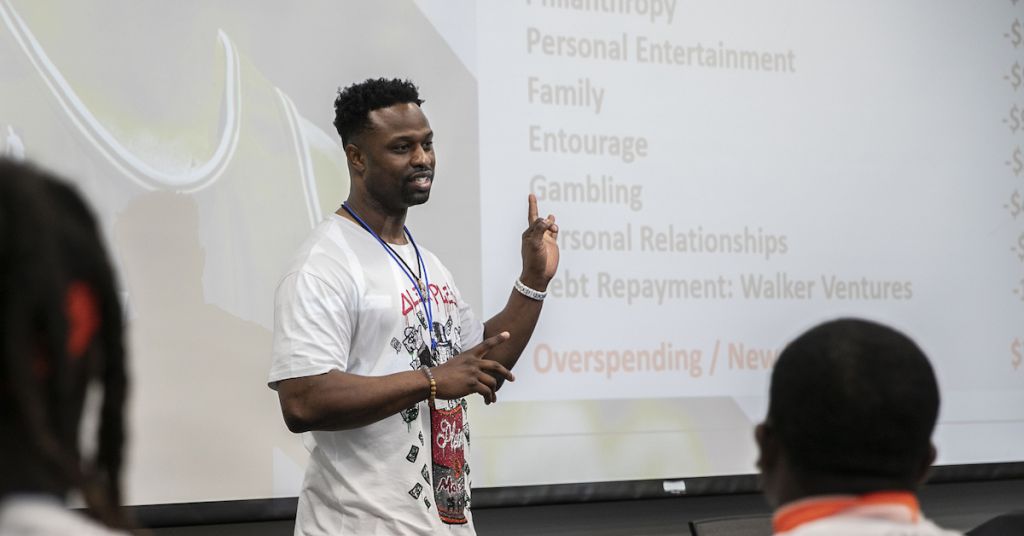 As more money flows into the world of sports and the pockets of athletes, it's more important than ever to ensure young athletes are educated and older athletes are quick to join the cause.
Former NFL linebacker Bart Scott and former NBA forward Antoine Walker are aiming to do just that, joining a new effort to help improve the financial literacy of fellow athletes.
Launched this spring by former Morgan Stanley sports and entertainment division managing director Drew Hawkins, Edyoucore Sports & Entertainment is leveraging the long careers of the former players to better educate athletes in the same respective sports about critical issues, like navigating the post-career pension systems and insurance.
"Bart and Antoine are a tremendous asset for Edyoucore," Hawkins said. "They bring their real-life experiences to help shape our curriculum so that we are hitting on specific financial topics most important to the athletes that we work with. They also help Edyoucore's credibility when we conduct in-person sessions, while making them more interactive and engaging.
"They are passionate about this subject and giving back which makes their participation genuine."
In addition, Scott and Walker have helped to provide a personal touch to in-person training sessions, helping relate to the young athletes and sharing their stories, and then help design internet modules that continue financial education.
The company has several senior advisors, including Donald Dell and former University of Maryland Athletics Director Kevin Anderson. Along with Scott and Walker, more athlete advisors are expected to join the Edyoucore team soon. Edyoucore has made strides into collegiate programs, with a partnership with the University of Michigan providing student-athletes with financial education. Edyoucore also currently has a partnership with the Baltimore Ravens.
Sessions with student-athletes at Michigan started in June with Scott and Hawkins, and have continued this fall with online modules in areas like credit, taxes, retirement, and savings. The seminars and modules are also meant to help guide the athletes through conversations with the "advisors" they surround themselves with, from agents to CPAs and managers, to long-term goal discussions with family members and friends.
"When I talk to the NFL, I get surgical," Scott said. "We can be way more specific in how to utilize a brand, gather resources, cater to teams with more veterans or fewer. Some come from humble beginnings, others come from the suburbs."
Teaching athletes at a young age is key, and Scott and Walker are going on their fifth year of providing their insight into the generations behind them – they previously worked with the Morgan Stanley division, but feel more comfortable now not having to push a product.
Walker builds on his experience of entering the NBA at 19, becoming a millionaire overnight with no financial foundation. Throughout his life, he had several financial woes, including gambling debts and bankruptcy. By helping spread financial education, Walker feels he gets to help future generations while also sharing his story more authentically.
"I approach it as I can help out some guys that play and hear how I made my mistakes and use those mistakes as a warning," Walker said. "I can be part of the solution and make sure they don't make the same mistakes I did, letting the world know I made some mistakes but turned those negatives into positives."
For Scott, he similarly uses the platform as Walker, but also to remind himself to remain financially responsible and hold himself accountable.
As their years as financial educators continue, they've spoken to more than 20,000 student athletes by Scott's count, they now start to see if it's paying off. Some of their former class members, like NFL quarterbacks Lamar Jackson and Dak Prescott, are about to enter their own respective prime money-making years.
"We get to see if what we said makes sense," Scott said. "They hear our message in college. You have to get to them before the money comes in and before they turn their ears off. Now we see if our words rang true."
READ MORE: Former NFL Fullback Jed Collins Wants to Make Sure Wallets Stay Full
Walker said they've done their job and feel as though that "graduating class" is prepared, but ultimately the financial decisions still come down to the individual.
Years of stories like Walker's have helped the recent generation of professional athletes develop in many savvy investors and entrepreneurs, but it's education coming from the athletes who made the mistakes that can drive it home and prevent them from making mistakes, Walker said.
"Knowing the stories is cool, but when you get an opportunity to touch and meet the person, to pull our hand and talk to us is more important," Walker said. "We all watch and hear stories. But to have the personal touch, that's second to none. To get in front of so many young athletes, it holds a lot of weight."