Big Picture
While athleisure as a concept is not new, it is trending – and in a big way. While large brands such as Nike, Lululemon, Reebok, and Gap (along with many more) have leaned heavily into the evolving trend.
The athleisure movement finds itself at the intersection of several Covid-19 accelerated trends. First, the shift to hyper-engaged online fitness communities. As fitness shifted to at-home, more and more individuals have found themselves donning joggers and running shoes as they engage not only in their workouts, but also in their everyday routines.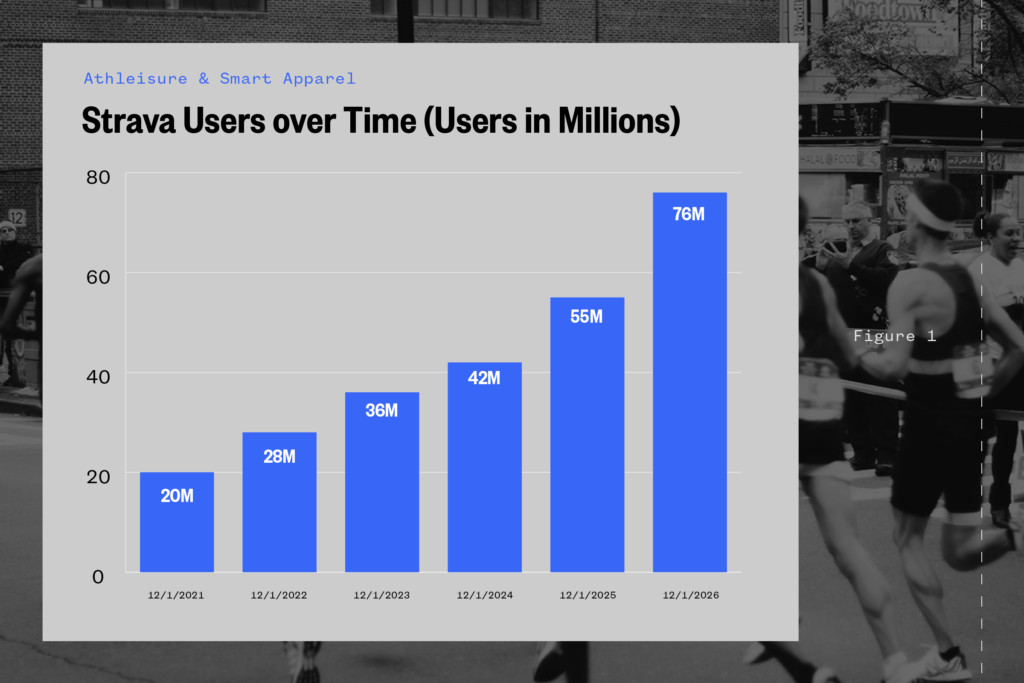 In a lockdown environment, online fitness communities saw increased traction and a shift towards outdoor pursuits and at-home comfort were prioritized. From a fitness and activity standpoint, apps such as Strava, Pearfit, Aaptiv, Nike Run Club, Fiit, and Peloton Digital aggregate highly engaged users in a single platform. These hyper engaged users are then targeted by large retail brands as they look to find concentrated consumer bases with disposable income and a penchant for spending on fitness related products.
In February, Elixir Consultancy Partner Karina van den Oever stated that the consumers were looking to shift away from fast fashion and towards more permanent types of apparel.
"Athleisure is one of few resilient categories during the pandemic. However, as lockdowns continue, consumers are moving away from fast fashion athleisure and looking to invest in longer-lasting performance wear."
For the fitness community, there are strong network effects at play. These networks, or better put, community based products, foster a sense of belonging and participation which act as a flywheel. As the networks grow and strengthen, members become more willing to pay-up for premium products.
Additionally, an extension of the athleisure shift can be seen in the luxury world. Technical athleticwear – defined as "apparel focused on functional abilities rather than aesthetics with predetermined properties for different areas for example sportswear" – is hot in the luxury retail market. Consumers are placing technical sportswear and athletic apparel higher and higher on the value chain.
For example, recently public Swiss brand On Running's CloudX trainer was the ninth ranked product in fashion search engine Lists Hottest Men's Items index for Q4 2020. The technical running shoe was the first of its kind to appear on the index.
Prior to its IPO, On Running ("On") had been a technical brand for runners according to their CEO Casper Cosetti. However, in the last year, it has reached a wider non-specialist audience as more consumers take up running. According to Vogue Business, the first iteration of On's now regular Run Your Local Mountain challenge had 140,000 sign-ups on Strava.
Since Q4 2020, there have been technical athleticwear products in every single quarterly Lyst Index report to date.
The trend being observed is indicative of a shift towards functional apparel not only penetrating the broader consumer market, but also the historically "harder to reach" luxury markets. Existing brands are actively looking to break into this space due, in large, to pandemic driven factors.
For instance, Victoria Beckham launched an ongoing collaboration with Reebok in 2019. According to an interview in Vogue business, "the pandemic has broadened the appetite for athleisure wear, and we continue to see a growing demand for these products," she says. "Our goal is to bridge performance with an elevated aesthetic, and we have always had a great response from our highly engaged VB x Reebok community."
Functional, and more specifically, tactical apparel has made its way into the luxury fashion industry – for the time being. According to Fitt Insider, this year has seen other collaborations between Japanese fashion label Comme des Garçons and outdoor specialty shoe maker Salomon on a new platform sneaker. Additionally, German designer Jil Sander partnered with Arc'teryx to release a capsule this year of high fashion tactical gear.
Some more numbers for context thanks to Fitt Insider:
"9 in 10" Americans wear athletic apparel in non-exercise environments.
The number of "moisture-wicking" athletic wear products grew 39% over the past year.
Globally, the activewear industry, specifically, topped $353.5B in sales in 2020 and is projected to add another $157.1B in sales by 2024.
Industry giants are getting in on technical sportswear, and not just co-opting the outdoor look — they're crafting beautiful apparel that's built to last. While the opportunity to bring tactical and luxury together, there is a larger trend at play. As the athleisure market continues to grow, economic and social factors drive more fluid work from home environments, and existing companies continue to build out their own casual sportswear lines, we anticipate further innovation in the space.
Market Sizing
So, just how big is the athleisure market? According to Grandview Research, the athleisure market is expected to grow to $549 billion by 2028 at an 8.6% compounded annual growth rate. For context, the functional food and beverage space is anticipated to reach $529 billion during that forecasted period while the global virtual event space is expected to reach $509 billion.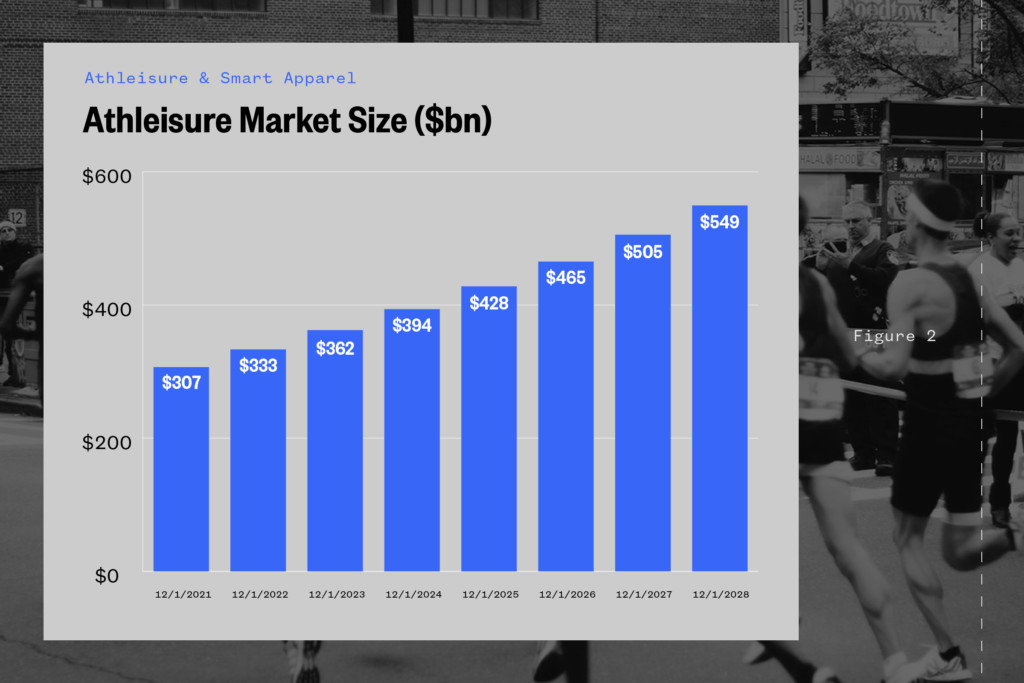 Recent Funding
Markets have clearly indicated that there is demand for athleisure wear across demographics. Public and private companies alike have been investing capital in the space as new brands emerge and existing retailers have begun to build out their own sportswear and athleisure brands. From a private markets standpoint, there have been some sizable investments in the space from investors who would typically avoid the e-commerce and apparel space.
Traditionally, fitness apparel would not be considered a growth investment category. However, that hasn't stopped leading brands from commanding large valuations and substantial. Some transactions of note:
Spanx was valued at $1.2 billion after striking a deal with private equity giant Blackstone.
Vuori received a $400 million investment from SoftBank that values the California company at $4 billion. The deal will fund international expansion plans.
UK-based Gymshark is planning an IPO just a little more than a year after reaching unicorn status. General Atlantic led its only known round of institutional capital, driving about $300 million into the much-hyped company in August 2020.
L Catterton-backed Sweaty Betty sold to Wolverine Worldwide in a $410 million all-cash deal in August.
Funding rounds and valuations aren't the only indicators that are currently higher. S&P composite index of retail apparel brands and the SPDR S&P retail index* are both at all time highs and have rebounded over 65% and 83%, respectively. While the market as a whole has also been up during the period, the sector specific indices have outperformed the broader market.
While public market proxies are not by any means the end all be all for market health, they provide good context for whether or not an industry is largely supported or if only a few companies in the space represent the lionshare of the market value. From a consumer discretionary perspective, the industry seems well positioned relative to the broader market.
In essence, the market's should be able to support this trend going forward.
Public Companies Athleisure and Athflow Initiatives
Private companies aren't the only ones getting in on the fun. Throughout 2021 we have seen various large scale retailers and brands continuing to push heavily into the retail ecommerce and athleisure space. Brands suchs as Target, Dicks, Reebok, LVMH, and Gap have all made plays into the space.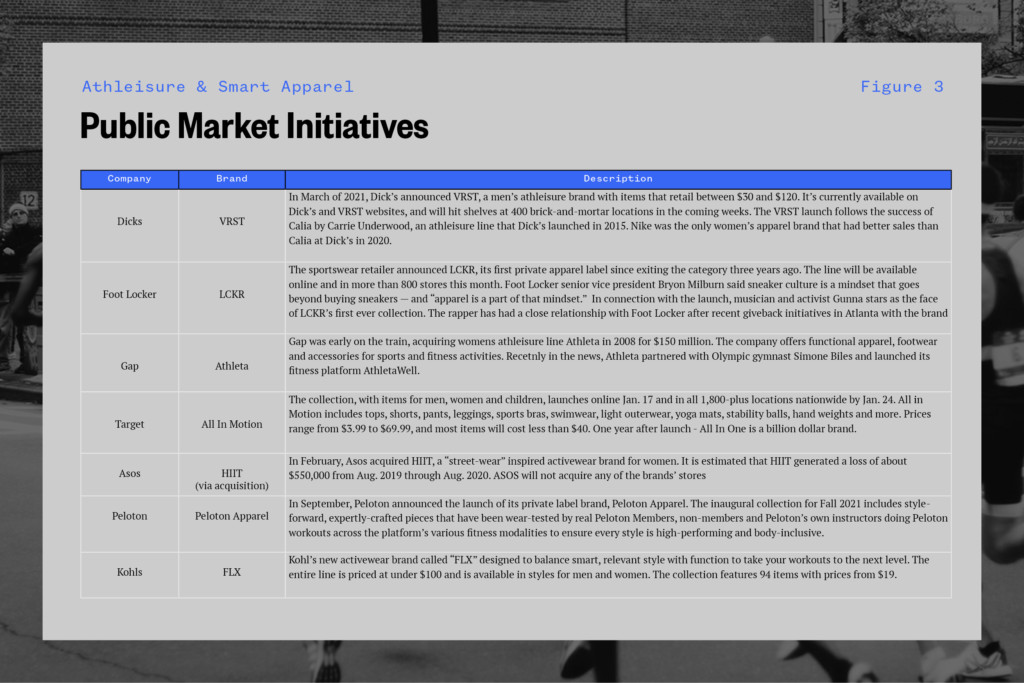 Brands have clearly taken the athletes' and comfort first athletic wear seriously. The initiatives represent a heavy capital commitment into building for a trend that they see as sustainable. Even with the future anticipated growth, the current market is ready to support new and up and coming brands.
Take for example activewear sales. The activewear market accounted for 40% of all online sales last year, according to NPD. Additionally, Men's activewear accounted for 45% of the total men's apparel market in 2020 compared to 39% in 2019.
Up and Coming Brands
Looking to the future, understanding brands that currently find themselves at the intersection of athletic apparel and conscious comfort could be advantageous. These brands will likely be potential acquisition targets for larger retailers or potential incumbents into an ever growing market. Specialty running, adventurewear, glf, tennis, and tactical fitness wear are just a few of the niches which have recently shifted towards comfort and function.
| | | | |
| --- | --- | --- | --- |
| Company | Sector | IG Followers | Last Valuation |
| Ten Thousand | Athletic shorts | 159K | $19.6M |
| Alala | Women's athleticwear | 103K | N/A |
| P.E. Nation | Streetwear/Athleisure | 293K | N/A |
| 5.11 Tactical | Tactical wear | 1.2M | N/A |
| Jamby's | Performance "Inactivewear" | 14K | N/A |
| KUIU | High performance hunting gear | 393K | $217M |
| JackRabbit | Running lifestyle | 30.2K | $40M* |
| APL | Athleisure shoes | 352K | N/A |
| Tracksmith | Running lifestyle | 107K | $5M* |
| Fabletics | Athleisure + athletic wear | 1.9M | $6.9B |
| Mack Weldon | Athletic mens basics | 83.3K | $50M |
| NoBull | Fitness | 1.1M | $32M* |
| Rhone | Fitness | 89.9K | $95M |
| Hylete | Fitness | 85.6K | $46M |
E-commerce, social commerce, and m-commerce have all been meaningful driving forces in the proliferation of new incumbent brands. Many of the company's listed above find themselves at the intersection of two trends which have massive amounts of capital behind them. The infrastructure for digital commerce plus brands (both established and nascent) building out athleisure and luxury comfort apparel verticals is likely a sign of things to come.
Looking Forward to Luxury
As previously stated, the luxury wellness economy is booming. Wellness has evolved from niche to mainstream as individuals see it as a status symbol of physical and emotional well-being. Wellness has evolved from a siloed lifestyle choice to a new status symbol and an expression of personal values that spans across all sectors – from luxury travel to prestige beauty and high-end fitness.
As individuals invested in comfortable and functional clothing from home, a new trend arose. Athflow — defined as the convergence of athleisure and elegance — has become increasingly popular as clothing gains new utility. According to a Pinterest business report, search volume for various terms related to Athflow spiked over the last 18 months.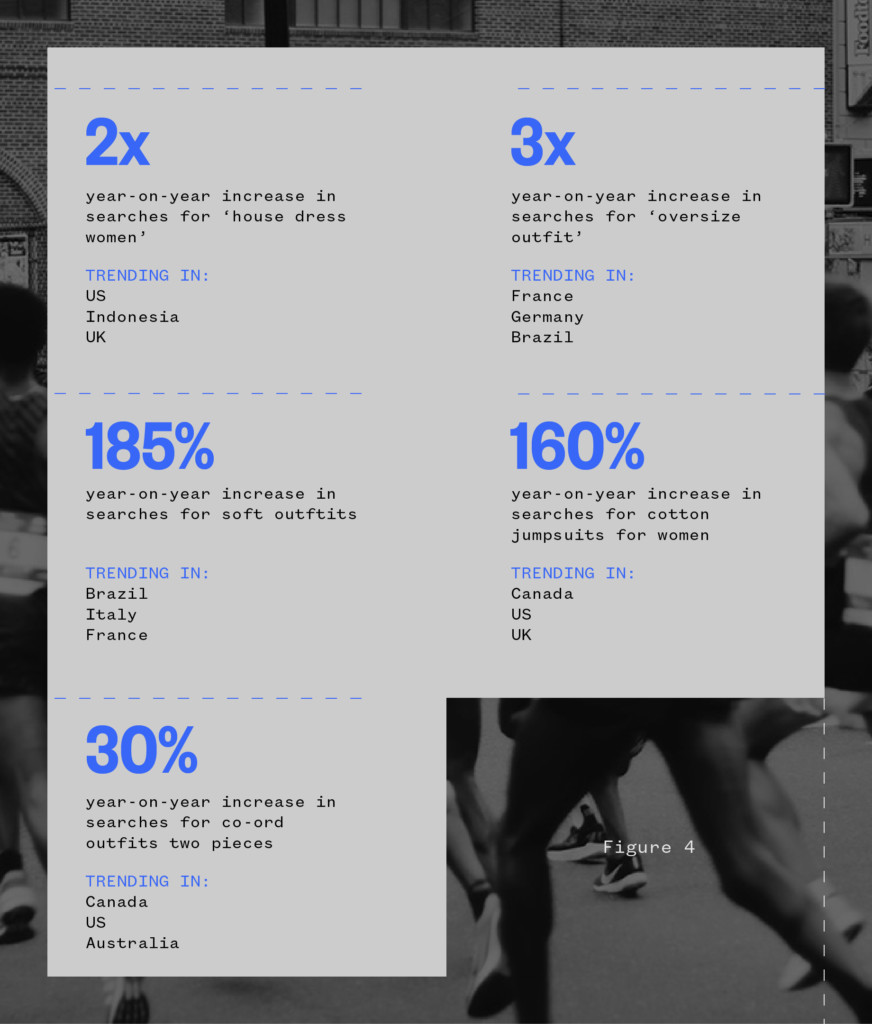 The term athflow became increasingly popular at the end of 2020, with search volume on Google growing exponentially as the category went from nascent to relatively mainstream. From 2020 to 2021 relative search interest for the term "athflow" increased to its highest level (100% increase).
For consumers, the utility of the trend is the draw. Refinery29, a feminocentric digital editorial site, described the trend as "[P]rofessional enough for a work-from-home look, stretchy enough for the yoga mat and comfy enough for the couch," expect "flowy pants, casual jumpsuits and oversized outfits" that "replace athletic clothes as the new go-to loungewear."
Refinery29 identified existing brands currently leading the charge as Uniqlo, PRISM and Nike, St. Agni and Vince. These companies have captured the ethos of combining a "sporty vibe" with the cozy cashmere and merino aesthetic.
"Think ballet-inspired pumps and wraparound cardigans, technical outerwear like fishtail parkas, and stretch-friendly leggings and oversized jumpsuits".
Athflow is a logical continuation of the trends we've seen not only because of established demand for comfort and athleisure, but also because of new trends that were accelerated by the pandemic. The new style reflects the current mood and the greater fashion sense at large.
Smart Clothing Applications
Taking the athleisure and athletic apparel theme one step further – let's examine the recent trend in smart clothing and applications of biosensors, interwoven circuitry, and other forms of hardware shaping the e-textile market.
WHOOP (what caught our attention):
In its September product announcement, wearable technology company Whoop announced the unveiling of its Whoop 4.0 band and sensor. While the Apple-esque product unveiling focused heavily on the new software product features plus the new supercharged silicon, there was also mention of a new product feature.
In an effort to provide more options for consumers, Whoop has ventured into the smart clothing space. The new 4.0 sensor was redesigned so that it could be attached to a new line of Whoop branded apparel.
Smart apparel has struggled to gain traction before. Whoop, however, believes its combination of continuous health monitoring and new "Any-Wear" technology, with the ability to determine where on the body you are wearing your Whoop and adjust your data-tracking accordingly, will set it apart in the market. The ability to track biometric data will no longer require the sensors to be located on your wrist or bicep – making the Whoop 4.0 more utilitarian than ever before.
"We've long felt that wearable technology should be cool or invisible. Those are the only two paradigms we want to develop on. In terms of 'cool,' it's an area we've focused on a lot historically, making it something that you can dress up or dress down. But 'invisible' is, 'How do we make it disappear?'"
Market Size
The technology for smart apparel has come a long way from the first well-publicized smart wear in 2000, the Reima Cyberia survival suit, aimed at professionals working in arctic conditions subject to dangerous conditions. Fitted with sensors to monitor the user's metrics, the suit featured sensors tracking heart rate, temperature, humidity, and position.
Since then, smart wear and clothing has significantly improved, due to developments in the miniaturization of sensors, more reliable and efficient power and storage capacity. Like other devices, smart clothing is on the cusp of a major transformation. It is likely that in the next 5–10 years, more textile items will enter the market with battery-less sensor networks to continuously monitor a user's health and will disrupt the clothing and electronics sectors, which have traditionally been separate industries.
According to Market Watch, the smart clothing market is set to grow from $1.6bn in 2020 to ~$11.0bn in 2027 at a CAGR of approximately 26.2%. In addition to Market Watch, data from Mordor Intelligence, Grandview Research, and MarketsandMarkets show ~25% growth rate during the period from 2020 to 2025.
Current Initiatives within the Space
To date, there have been both initiatives from public companies and private funding rounds that have helped accelerate growth and technology within the space. These include, but are not limited to:
| | |
| --- | --- |
| Company | Initiative |
| Wearable X | Utilizes haptic feedback technology to allow individuals to adjust yoga poses based on vibrations. |
| Komodo | Compression sleeve that utilizes ECG technology to monitor heart rate data. Used to monitor heart rate, sleep, and workout intensity. |
| Ambiotex | Tight fitting apparel with integrated biosensors. The sensors are connected to a mobile app which tracks biometric data plus provides suggested workouts. |
| Levi's + Google Jacquard | The Commuter Trucker Jacket utilizes capacitive threads with a copper core woven into the jacket material. This allows a portion of the clothing — in the case of this jacket, the left cuff — to take touch inputs from your hand and translate them into input controls for your smartphone, with the help of a Bluetooth-powered dongle stored in the cuff. |
| Owlet | The connected baby sock producer uses the same pulse oximetry technology used in hospitals to monitor the little one's heart rate, making sure his or her sleeping and breathing haven't been interrupted. |
| Neviano | The company produces connected bathing suits which are equipped with a removable medallion-style waterproof sensor that stops you from staying too long in the sun. Once you've entered your skin type in the companion iOS or Android smartphone app, it'll monitor the temperature throughout the day. |
| Hexoskin | The company has a variety of connected fitness apparel which allows the user to track various biometric data and connect the data collection to a variety of ancillary products through bluetooth. Hexoskin's activewear is able to monitor your heart rate, calories, volume and breathing rate, steps, cadence, and sleep. |
| Sensoria | Sensoria uses "proprietary textiles" in their smart socks which track various outputs while you are walking. The measured data includes step counting, speed, calories consumed, altitude, and distance tracking. The device can also track cadence and foot landing techniques as you walk or run. |
| Athos | Athos is a patented technology system that enables smart clothing to measure how hard your muscles are working using the science of EMG. This is combined with powerful AI and a mobile app that gives you insights to understand your body's performance. |
| Ministry of Supply | The company has produced a jacket which thermo regulates for the user. The garment is 90% recycled, voice-controllable through assistants like Amazon Alexa, wind/waterproof, and best of all, uses machine learning to heat to your optimal temperature. |
| Asensei | Asensei weaves motion capture into sports apparel and knowledge into software so that fitness equipment, training apps and Connected Fitness products can coach and correct a customer's movement in real-time. |
| AirQ Smart Clothing | AiQ Smart Clothing merges electronics with textiles to create actionable insights. The apparel is used in sport and fitness, outdoor and leisure, home and leisure, and home and healthcare. AiQ specializes in developing wearable systems that are fully compatible with their downstream manufacturer and parent company, Tex-Ray. It offers solutions for individuals such as gloves, lighting, heating, bio-monitoring, and anti-radiation. |
*
The current applications skew heavily towards fitness and healthcare monitoring. Applications that could, potentially, lead to broader consumer conversion are applications such as the Google x Levi's collaboration which allow users to more seamlessly go about their everyday lives with integrated technology.
Looking Forward
While athleisure and luxury are trends we are observing take hold in front of our very eyes, smart clothing has a longer journey ahead. Adoption has yet to kick in and applications remain restricted. What is important to note, however, is that the major technology companies have all taken the technology seriously. Google, Apple, and Samsung all currently have existing patents related to wearable tech.
Samsung: Currently owns a patent for smart clothing with an energy harvester that gains power from light. The smart clothing can support medical applications like blood pressure meters, a body temperature meter, a heart rate meter and more.
Apple: Owns a patent for smart footwear that includes an electromagnetic haptic output system having magnets in a sock or shoe. The new footwear is in context with VR Gaming accessories. The smart shoes or socks could provide users with various sensations on their feet, like hot or cold and much more, making the game evermore real.
Google: In 20919, Google was granted a patent for an "Ergonomic Assessment Garment," Google proposes the use of smart garment technology to develop a t-shirt or jacket that can track the movements of workers or athletes and give advice to improve posture, reduce muscle strain, and more.
As sensors and smart textiles continue to advance, so too will smart apparel. With society's move closer to a world where wires and sensors can be seamlessly integrated into your everyday apparel, the information generated will become more useful and available.
In a recent interview with the Washington Post, MIT Professor of Materials Science Yoel Fink described a world where smart clothing potentially informs the way we make our day to day decisions.
"Just imagine all the biochemicals that come out of you and get released into your clothes. Today, all of that stuff gets erased in the washing machine. But at some point, your fabric could learn, listen to subtle changes, and alert you to go to the doctor for a checkup," said Yoel Fink, professor of materials science at MIT. "It transforms the way we think about health care. But first, we need fibers that we know are going to get better with time."