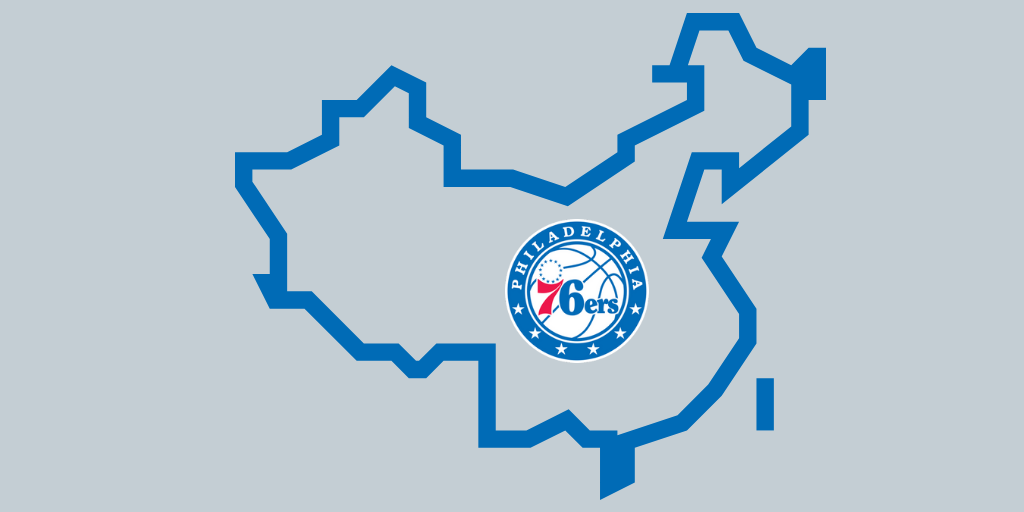 With hundreds of millions of NBA fans in China, the league's global impact has never been stronger, and teams are taking advantage of the buzz to expand their own brands. That includes the Philadelphia 76ers, who announced a partnership with Temple University before traveling to China to participate in the NBA China Games 2018.
"We could not be more thrilled to embark on this journey than with Temple University," said Chad Biggs, senior vice president of corporate partnerships and activation for the 76ers. "Our shared commitment with China will certainly help both of our organizations strengthen their ties and extend their reach in the country."
More than 640 million viewers watched NBA basketball on television in China last season, while about 40 percent of the Temple's international students are from China. The unique partnership correlates to the goals of both the 76ers and Temple's International Affairs Office, to expand their already impressive reach and connect with a global audience.
According to Biggs, who worked in the NBA's China office for three years, the partnership with Temple will be particularly beneficial because of the university's roots in China — the school was one of the first U.S. universities to enter the country in the late 1970s.
SEE MORE: Beyond the Patch: The 76ers and StubHub
"The relationships and the experience Temple has in the market having done business there since 1979, they can help us and we can help them," he said. "We expect this to be a long-term relationship, and we're looking forward to it."
Biggs explained that the 76ers hope to leverage Temple's knowledge, expertise and relationships in the region, adding that Temple can aid in the recruitment of Chinese university students that are passionate the NBA to serve as content "ambassadors" on the ground in China.
[mc4wp_form id="8260″]
He also mentioned that the 76ers will focus on the creation and distribution of unique content to grow the 76ers fan base in China, and that the team will continue to establish relationships with the booming Chinese media landscape, on top of the NBA's already existing 31-year partnership with CCTV.
As far as the collaboration with Temple, both organizations hope to develop relationships with various universities in China.
"Exposure to different cultures is critically important to a well-rounded educational experience," Temple University President Richard M. Englert said in a release. "Temple offers an environment rich in ethnic and geographic diversity, where our students can learn about the world from their peers in and out of the classroom."
SEE MORE: Inside The Athletic's Live Event Strategy
As part of the NBA China Games, the 76ers face the Dallas Mavericks in a pair of preseason games on Oct. 5 and Oct. 8 in Shanghai and Shenzhen, respectively. In addition to the games themselves, the teams will also take part in a series of NBA Cares community outreach events in Shanghai and Shenzhen, in addition to NBA Fan Day on Thursday, Oct. 4 in Shanghai, where fans can participate in on-court games and watch the players participate in skills competitions. Temple is taking advantage of the partnership with a pregame reception in Shanghai to further develop its relationships in China.
The organizations kicked off the partnership at the Philadelphia 76ers Training Complex on Monday with a media send-off event hosted by 76ers players, as well as Temple and 76ers executives, who spoke with media about the upcoming trip.
"It's a different type of culture," 76ers small forward Robert Covington said at the send-off event.
"This is an opportunity to go visit China — one of our biggest overseas fan bases — so just being able to go out and experience and have that interaction with our fans over there, they don't really get to see us that often. Having that opportunity to go over there is a blessing because you never know the impact that we can have because basketball is so prevalent over there, so for us to be able to go over there and be a part of that, it can really give us our own experiences and give them the best experience of their lives, as well."
[mc4wp_form id="8260″]
The initiative doesn't end after the NBA China Games. On Feb. 5, 2019, the 76ers will host their annual Chinese New Year Celebration Game, presented by Temple University.
"It just shows that as a whole culture, this city, we try to keep everything together," Covington said. "For us to be partnering with Temple, it's a great thing for us."