The third iteration of the XFL will be only the second to finish a season tonight with the championship game between the Arlington Renegades and D.C. Defenders.
And the way XFL executives are talking, there will no doubt be a "next season" — something neither the 2001 nor 2020 versions had.
"Renewals are going out now for '24 season tickets, and we still have data coming in from this season," said Janet Duch, the XFL's chief marketing and team business operations officer. "What is the engagement? Where is the growth? For us right now, we are taking all the learnings from '23 and applying them to '24."
The rebooted USFL is already nearing the halfway point of its second season — a milestone few football leagues without those three red letters on a shield have reached over the last two-plus decades.
The All American Football League (AAFL) failed to reach kickoff before ending in 2010.
The United Football League lasted three-plus seasons before folding in 2012.
The Stars Football League made it three seasons (2011-13) but is now available for purchase, per its website.
After burning through $88 million, the eight-team Alliance of American Football (AAF) halted operations two weeks before the playoffs in its first and only season in 2019.
But current XFL and USFL management is more about creating a sustainable model to avoid the pitfalls their precursors experienced.
Break with the Past
The first XFL, founded in 2001, was the brainchild of WWE's Vince McMahon and broadcast on NBC — a network that didn't have an NFL deal then. McMahon made it a point that it wasn't the NFL — there was no fair catch rule, a scrum instead of a coin toss, and risque cheerleaders reminiscent of the movie "BASEketball."
The second XFL, led by McMahon, showed some promise before the pandemic shut down the 2020 season. Bankruptcy soon followed before Dwayne "The Rock" Johnson, Dany Garcia, and RedBird Capital paid $15 million for XFL's assets in August 2020.
But XFL 2.0 and XFL 3.0 entered with a better conception of the role of a spring league: Rules can be different, but not at the expense of player safety. And unlike the USFL from the 1980s, Donald Trump tanked after three seasons; this current one doesn't want to compete against the NFL.
"It validates why this league is so important," USFL president Daryl Johnston told Front Office Sports. "I think there's a tremendous amount of pride with everybody involved in Season 1."
Johnston, the former Cowboys great and Fox Sports NFL analyst for over two decades had team executive roles with the AAF and XFL 2.0. After being an executive VP for the first USFL season, he became president of the Fox-owned league earlier this year.
"There was always that uncertainty with the Alliance of American football," Johnston said. "You always felt like you were on thin ice. With the USFL and the relationship that we have with Fox, you know you have a tremendous amount of assets at your disposal that you can lean on a little bit."
Brewing XFL, USFL Rivalry
As expected, there's a rivalry between the XFL and USFL. While no executive from either league publicly trashes the other, they will point out their differences.
There was talk of an XFL restart in 2021 and 2022 before it was pushed back to February 2023, a couple of weeks after the last Super Bowl. The league's eight teams practice in Arlington, Texas, and play games in their own markets: Arlington, Houston, San Antonio, Orlando, Washington D.C., Seattle, St. Louis, and Las Vegas.
Garcia, an XFL chair and co-owner, called the hub concept the league's "secret sauce" — one way to describe the cost-saving measure to assure the league's viability. While it presents challenges for in-market activation everywhere, D.C. Defenders Director of Team Operations Stacie Johnson said it's part of the vision that set this XFL apart.
"It's completely different this time," Johnson said. "I think that definitely speaks to the approach by Dany and Dwayne. I'm pretty sure they, along with RedBird Capital, would not have bought into this if they weren't here for the long run."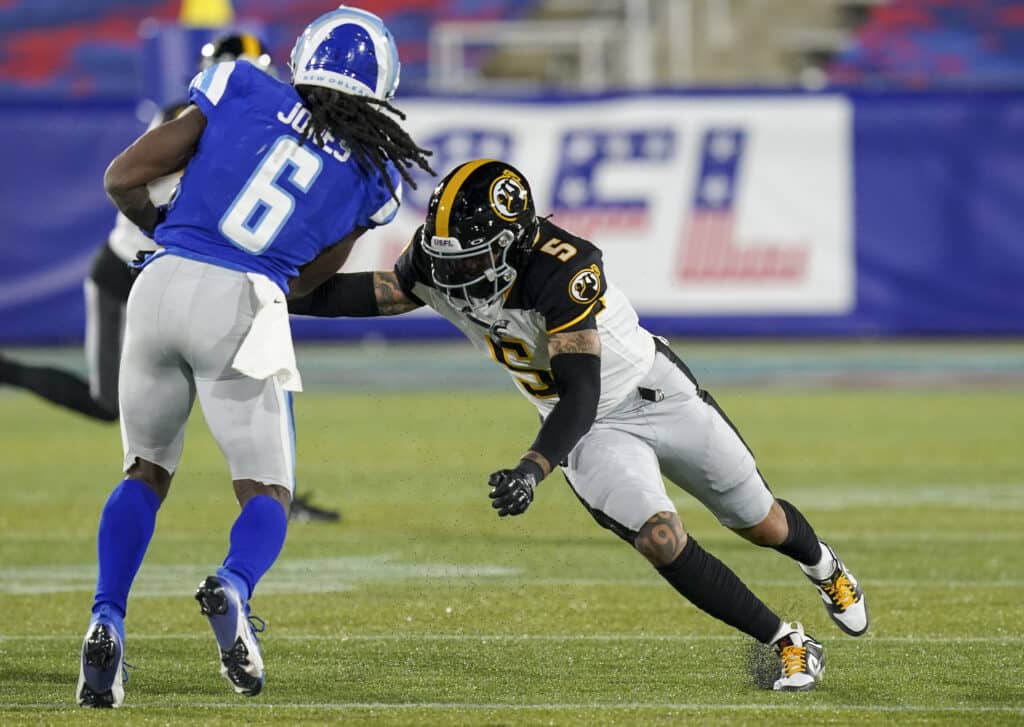 Head to Head
The eight-team USFL played all of its games in Birmingham in its inaugural season but has expanded to three more hubs this season — Detroit, Canton, and Memphis.
"When Birmingham plays, we still get great crowds," Johnston said. "New Orleans is undefeated and, by all measurements are, probably the best team right now in our league. They don't draw fans because they're not in New Orleans."
The XFL has had an attendance advantage by playing games in all its markets. St. Louis — which hasn't had an NFL team since the Rams left after the 2015 season — didn't make the playoffs but averaged a league-high 35,104 fans per game.
Regarding TV numbers, the USFL seems to have the edge.
The league's 43-game regular season is broadcast on Fox (18 games), FS1 (7), NBC/Peacock (11), and USA/Peacock (7). That gives the USFL 29 games on broadcast TV compared to seven for the XFL on a broadcast network (ABC), including tonight's title game. The rest of the XFL schedule is split among ESPN, ESPN2, FX, and ESPN+.
The USFL benefited from last Saturday's Memphis-Michigan game on NBC, which followed the network's coverage of the Kentucky Derby with an audience of 2.06 million viewers — the first broadcast by either league to eclipse 1 million viewers since the two leagues began to overlap beginning on April 15, per Sports Media Watch.
The XFL's largest audience this season was its February opener (1.57 million) on ABC, though the XFL has managed to lure in a younger demographic than the USFL.
Redemption Stories
The other major measurement of success is how many players advance to the NFL. The USFL again has the advantage because the league is a year older than the XFL.
Sixty players from the USFL's inaugural season signed NFL contracts, with 24 of those making it onto active rosters or practice squads. This season, 56 XFL players have been invited to NFL training camps so far.
Receiver and kick returner KaVontae Turpin was the USFL's breakout success, although there's a reason he had to take the spring league route. Turpin was cut by TCU in 2018 after his domestic abuse arrest. Turpin pleaded guilty, was given probation, and was ordered to complete a partner abuse intervention program.
"We shift the perception of who you are, not only as a player but as a person," Johnston said. "If you've had an issue in your past, and we feel that if the redemption is there, you deserve another opportunity. You've paid your dues, and if you come in and take advantage of the opportunities here, you can change the perception of what NFL scouts or general managers think of you."
Turpin, last season's USFL MVP, signed with the Dallas Cowboys and was an All-Pro in his rookie season.
"Leagues like the USFL give players reps, skill development, and film that maybe they didn't get in college," said Brian Lowe, an agent with Sports Management Worldwide who represents Turpin. "You need that film to show the NFL and CFL so they can assess and evaluate a player."
The XFL and USFL are filled with former NFL coaches and executives, contacts crucial to get to the big time.
"I think with the changes we've seen in the collegiate game, I just don't think the guys are as prepared as they were, 12 or 15 years ago. There is definitely a need there, especially for quarterbacks and offensive linemen. Those are very, very important for the professional game at the NFL level. How many people would know the name Brock Purdy had Brock Purdy not had the two people in front of him get hurt?"