In July, a large group of WNBA players represented by agency Wasserman found themselves in a bubble on the IMG Academy campus in Bradenton, Fla. They were embarking on perhaps the most important season of their careers — and isolated from much of their family and friends.
After a summer filled with calls for social and racial justice across the U.S., the WNBA did what it has always done: led the way on advocacy, dedicating its bubble season to the fight.
So Wasserman's team looked for ways to support the players and grow the league's reach. Players received a questionnaire asking what they needed and wanted in the so-called Wubble, and from there, Wasserman got to work on a brand "gifting" program.
The team began introducing brands — some emerging and new to the sports space, some more established — to their clients, pitching them on the entrepreneurial nature of women athletes and their value as endorsers.
Looping in existing brand partners was easy, as WNBA players always "over- deliver" on their end thanks to having "authentic" deals, said super agent Lindsay Colas, who has repped an array of No. 1 overall picks. Reaching out to potential new ones — including brands that had yet to enter the sports space — was often as simple as sending a DM, to which Wasserman's team received responses over half the time, and more quickly than in years past. 
"Then we follow up and we explain who these women are. We give them some data about their reach and their audience, and we talk to them about the bubble, and people are really eager to engage," Colas, who is the executive vice president of The Collective and women's sports at Wasserman, said. "I think that the pandemic, I think the use of data, the focus on social, the understanding of these women as leaders and as activists and the power in that — there's absolutely been an uptick in incoming and just general interest."
Products sent to the bubble run the gamut, from the hygiene and beauty categories to food and hobbies. They included products from Alaffia, Après, Art of Sport, Beats by Dre, Beyond Meat, BooSocki, Chipotle, doTerra, Gourmet Nut, Nuun hydration supplements, PigOut Rinds, TomboyX, Vertiball, Vega Protein, Vitafusion, Vital Proteins, Veestro, Waiakea water, Bloomscape, and — a player favorite — Spikeball.
Bloomscape provided plants for every room, while WNBA Players' Association President Nneka Ogwumike orchestrated some meal diversity for every player, coach and staff member on every team early in the season through her long-term partnership with Chipotle.
"Nneka actually reached out to all the players and literally was running point on getting orders from every single team," Wasserman Vice President of Marketing for Team Sports Drew LeMesurier said. "Just a great example of a brand that stepped up when the women needed something different from a menu offering."
Ogwumike also helped to facilitate a number of other deals for the whole community, including a children's reading nook and kitchen through Pottery Barn Kids and The Conscious Kid, a non-profit that educates kids and parents about how to raise anti-racist and non-biased children that donated 50 books.
Food was a popular category for the gifts, particularly among players with dietary restrictions.
Seattle Storm forward Breanna Stewart, who's a pescatarian, "loved" the Beyond Meat. Chicago Sky center Stefanie Dolson also said that the W's many vegans benefited from the alternative meats, and that the Vega Sport protein was great for fielding workouts and recovery.
"All these gifts being sent from all these different brands just made the Wubble experience so much better, and opened our eyes to all these new products that I had never used before, like Glossier [and] the Waiakea water — oh my God, my villa loved the water, we wanted more," Dolson said. "But it just made it so much more homey."
Dolson added that while family and friends also sent care packages, "for [companies] to send these products over, it just felt like they cared about us, and they wanted us to feel at home."
The gifting program also brought Wasserman clients together, Ogwumike said in an email. When similar-looking packages arrived for multiple clients, they knew it was going to be something exciting, Stewart added.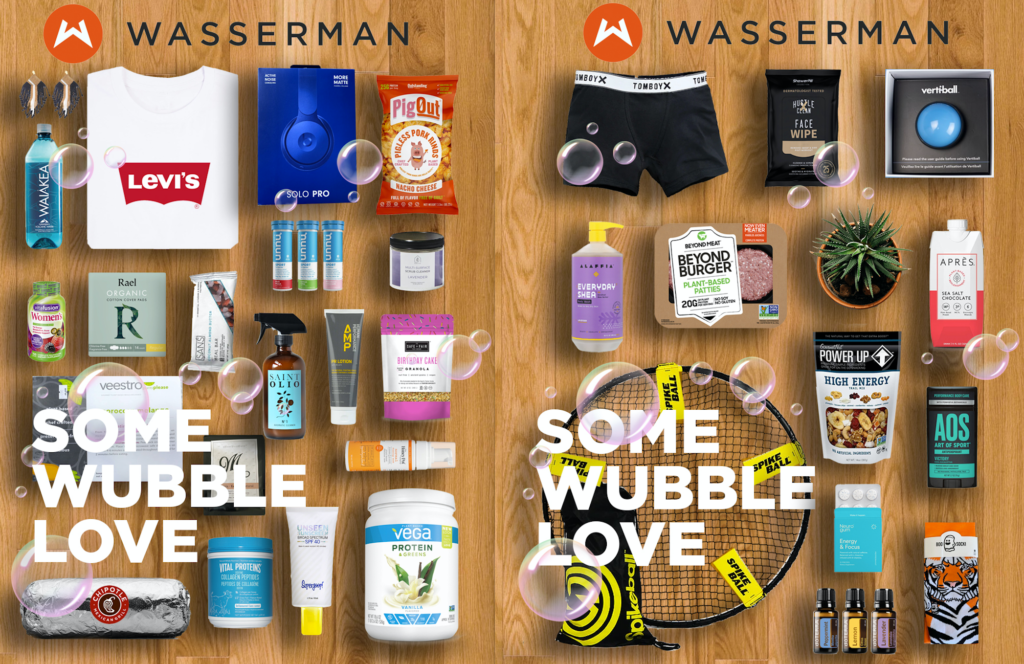 Looking around her room one Saturday night after practice, Stewart said her "Money Tree" plant from Bloomscape was a highlight.
"I have a plant which I'm watering and trying to take care of and trying to figure out what's going to happen with my plant afterwards, because I don't know if you can fly with plants," she said. "They just swagged us out, for sure."
And then there was the Spikeball — oh so much Spikeball.
"It gave us the opportunity to play with each other, to play with other teams if we were at the pool. Especially now there's a floating Spikeball, which was awesome," Dolson said. "Gabby [Williams] and I were partners. We lost most of the time. But we had fun."
For anything that can't come home from the Wubble, including the kids corner, Wasserman is helping to facilitate client donations to local organizations.
While many of the products were just-for-fun, useful, or nutritious, others were hand-picked because they align with players' values. Alaffia, for example, is a Black-owned beauty line, and Wasserman provided clients with a list of Black-owned restaurants in the area they could support.
"I think right now it's so important for us to magnify those voices of all these Black-owned companies," Dolson said. "This is the time when we need to amplify their voices. We were able to promote their products all over our Instagram, stuff like that. And obviously Instagram is a very important part of our society right now. So it was a great opportunity for us to do that for them and hopefully get a partnership with the WNBA as well."
Ogwumike also called out the focus on Black- and women-owned companies as a standout element of the gifting program.
Dolson and Stewart said that when evaluating whether or not they wanted to promote one of the products they were gifted, they considered the company's background and if their interest in the product was genuine.
"For me it's the authenticity part. I often will promote brands and companies that are authentic to myself, that may not be authentic to someone else in the bubble. But I'm always looking for that, whether it's sports-related or something like Glossier — for me, I love skincare and makeup," Dolson said. "So I think everyone's different, but for me, it's just being true to who I am as a person."
"Obviously there's a lot of products that people use, similarly and differently, but to be able to have a partnership with brands that are really all-in the way that you are and really trying to continue to make this world a better place is super helpful and just supportive," Stewart said.
Players recognize the importance of fostering a two-way relationship with sponsors for long-term success.
"Our women are super motivated to help these brands activate as long as there is enough of an organic story there — an affinity for the brand or the product," LeMesurier said. "I think we have such confidence in our clients to do a great job of that. And again, that's why we're seeing that these relationships, even if they started on the product seeding level, they're ultimately turning into something greater. I think we'll bet on our clients in that capacity every day."
But relatively recently, when Colas first began working with Ibtihaj Muhammad, the Olympic fencer wondered if she could be "political" — both an athlete and an activist. Not only could she, Colas told her, but she had to be. 
And Muhammad went on to build her career around it — but she knew to ask if she could be political. Many brands only recently have realized that "getting political" can be good for business.
"Even as recently as [the 2016 Olympics], people were not totally sure if that was smart. I don't think anybody would have called it 'safe,'" Colas said. "But I've always been very clear that this was the way that things were going to go."
Brands are finally recognizing the viability of WNBA players as partners, and at a time when they're doubling down on their values.
In all, about 10 partnerships were born from, or elevated by, the gifting of products to Wasserman clients in the Wubble. Among them, deals with Spikeball, Beats by Dre, Vertiball, Chipotle, Alaffia, Bloomscape, Pottery Barn Kids x The Conscious Kid, and Vistaprint — a recently-closed paid deal that will feature Sue Bird, Kelsey Plum, Katie Lou Samuelson, Dolson, Ogwumike and Stewart encouraging people to vote.
"People are starting to connect the dots between what it means to be an activist, what that says about women as leaders, and the value that that can bring to brands. People are getting smarter. And when people get smarter, they start noticing these women are perfect for them. They share values. I think they advance conversations that the brands are interested in having, and they do it very authentically," Colas said. "We're all starting to see very clearly, especially with young people, that people want to align and they want to buy and they want to engage with brands that stand for something. And these women very clearly do that."
For players, the shift has been a long time coming.
"Overall I just think getting these products and putting them on our platform and using our platform in the bubble was kind of best-case scenario in that way. We got to use our voices any way that we could," Dolson said.
Ogwumike added: "Honestly, it's about damn time."
Wasserman provides its many high-profile clients across all sports with an extensive list of ways to use their platform and influence to advance women in the industry. It includes everything from funding programs for women and girls at the grassroots level to even buying U.S. Republican Sen. Kelly Loeffler's ownership stake in the Atlanta Dream.
Colas says to take things to the next level, those activations should come from companies, foundations, players in other sports, and media.
"We need exponential investment and engagement from partners and from stakeholders," Colas said. "I think the big global brands are really understanding the power that these women possess to help them tell stories and to help them make their identity clear … supporting the WNBA and women in sports is activism, it's feminism."