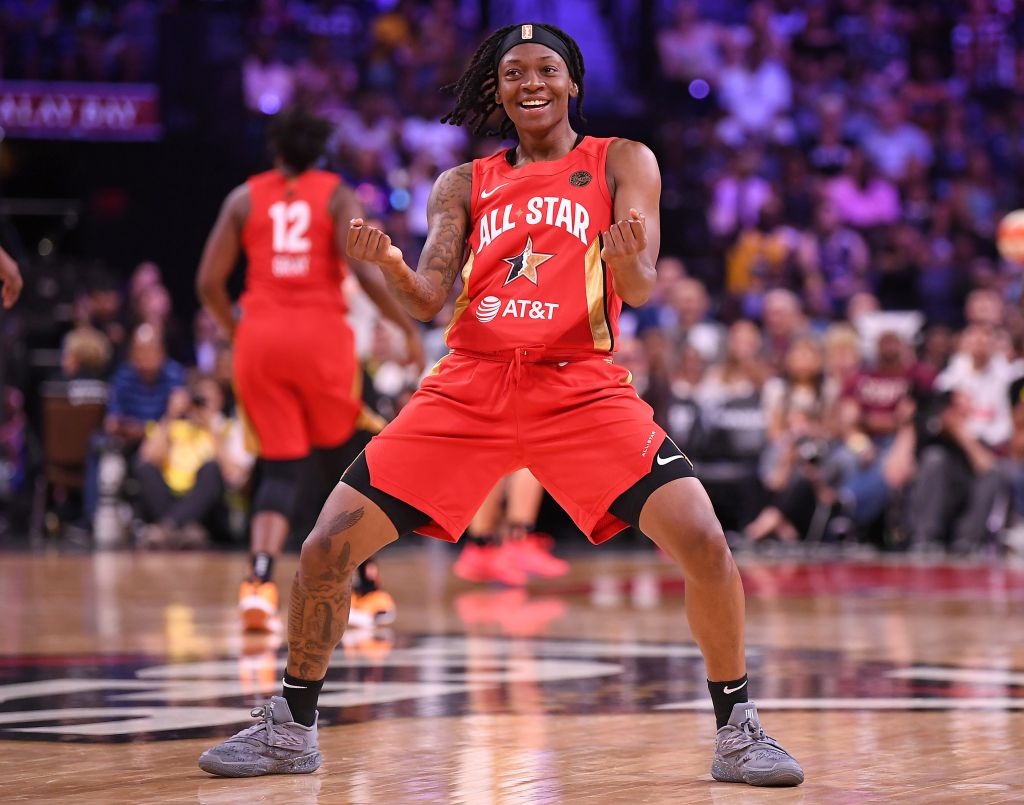 For Christy Hedgpeth, her path to playing basketball began like many kids – via a television. As a child, she remembers watching a college basketball game and realizing that one day, she wanted to play on that stage.
While Hedgpeth's playing career is now in the past, her current role in women's basketball is perhaps her most important one yet. As the WNBA's chief operating officer, she is experiencing first-hand the league's tremendous growth. As the league is now heading into the second half of its 2019 season, she thinks the WNBA is only scratching the surface for what it can achieve – aided this year by television.
"We believe so wholeheartedly in the potential of the WNBA and we've been working really hard and very committed all these years," said Hedgpeth. "Especially right now, we're just starting to see the positive signs. They encourage us, and we'll continue to invest and work really hard to take this league to where we really truly believe it can go."
READ MORE: Cathy Engelbert on Her Role and the Future of the WNBA
The positive signs that Hedgpeth alludes to come from the WNBA's broadcast partners. With TV partners such as ESPN, ESPN2, ABC, and most recently CBS Sports Network more heavily promoting and showcasing the league's games, watching WNBA games is getting easier year-by-year – and it shows in the metrics.
According to Carol Stiff, ESPN's vice president of programming and acquisitions, ratings are up 31% year-over-year. She attributes this rise to ABC's relationship with the WNBA, which has been so successful that the channel added more games to its 2019 slate.
To begin the 2019 season, the first three WNBA games averaged 413,000 viewers across ESPN2 and ABC – a 64% increase year-over-year from 2018's first four games on ESPN2. This rise was particularly evident on June 8, when the Sparks-Lynx contest drew a 0.6 overnight rating – up 200% from last season's comparable Sparks-Storm matchup.
Stiff also added that across ESPN, ESPN2, and ABC thus far, the WNBA is averaging approximately 318,000 viewers – up from the 243,000 ESPN2 drew in 2018. With the WNBA continuing the US women's national soccer team's recent run of success, Stiff believes that the latter's pursuit of equal pay has helped other female sports attract the attention they deserve.
Said Stiff, "I think there is a lot of energy and enthusiasm on the World Cup and a focus on equality of pay on women's sports in general. So that could have had a halo effect on the game – I do love seeing some of our NBA greats at the All-Star Game. They continue to come out and watch their local teams."
Viewership figures for WNBA games on CBS Sports Network were not made available.
Outside of expanding the WNBA's viewing options, Hedgpeth and the league has been persistent in further diversifying its fanbase. With professional athletes – male and female – being as outspoken as they are, Hedpgeth wants WNBA players to appeal to a younger generation which she believes promotes women empowerment, equality and social consciousness.
Hedgpeth also mentions that the WNBA's social media presence – particularly on Twitter – has helped players be more visible to fans. It has led to Twitter "takeovers" with the league's budding stars such as A'ja Wilson, Chiney Ogwumike, and Chelsea Gray, among others.
It has also led to greater exposure for lesser-known WNBA journeywoman such as Erica Wheeler. Before she won MVP at the 2019 All-Star Game in Las Vegas – a first for an undrafted player – the former Rutgers grad wasn't sure if she'd make it professionally. After graduation, she didn't receive a single invitation to any WNBA training camp.
While working side jobs, she received an offer to play professionally in Puerto Rico – for $200 a week. Puerto Rico then was followed by trips to Turkey and Brazil before she finally got her first glimpse of the WNBA – a tryout with the Atlanta Dream.
Wheeler then bounced around between the Dream and the New York Liberty before landing with her current team, the Indiana Fever. In February, she signed a two-year deal with Indiana – four years after trying out with the Dream.
READ MORE: Expanded Media Coverage Fuels The WNBA's Sudden Spike In Fan Engagement
A story like Wheeler's, Hedgpeth says, is what the WNBA needs to tell fans about. Through developing human-interest content across social media, Hedgpeth believes it gets the league one step closer to connecting with people on a level it hasn't reached before.
"We truly believe that highlighting players and their stories is naturally going to drive interest in the league," said Hedgpeth. "We want to continue to drive attendance and drive folks into arenas so that they can experience and connect to the teams and connect to the players."