By: Kraig Doremus, @Kraig_Doremus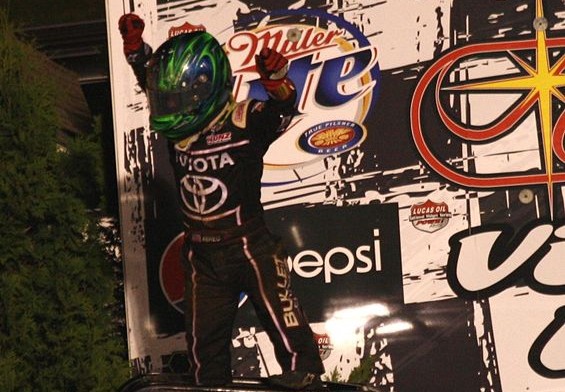 TULSA, Okla. — Twenty-four-year old NASCAR Camping World Truck Series Driver Rico Abreu has announced that he will not return to full-time NASCAR truck series racing due to sponsorship issues.
Abreu, who ran 25 truck races over two seasons, posted career bests during the 2016 season. He finished in the top five on two occasions, including a third-place finish at Eldora, the dirt track owned by three-time Monster Energy NASCAR Cup Series champion Tony Stewart.
Abreu finished in the top 10 five times, with his last being at Talladega, the 19th race of the season.
Despite leading only one lap in 2016, he finished 13th in the final standings and had an average finish of 16th position.
Although he never found himself in the NASCAR Camping World Truck Series victory lane, Abreu ran a total of 90 races across multiple series and won 16 times. Of his 90 races, he placed in the top 10 exactly half the time, while recording 33 top five finishes.
Despite a lack of NASCAR sponsorship, Abreu turned his attention to the 2017 Chili Bowl Nationals, where he competed for car owner Keith Kunz in the #97 car. The five-day event, held in Tulsa, Oklahoma, was won by Christopher Bell, who ended Abreu's two-year reign as Chili Bowl Champion.
Abreu, a two-time Chili Bowl winner has impressive racing credentials as he was named the NASCAR K&N East Series' Most Popular Driver in 2015, in addition to being the 2014 United States Auto Club (USAC) Nationals Midget Champion.
It remains to be seen whether the 4-foot-4-inch driver, who suffers from achondroplasia, which is the most common cause of dwarfism, will land another NASCAR Camping World Truck Series ride, but he is not the only driver to be hit with sponsorship issues.
Some of the biggest names in the sport, including Dale Earnhardt Jr., and 2003 Monster Energy NASCAR Cup Series Champion Matt Kenseth have lost sponsors.
Earnhardt Jr. lost sponsor National Guard after the 2014 season, which ended not only its NASCAR sponsorship, but also its Indycar ties. The company spent over $40 million between the two series. Nationwide Insurance began sponsoring the 14-time Most Popular Driver Award winner in 2015 and will be the primary sponsor for 21 races this upcoming season.
Kenseth lost Dollar General, which ended its NASCAR sponsorship after the conclusion of the 2016 season. The company was featured on Kenseth's car as the primary sponsor for 30 races in 2015 and 2016. According to Jayski, the 2003 champion, who enters his fifth season with Joe Gibbs Racing, will have longtime sponsor DeWalt on board for 15 of the 36 Monster Energy NASCAR Cup Series events.
Any drivers looking to find rides or sponsors have just over one month until the NASCAR season gets underway. The first truck race is Friday, February 24, at Daytona International Speedway, with the NASCAR's premier event, the Daytona 500, taking place on Sunday the 26th.