Once phased out, Fanatics is bringing back souvenir trailers.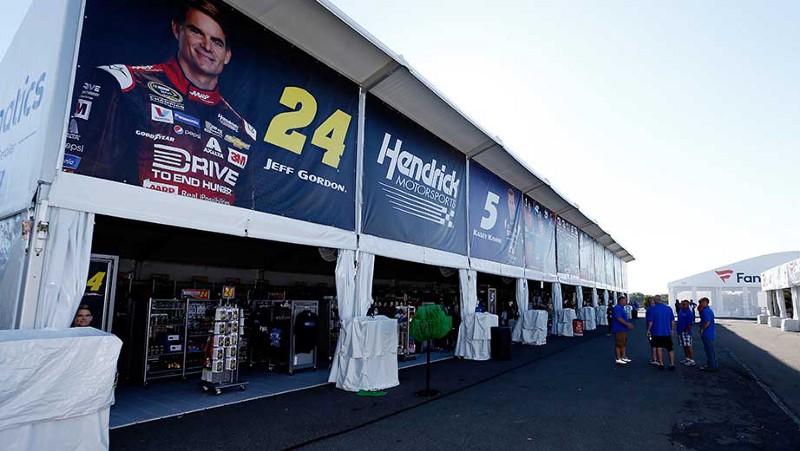 Less than two years ago, Fanatics, the global leader in licensed sports merchandise, took over NASCAR's trackside goods sales — causing an uproar among some fans that the beloved souvenir trailers were being replaced in favor of a larger model, which simulated more of an indoor shopping experience. Now, Fanatics has announced another shift in its model — bringing back the very thing it originally took away.
Despite the fact that International Speedway Corporation has said sales over the past year have increased 6 percent because of the model, Fanatics plans to shift to having souvenir haulers outside the gates and multiple mini displays (tents, kiosks, etc.) inside. The reasoning? The 65,000 square foot tent sat empty for the majority of the race because it was outside the track. Even with breaks after each stage, fans could not leave their seats and purchase an item before the next stage began.
---
At the April 30 race at Richmond International Raceway, Fanatics President Ross Tannebaum noted that more than 50 percent of fans didn't make it into the tent. Having the trailers alongside the tent will ensure that fans see the multiple merchandise options and can shop during different windows, so merchandise areas are not often empty.
https://frontofficesports.com/https-frntofficesport-com-178-million-upgrade-coming-to-phoenix-international-raceway-95c34e78afee
According to Tannebaum, completely eliminating the tent in favor of the haulers would put them back at square one. Instead, the company is trying to create the best possible shopping experience by having the haulers and tent available. No longer will driver and team merchandise be limited to just the tent. Also, because the tent and haulers will be in different locations, fans should have quick and easy access to merchandise, allowing them to shop pre-race, in-race (between stages) and even post-race.
The original 2015 plan from Fanatics was to bring select trailers to each track but have the tent be the primary focus for driver and team merchandise. The haulers seemed to be squeezed out and used as a secondary resource, but Tannebaum and company realized they need to both areas selling driver gear to cater to all fans.
"The reality is having a hybrid of having the haulers as part of the process but still creating more destination retail is the best way to do this," Tannebaum said.
---
Bringing back the haulers will also help with the issue of overcrowding. In the Fanatics tent, the driver gear was in pods. Some drivers, such as Dale Earnhardt Jr., who is the top seller thus far in 2017, have multiple pods. With Jr. now having pods and merchandise at souvenir trailers, fans will have more options to browse his gear and spend less time in line. Better yet — the options cater to both the old school fan who likes the haulers and those who want to physically try on and inspect the merchandise in the tent.
The tent carried $2.5 million in merchandise when it debuted and even contained 50 percent more merchandise for several drivers. The return of haulers will hurt drivers from single car teams or those ones who don't attract hardcore fans. The tent most likely will no longer be 60,000 square feet, thus meaning less inventory for all drivers, but especially the non-mega stars.
https://frontofficesports.com/https-frntofficesport-com-178-million-upgrade-coming-to-phoenix-international-raceway-95c34e78afee
This change does two things for NASCAR. First, it aims to make all fans happy. Those who want to stand at a trailer of their favorite driver to select gear can do so, while others who prefer shopping in a climate controlled tent have that choice. Second, it will give NASCAR a chance to maximize their revenue.
Now, it seems that merchandise will be readily available in many different forms and locations. As Tannebaum said, Fanatics is aiming for the best of both worlds. The two options should ensure that more fans seen the merchandise options and nearly all fans know where to find it and have the opportunity to shop. No longer will 60 percent of fans not stop into the tent or fans not know that it doesn't exist. With the new model, revenue should increase, and more fans will shop — happily as they can choose their preferred method.
It will be interesting to see the unveiling of the new model, which could change from track to track. The trailer shoppers have their wish. Are you a fan? What does this do for NASCAR in terms of merchandise sales? Tweet me your thoughts @Kraig_Doremus.
---
Front Office Sports is a leading multi-platform publication and industry resource that covers the intersection of business and sports.
Want to learn more, or have a story featured about you or your organization? Contact us today.