One of the most exciting insights of our
2023 Investor Roundtable Report
was the emphasis on the exponential rise of Artificial Intelligence tools, apps, and solutions, which will likely take over sports by storm this year.
The popularity of AI has fluctuated over the last three decades. Yet recent developments, new projects, and increased interest from big tech and private equity have businesses feeling bullish. 
This week, Microsoft announced a $10 billion investment in OpenAI — the company behind the captivating tool ChatGPT — valuing the San Francisco-based firm at $29 billion.
The chatbot has been making waves for a few weeks now. It crossed a million users in less than a week, and Elon Musk labeled it "scary good," also suggesting, "We are not far from dangerously strong AI."
But ChatGPT is not alone — Generative AI, DALL-E, and GPT3 have also been making headlines lately. 
The hype for AI is real.
Data from Google Trends shows interest hit an all-time high in December 2022:
For sports businesses looking for an investment edge or wanting to understand how AI impacts their operations, the time is right to examine this evolving technology's value, impact, and potential liabilities.
Simplifying AI
AI is an algorithm that combines millions of data points (inputs) to find the best outcome, probability, or insight (outputs) for a problem involving several variables. 
AI iterates by replicating tasks and learns independently by analyzing a dataset to extract knowledge, provide solutions, and predict outcomes more accurately. 
The rise of data collectors, sensors, and devices quantifying what we do placed millions of data points at our disposal — to sort, filter, mix and match to find correlations, AI was the solution.
"Today's technology allows us to leverage AI's speed and computing power to solve complex problems more accurately than humans. Data within the right context creates knowledge," explained Jake Schuster, CEO at Gemini Sports Analytics.
Due to AI's automation, businesses can save and reallocate resources such as time, money, human capital, and effort into more productive tasks.
The insights and knowledge derived from AI have the potential to improve a product or system through objectivity, accuracy, customization, and personalization.
But all of the benefits wouldn't be as attractive to pursue if there wasn't a huge investment-capital opportunity within.
The Potential
AI makes a strong case for its investment potential due to its immense ROI and market of opportunity. Any business, sector, or industry that uses data can use it. 
According to Grand View Research, the global market for AI is projected to grow at a compound annual growth rate (CAGR) of over 38% from 2022 to 2030. 
Due to its ability to estimate the probabilities of diverse outcomes, the technology also creates new use cases like prediction markets, personalization, and investment opportunities.
AI is also a versatile tool that can optimize most (if not all) company components — from the business side (sales, accounting, and financing) and the operations (marketing, recruiting, strategy) to the products or services offered.
Adoption In Sports
Data collection in sports is not new, but using it for optimization, decision-making, and performance started in the late 1990s and early 2000s. 
Billy Beane and the moneyball concept challenged how the sports industry approached data, the game, and the business. 
The revolution was bound to happen, but the biggest sports properties (teams, leagues, brands) are in the entertainment business — not technology. 
Someone needed to build or simplify the tools for the diverse needs of sports organizations.
As a result, the last 20 years saw a rapid increase in companies creating AI tools and solutions for the needs within sports organizations, most notably scouting and recruiting, safety, performance, fan experience, and content.
From software like AWS, Snowflake Data Cloud, and DataRobot AI to companies like Hawkeye, Opta Sports, Stats Perform, and Second Spectrum — there's a wide set of tools and expertise that is enabling the AI revolution in sports.
In part, the industry's fiercely competitive landscape created the need for AI adoption. Any organization that wanted to stay relevant had to avail itself of the competitive advantage.
"We are at a point where AI has become easier to adopt. If you have a use case and are not exploring the adoption of AI, at least to make things faster and easier, you will find yourself left behind," explained Brandon Nutting, VP of Product and Data Science at MVPindex.
Hundreds of sports organizations today use AI for a wide variety of applications — but what's the true impact of these solutions?
Conquering An Industry
Experience Enhancement 
While some may argue nothing substitutes the magic of attending live sports — the pandemic, the rise of mobile devices, OTT, 5G, and many other factors have kept live sports on television significantly relevant. 
The introduction and early success of alternative telecasts that feature different commentary and viewing experiences revealed an appetite and a need to customize live sports experiences on TV.
nVenue is a real-time predictive analytics company from Texas that uses AI to calculate live probabilities, lines, and odds for everything happening in a game in real time. 
Kelly Pracht, CEO of nVenue, told FOS that the reason nVenue cannot live without AI is because "to know what a fan wants, we need to get ahead and 'think like the fan' — how they think about the upcoming plays, what might or should happen, etc."
The company gathers and analyzes thousands of data points per second. Absorbing massive amounts of information, calculating, and providing reliable outputs in real time is only possible through AI.
Using data and statistics, nVenue aims to make live sports more fun and engaging, but it also enables new use cases like microbetting and allows sportsbooks and media properties to learn more about fans' decision-making processes and preferences.
Optimized Content and Marketing
The need for consistent engagement between fans and sports brands through content, plus the wide array of social networks, channels, and platforms through which sports fans interact with their favorite sports brands, demanded a solution that could allow sports content creators (teams, leagues) to be everywhere all at once.
WSC Sports, one of the most successful sports tech companies from Israel, is a platform that automatically creates highlights in real time for the biggest teams, leagues, and sports broadcasters worldwide. 
The company generates video content with AI, Machine Learning, and Computer Vision. 
Its algorithm identifies, tags, and indexes every single action as it happens in a game. Subsequently, the platform gathers diverse video segments to create, brand, and distribute a unique highlight.
The evident need for automation and the extensive list of high-quality partners that use its technology — including the NBA, the NHL, and ESPN — solidifies WSC's moat in the highly competitive market for attention.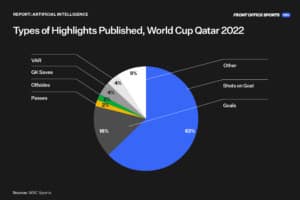 "Not even an army of human video editors would produce content at the speed and scale of our AI platform," said Daniel Shichman, CEO and Co-founder of WSC Sports.
Increased Performance and Injury Prevention
Athletes are continuously looking to increase their likelihood of success on the playing field — personalized training, skill development, tailor-made wellness programs, and optimized recovery are all looking to maximize the upsides. 
iBrainTech, a company based in Tel Aviv, created a system that trains regions of the brain through neurofeedback. 
The system provides real-time data on players' brain activity, teaching them how to activate their brains more efficiently. Multiple Tier 1 teams and leagues worldwide use it.
"We need AI to personalize the training model for each individual's patterns. With advances in AI, the ability to decode and understand brain signals has become a driver of novel breakthrough neuroscientific technologies," explained Konstantin Sonkin, CEO at i-BrainTech.
In the performance world, however, minimizing the downsides — the risk of an injury — is also becoming a priority.
Orreco, an Ireland-based company, created an advanced decision support system to provide personalized training and performance recommendations for elite athletes.
"Our approach uses AI to extract insights from biomarkers, wellness, and external load monitoring. Our in-game motion tracking data combined with domain expertise results in a world-leading decision-support system," explained Dr. Brian Moore, CEO at Orreco.
"In our Motion Signal module, we use in-game player motion-tracking data to learn how a player moves and create a reliable prediction of a player's risk of non-contact soft tissue injury in real-time."
And it works — Orreco's models have correctly identified in-game non-contact soft-tissue injury with excellent predictability and a low false-positive rate — 86% specificity and 85% sensitivity.
Next Steps
Due to the wide variety of benefits, the convergence of AI and the sports industry at all performance levels and for business and operations seems inevitable, and the areas of opportunity are endless — refereeing, sports betting, media piracy, and compliance are only a few.
Sports is inherently an industry that thrives on competition not only for titles but for eyeballs — so once someone finds an advantage, others will rush to get in on the action.
Additionally, the convergence or multilayering of technologies will also create new opportunities. "A combination of sports statistics and computer vision is a convergence that will produce more actionable results. There are a lot of disparate areas within sports working on unique applications. The combination of these areas will result in massive leaps forward," explained Nutting.
"AI as augmented intelligence combined with deep domain expertise has huge potential as a personalized decision support system harnessing information across all data sources in elite sports," said Moore.
Today, educating the sports industry about the advantages of AI is the biggest challenge. Many sports organizations are still run by former generations who are extra-cautious about innovation. To take the next step, they must realize they have no other choice — and 2023 might be the year it finally happens at scale.