Dale Earnhardt Jr. is one of the most popular drivers on and off the track.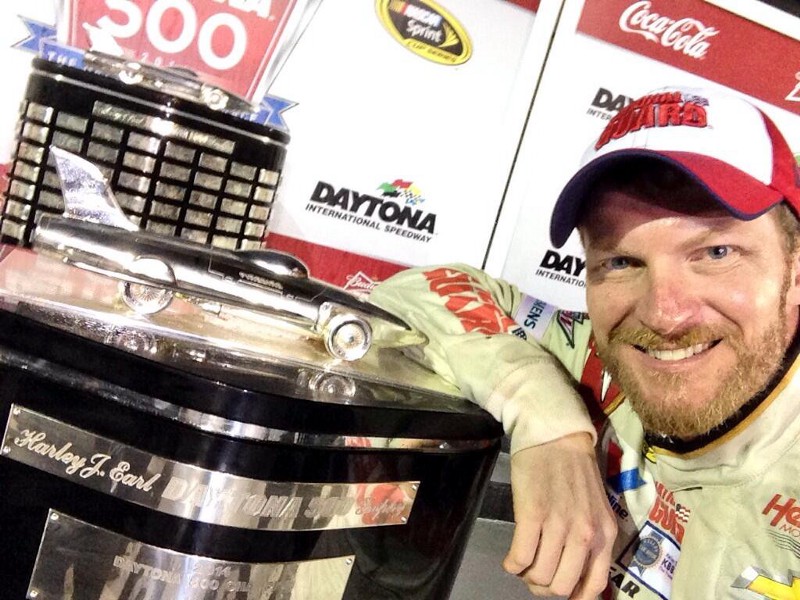 Dale Earnhardt Jr. knows a thing or two about winning races. He also knows social media better than many celebrities today. The 14-time Most Popular Driver and 26-time Monster Energy NASCAR Cup Series winner has not only produced large media value for his sponsors, but also given fans an insight into his life throughout his various social media accounts.
According to Chris Knight, News Editor and Senior Staff Member at catchfence.com, "When Dale Earnhardt Jr. (who recently announced that 2017 would be his last season competing in the Monster Energy NASCAR Cup Series) elected to sign onto social media, it was one of the best things that happened to NASCAR. When Earnhardt Jr. speaks, whether it's with a microphone, an in-car radio or simply tweeting with the keyboard on his phone, fans and people listen."
People listen, but it also helps sponsors, as the value produced by Dale Jr.'s social media accounts is seemingly off the charts. However, what do the stats really show?
---
In the nearly two and a half years that Earnhardt Jr. has been on Twitter, he has earned more than 2.1 million followers. His first tweet, where he posed with his Daytona 500 winners trophy, remains his one of his most popular tweets to date, having been retweeted more than 20,000 times. But it's not just about the retweets. Believe it or not, there's financial value in his social media posts as well.
Hookit, a company which uses social media views and interactions to gauge ones worth and popularity, determined Earnhardt Jr.'s social media value for his sponsors to be $21.7 million, according to a study done by ESPN. Of that, $15.8 million came through his Facebook, which has more than 3 million likes.
Despite having more Twitter followers (2.1 million) than Instagram followers (456,000), Instagram contributed nearly $5 million of his worth, while Twitter came in just under $2 million.
From a sponsor perspective (stats according to Hookit and posted on RacerXOnline), the driver of the №88 Hendrick Motorsports Chevrolet has generated 70.8 million interactions for five of his many sponsors, as well as $21.5 million in media value for the same five companies.
---
Through the end of April, Earnhardt Jr. had nearly 35 million interactions and views of his social media accounts. No big deal, he's just Dale Earnahrdt Jr., you're thinking. What's shocking is this: his closest competitor is seven-time champion Jimmie Johnson, who had a shade under 5 million interactions through April 30.
At the end of the day, Earnhardt Jr.'s presence is one of the best things to happen for NASCAR. — Chris Knight
Klout, a website that uses social media analytics to rank users according to influence, gives Earnhardt Jr. an 85 out of 100. Here's how he stacks up to some of the other stars of NASCAR:
· Kevin Harvick: 85
· Danica Patrick: 84
· Joey Logano: 83
· Chase Elliott: 81
Now what about the stars of basketball, football, baseball and even pop culture? Take a look at some Klout scores of noted athletes and celebrities compared to Dale Jr.'s 85:
· Aaron Rodgers (NFL): 87
· John Wall (NBA): 85
· Mike Trout (Baseball): 81
· Madonna (Singer): 79
Of those four, only Rodgers has a higher score than Earnhardt Jr. Besides that fact that he is the most popular driver in the sport and has the biggest following of any driver, what makes Dale Jr. so good at social media?
---
The answer is simple. While he knows that promoting sponsors and keeping them happy is a huge part of using social media, he also uses the platforms to engage with his fans. It's not just to promote his sponsors 100 percent of the time. Earnhardt Jr. is known to do most race Periscopes and will also strike up a conversation with fans via a question and answer session, give followers insight into his weekend at the race track or even call out counterfeit merchandise.
"You may not always like what Earnhardt Jr. has to say, but you respect him for what he does say because of the people who not only interact with him — but because he's pure, genuine and straight to the point," Knight said. "He'll tell you when something is good, when something is bad and everything else in between and won't leave anything off the table."
https://frontofficesports.com/run-after-the-crash-documenting-michigans-men-s-basketball-magical-postseason-tournament-run-daa12d578707
Earnhardt Jr.'s insight isn't just for fun though. Often, fans leave having learned something new — either about the 14-time Most Popular Driver or NASCAR itself, which Knight noted.
"He does it in a matter of where you can learn from it, though. Whether it's answering a fan's question or just talking about memories, prior experience or the previous race weekend. Anytime he's engaging — you're learning more about him and the things he values most."
At the end of the day, Earnhardt Jr.'s presence is one of the best things to happen for NASCAR. From the fans in the stands to the journalists covering the races, multitudes of individuals enjoy following his social media accounts. Knight summed it up best saying, "I only wish it would have happened years sooner."
https://frontofficesports.com/run-after-the-crash-documenting-michigans-men-s-basketball-magical-postseason-tournament-run-daa12d578707
For more NASCAR news and notes, follow @Kraig_Doremus, and @Knighter01.
---
Front Office Sports is a leading multi-platform publication and industry resource that covers the intersection of business and sports.
Want to learn more, or have a story featured about you or your organization? Contact us today.