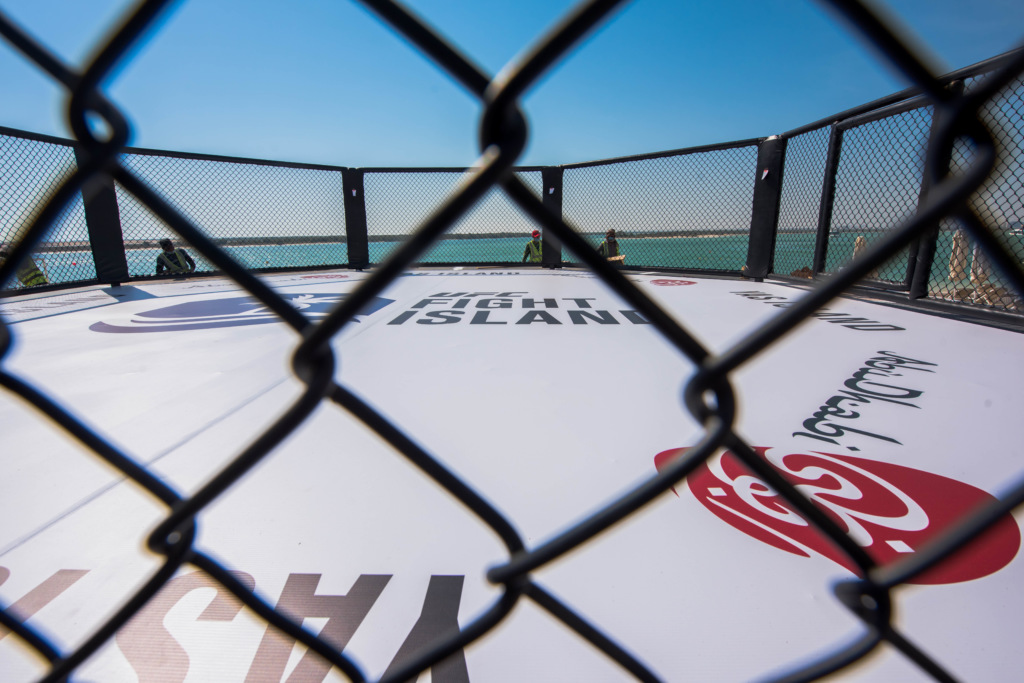 The return of live sports during the coronavirus pandemic will face another big test as the UFC's long-awaited 'Fight Island' becomes a reality this weekend.
The human-made Yas Island in the United Arab Emirates' capital city of Abu Dhabi will host UFC 251 and three ESPN Fight Night events from July 11-26. Within the island, the UFC and UAE officials have closed off a roughly 11km-long "safe zone" from the public, including hotels, restaurants, and training facilities.
Fight Island represents a massive financial investment, and risk, by Abu Dhabi's Department of Culture and Tourism. A group of government agencies in Abu Dhabi and UAE are collectively footing the bill for 'Fight Island.' However, according to Executive Director Ali Al Shaiba, it's worth it.
Even before the first punch or kick is thrown Saturday, Abu Dhabi tourism officials are already talking to other global sports leagues and federations about bringing their live sporting events to Yas Island. So 'Fight Island' could easily morph into 'Basketball Island' or 'Soccer Island' if things go well this month.
"We have a few proposals on the table for events to be on the island. We are studying them very carefully," said Al Shaiba. "We care about the media value and exposure that this event will bring to Abu Dhabi. It's not just about hosting an event. It's about the message we want to send to the globe."
Here are some details about Fight Island:
It will cost less than the NBA's Bubble. The NBA will spend over $150 million at the Walt Disney World Resort in Orlando over three months, according to ESPN. Al Shaiba said 'Fight Island' will cost less, but declined to get specific. "I don't think we are reaching that figure. But it's a massive operation," he said. Created in 2009, Yas Island has already hosted everything from UFC cards, Formula 1's Abu Dhabi Grand Prix and the Asian Muaythai Championships to a Beyonce concert and Broadway shows.
The UFC and media partners like ESPN are looking to pump artificial crowd noise into the TV/streaming coverage, according to Al Shaiba. The partners have been studying the use of artificial crowd noise during soccer games in Europe to see how they can best layer it into 'Fight Island' coverage. Cameras will be almost strictly focused on the action in the octagon to mask the fact that there will be no traditional spectators. "The roar of the fans won't be there. The fighters won't feel it. But the sound, the technology, can help make this more exciting," Al Shaiba said.
The area in and around the octagon will feature special safety measures. The passageways to the Flash Forum indoor venue will feature "mist tunnels" designed to sanitize everyone on their entrance while killing 99% of surface bacteria. The octagon itself will be sanitized between each fight and deep-cleaned every evening.
Every person in the "safe zone" will be repeatedly tested for COVID-19. All those quarantined within the area are required to prove three negative test results to move around the area. "It's going to be the tightest bubble that you could sort of ever produce," UFC Chief Operating Officer Lawrence Epstein told ESPN. "It's a pretty unique situation on an island with incredible controls over who's coming in and not letting people come back in once they've left."
'Fight Island' has been UFC President Dana White's baby from the beginning. He believes the UFC will help kickstart the return of live sports around the globe.
"We came up with the idea of having fights on 'Fight Island' because we needed a destination to hold international events during the global pandemic," White said in a statement. "Abu Dhabi has been an amazing location to hold fights over the past ten years, and it is the perfect place for these events."
READ MORE: With Focus On 2021, Professional Fighters Leagues Pivots Toward Digital
As the pandemic waxed and waned, Abu Dhabi kept checking with White if he wanted to go through with it. The answer, always, was yes.
"He said, 'You do your work, I will do mine.' It started there," recalled Al Shaiba. "For us, it was a challenge in the beginning. But now we are so confident that things will be exciting, easier, smarter. We have it ready now for the athletes to arrive."