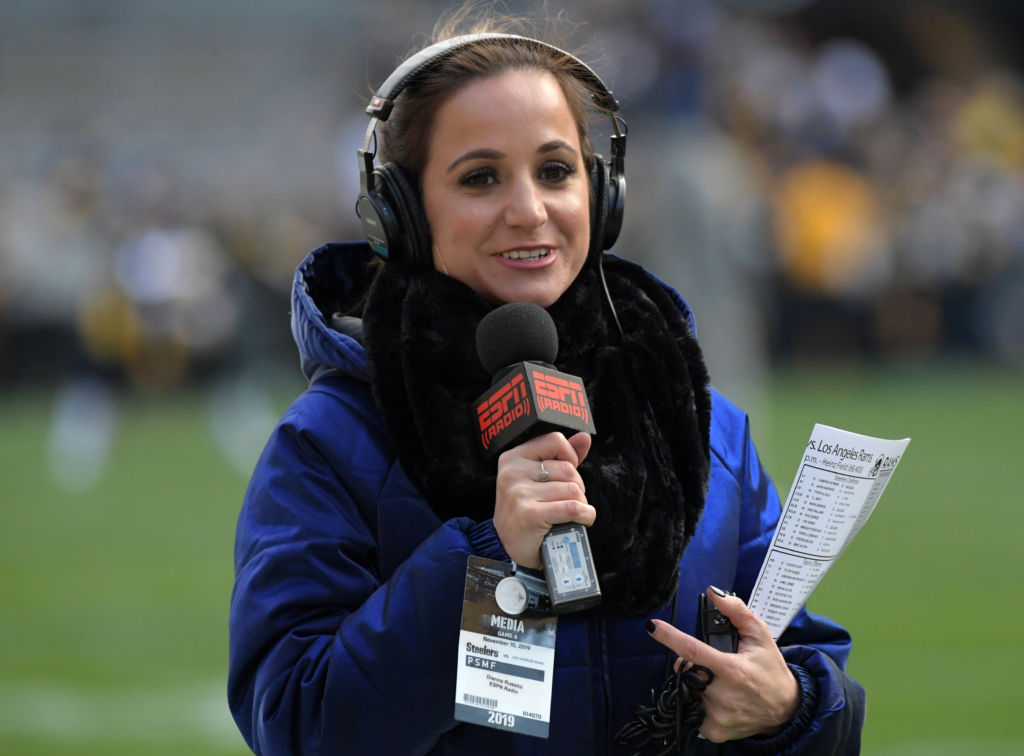 Kenny Albert of Fox Sports is shooting videos for charity. And enjoying rare dinners at home with his wife and daughters.
After watching the cancellation of his beloved Little League World Series, Karl Ravech has found some normalcy by announcing baseball games. Except he's calling them from his home studio in Connecticut – nearly 7,000 miles away from the live action in South Korea.
Dianna Russini of ESPN put herself into self-quarantine for two weeks. Her saving grace was the Tom Brady free agency drama and re-connecting with friends, family and colleagues.
The coronavirus has brought the sports world to a screeching halt over the past two months. Life during the pandemic has been a scary and disorienting experience for sports media talent used to working nights and weekends amongst packed stadiums at the country's biggest sporting events.
There are no games for play-by-play announcers like Albert to call, no highlights for Ravech to share on 'Baseball Tonight,' and no XFL sidelines for Russini to roam.
Instead, they're working remotely from home – and hoping for the return of live sports and somewhat normal life in 2020.
"I'm certainly not used to being home for dinner…I've never been home this long for an extended period," said Albert, who currently works for Fox, NBC Sports and MSG Network. "It's definitely different than the norm."
Like his Fox Sports colleague Joe Buck, Albert has been keeping himself busy shooting videos for charity.
For $40 a pop, you can ask Albert to film a birthday greeting for friends or family on the video-sharing web site Cameo.
"I got one where they wanted me to announce that it was their son's birthday. I got another one where they wanted me to announce a buzzer-beating shot at a basketball game," Albert said. "But basically I'm staying at home, spending more family time than usual."
Like many fans, Ravech's personal clock is driven by the sports calendar. Spring means baseball. But there was no Opening Day this year for MLB.
Until ESPN's recent deal to televise Korean baseball, Ravech kept busy anchoring "SportsCenter," his original job at ESPN. The 1 a.m. ET game times for KBO League games are a throwback to an earlier time of working overnight shifts with Mike Tirico, Linda Cohn and Craig Kilborn.
But he misses MLB action. "When we lost baseball, I lost the rhythm of my day. After dinner in my house, there's always a Yankees, Red Sox or Mets game on in the background. It's the drumbeat of the evening. When that drumbeat is gone, there's a void," he said.
Early on, Russini placed herself in quarantine after discovering she'd been in contact with an XFL player who'd tested positive. Unfortunately, that meant she couldn't be in Bristol to cover free agency news for shows like "NFL Live".
Brady's journey from the New England Patriots to Tampa Bay Buccaneers got her through the early stages of the pandemic.
"Brady watch was exhausting for the world – but the best medicine for my anxiousness," joked Russini.
Meanwhile, she set up a home camera in her living room to cover the league remotely. Russini played a key role in ESPN's 2020 NFL Draft coverage, covering the Cincinnati Bengals (which took LSU quarterback Joe Burrow with the overall No. 1 pick), Tennessee Titans, New Orleans Saints, and Atlanta Falcons. She's been "virtually" working out with her close friend PFT Commenter, co-host of Barstool Sports' "Pardon My Take" podcast.
But any technical difficulties paled in comparison to the reality at the New Jersey native's door.
"When my sister called me one day to tell me her 30-year-old next door neighbor/friend passed away from issues related to coronavirus, I quit my sulking and complaining," said Russini.
The quarantines have slowed life down, she added, and made sports folks smell the flowers a bit more.
"Nobody is rushing off the phone. There's a kindness to all the talk even if we are just discussing the draft. I text with one GM about which shows to watch with his family and I realized after about a month now, I never asked him about one potential signing. Our new connection is 'Ozark.' It's all so weird," she said.
Along with hope, there's an undercurrent of fear rippling through sports media. The nearly complete shutdown of live events has been an economic catastrophe for the $100 billion U.S. sports industry.
The pandemic could potentially wipe out hundreds of thousands of jobs and $12 billion in revenue, according to an analysis by ESPN. Double that economic fallout if the NFL and college football cancel their seasons.
"If the NFL doesn't play, we're all out of a job," warned the star of a national sports show who declined to be named.
The pay cuts and job losses are expected to impact everybody from the highest-paid on-air talents to behind-the-scenes, producers, directors, camera operators, researchers and technicians.
READ MORE: Disney Orders ESPN Execs to take 20% to 30% cuts in base salary
ESPN has asked its top 100 highest-paid on-air personalities to take 15% pay cuts for three months. Ditto for Fox Sports, which is also seeking temporary salary reductions of 15% from its top talent.
These pay cuts are not mandatory since top sports talents are protected contractually. But few want to risk being publicly exposed at a time 72,000 Americans have died from the coronavirus.
"It's an ask, not a tell. But do you want ESPN to go to [President] Jimmy Pitaro and say you're the only holdout?" asked one source. "I don't think so."
Those unlucky enough to have expiring contracts this year are particularly worried. They'll be the first to go as companies slash payroll. Or adapt to the new normal of smaller broadcasts, more compact production teams, and automated home studios.
Already, networks are figuring ways to call games remotely and shoot studio shows from home. That could potentially spell fewer jobs for media talent in front of and behind the camera.
ESPN, for example, will televise six live KBO League baseball games a week. But almost all of the play-by-play and analysis by Ravech, Eduardo Perez, Jessica Mendoza, Jon Sciambi, and Kyle Peterson will originate from their home studios in the U.S., not on-site in South Korea.
ESPN has also created audio-video setups for commentators to use at home that mimics the setup they would be using on-site. Rachel Nichols' afternoon NBA show "The Jump" is the first show produced entirely from the homes of cast and crew.
READ MORE: Q&A: ESPN's Karl Ravech on calling Korean Baseball
With more studio shows being produced remotely, it may also be hard to get some talent back into the studio.
As the national show host puts it: "Who's going to want to go back into the studio, and risk catching the virus, when you can work from home? Things are really going to change."