A unique collaboration for one of the NBA's biggest stars.
Oklahoma City Thunder superstar point guard and 2017 NBA MVP, Russell Westbrook, has had quite the offseason. After the Thunder traded for Paul George, analysts immediately wondered if the team could compete with the Warriors for the Western Conference crown. Throw in the acquisition of Carmelo Anthony and now the conversation becomes more interesting.
While the basketball world is sure to have fun debating hypothetical matchups in the West, Westbrook has been active in another passion of his — fashion.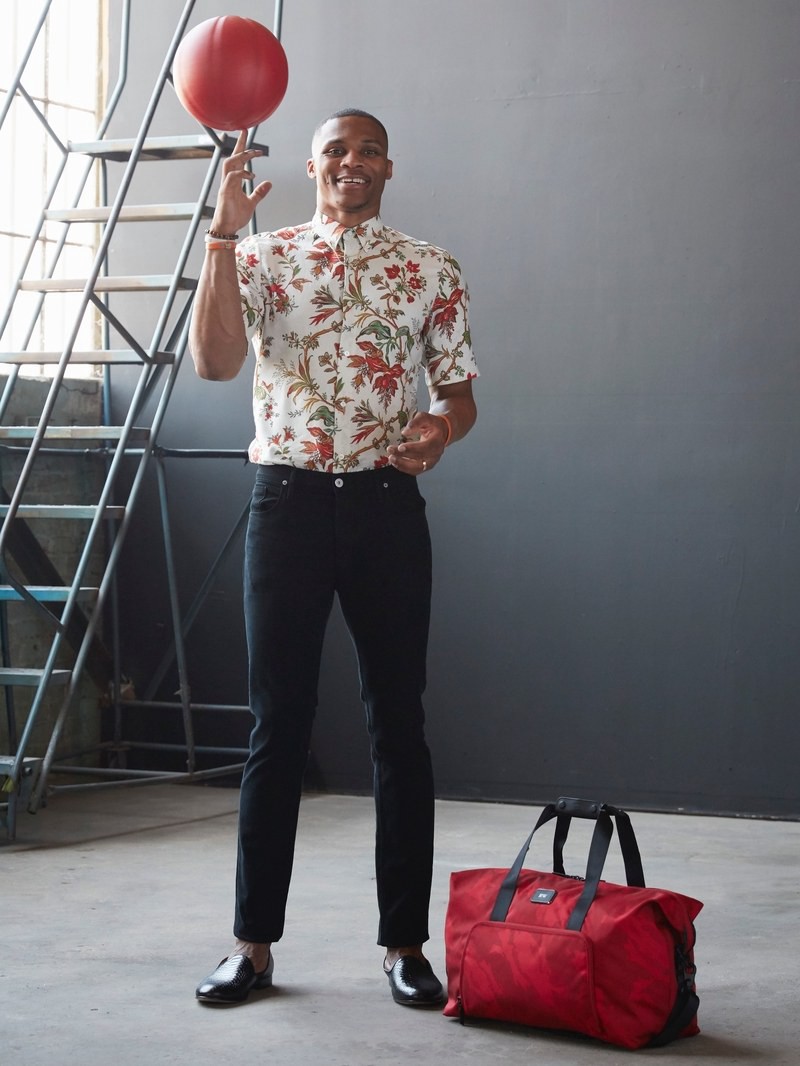 Fresh off signing the most lucrative contract in NBA history, a five-year deal worth $205 million to stay with the Thunder (signed on ex-teammate Kevin Durant's birthday by the way…), Westbrook has also added to his off-court earnings in a recently-announced collaboration with TUMI. The travel and lifestyle brand announced a limited-edition collection with the guard that highlights his unique fashion style.
Known for his bold fashion choices, especially during pregame entrances, he never wears the same outfit twice. Instead, he either donates them to a local Goodwill or gives them away to friends. With this partnership, Westbrook will be able to implement his flair into a well-established brand and one which he already uses for personal travel (an endorsers dream situation).
The high-flying guard and TUMI have created a six-piece collection of the brand's high-performance ballistic nylon in a tonal red camouflage with black leather accents, according to the news release. Adding a personal touch to the collection, Westbrook's mantra "Why Not?" is featured on each piece. Dubbed the TUMI x Westbrook collection, prices range from $55-$795 and were released on October 5th.
"I've very much enjoyed getting to know and work with Russell over the last year — he's been an incredible supporter of TUMI long before this collaboration ever began, so it's made the experience in working together that much enjoyable because he truly understands the product," said Victor Sanz, TUMI Creative Director. "Russell has been extremely hands-on every step of the way; the respect, professionalism and kindness that he's showed towards our entire team has been unparalleled."
Westbrook is no stranger to the fashion industry. He is a Jordan Brand athlete and has been seen alongside the runway at various New York Fashion Week events. Further, he is the first athlete to collaborate with Barney's New York, was a creative director for True Religion and is involved with Byredo (an online collection of fragrances) and Samsung. He has also published a book titled "Russell Westbrook: Style Drivers" that celebrates his style both on and off the court and the creative people he admires.
Keep an eye out for Westbrook showcasing his new collection this season when entering the arena. Oh, and don't expect to see an outfit he's ever worn before.
---
Front Office Sports is a leading multi-platform publication and industry resource that covers the intersection of business and sports.
Want to learn more, or have a story featured about you or your organization? Contact us today.