An inside look at two of the premier events in the industry.
You have your fantasy football owners that might grab a magazine or a cheat sheet online right before their draft. Some owners might even (gasp) auto-draft online. Then, there are those that have elaborate spreadsheets built up with a laptop on-hand. There are different levels of preparation that go into the game.
Some fantasy football players are always looking for that extra competitive edge. Almost everyone that plays seems to love getting together with fellow owners at the draft or for any reason at all!
They are what draw people to the game — the fun, the competition.
These two elements are also the pillars of fantasy football conventions, training camps, and other events that have been growing in popularity the last decade.
The fun and competition bring together a diverse group of participants and create memories and great experiences at these gatherings while attracting sponsors.
We had a chance to speak with organizers leading two of the more prominent fantasy football events in the industry that are taking similar, yet different approaches. You'll learn a lot more than not to take a quarterback in the first round.
One has been a fixture with devoted fans both locally and nationally for almost a decade. The other has just begun with additional plans to grow after very public efforts to get off the ground the last few years.
A LOOK AT LEADING FANTASY FOOTBALL CONVENTIONS
Minneapolis has long been a center of the fantasy football universe going back to the 1980s with the some of the earliest fantasy football publications, and Fantasy Sports Trade Association (FSTA) Hall of Fame member Paul Charchian (@PaulCharchian) has been in the middle of it all for decades.
His work in founding and producing the weekly, in-season fantasy football magazine, Fantasy Football Weekly, led to launching the first fantasy football conventions in the mid-90s.
Those local conventions were held at notable Twin Cities locations: the Mall of America, Mystic Lake Casino, and even the Metrodome. While the draw of attendees was sizable, it also proved more work than expected on top of other ventures. After five years, the conventions came to a halt.
However, in recent years, the concept of the convention was reborn with the help of the long-running radio show Charchian hosts of the same name, Fantasy Football Weekly, on KFAN Sports Radio (@KFAN1003).
This time it was relaunched in the form of a fantasy football training camp held each August alongside the radio show where he is joined by co-hosts Mat Harrison and Bryan Johnson.
On the radio show, they break down everything from weekly matchups to tough questions while mixing in abundant humor with terms like "peacocking" (bragging about being right in fantasy football) or the possibility of sneet (snow/sleet combo) at a game.
This month's event will mark the 9th year for the KFAN Fantasy Football Training Camp. It has grown from one sponsor and 200 attendees to a draw of over 1,200 people and five sponsors helping to underwrite the event.
The National Fantasy Football Conference, or NFFC for short (@GoNFFC) debuted this past July in Dallas at the same location the State Fair of Texas is held each fall.
However, its path to finally convening this summer was not easy.
In 2015, the group's plan to hold the convention in Las Vegas ran into conflicts with the NFL. In 2016, a second attempt in Pasadena, California met the same fate.
Many may remember those headlines in the press as Dallas Cowboys quarterback Tony Romo (@tonyromo) was heavily involved in trying to make the convention a reality as one of its founders.
Romo (now with CBS Sports) was joined by CEO and Executive Director Andy Alberth (@andyalberth) and ESPN Senior Fantasy Analyst, Matthew Berry (@MatthewBerryTMR) in founding the convention. Berry is also a member of the FSTA Hall of Fame.
This year, the event took off and received favorable reviews. The location in Dallas provided a prime opportunity for NFL players past and present to participate and featured a three-day schedule of events with a mission to "create the ultimate fan experience."
After just one year, plans for future growth are already underway.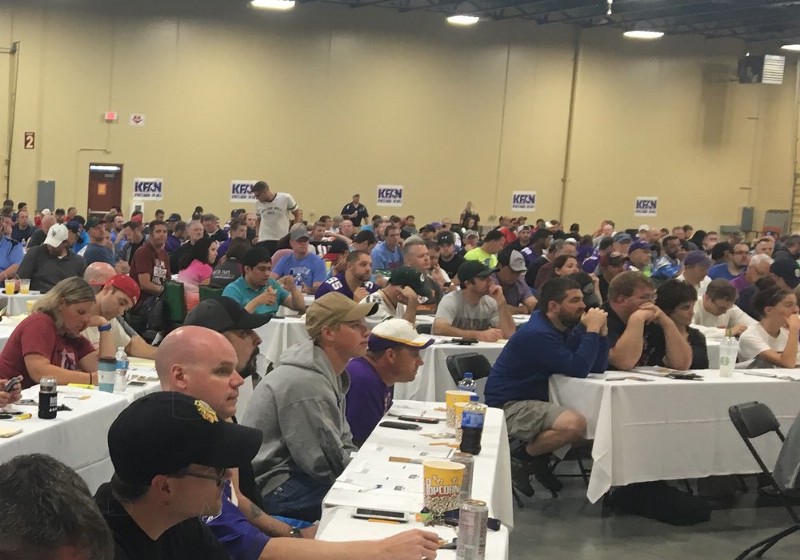 WHAT GOES ON AT A FANTASY FOOTBALL CONVENTION
Both events are similar in many ways, as you'd expect, but both are just as unique.
Experts and top fantasy sports sites are heavily involved in each.
In Minneapolis, Paul Charchian is joined by his fellow League Safe and Fanball colleagues Mat Harrison and Brian Johnson to host the event alongide the on-site radio broadcast of Fantasy Football Weekly — now in its 23rd season as the longest running fantasy sports show of all-time.
In Dallas, ESPN's Senior Fantasy Analyst, Matthew Berry, and Injury Analyst, Stefania Bell, joined Yahoo Sports' Brad Evans and Liz Loza, and first lady of fantasy sports, Stacie Stern, in headlining festivities along with fantasy websites Fantasy Alarm and RosterWatch.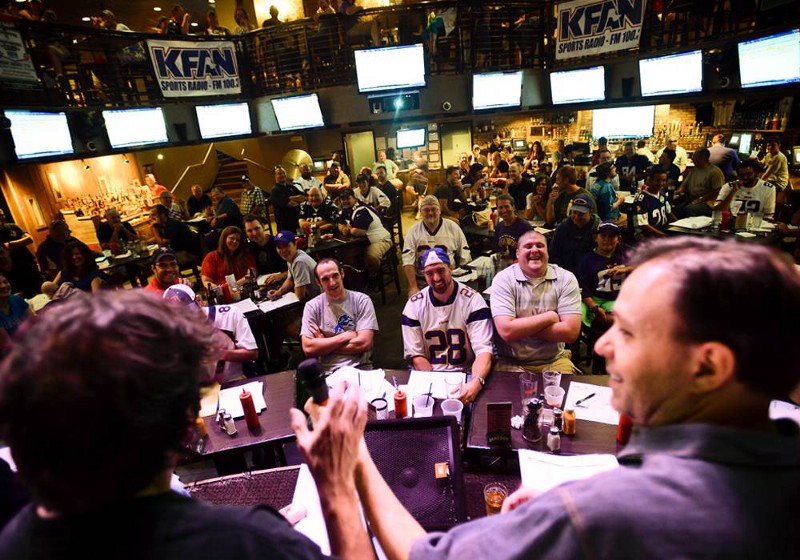 The KFAN event spends the first two hours on the air in a simulcast of the training camp. The remaining two hours after the radio broadcast go into a "deep dive" of topics, but the communication isn't all one direction as Charchian pointed out.
"Our hosts learn things from other people all the time, whether they're knowledgeable fans or other industry experts. There's so much data available now, no one person can digest it all. I love it when other people educate me."
So, what type of edge are fans looking to gain from the experience?
"They want the kind of information that their competitors aren't getting. We offer two hours of off-air content that is exclusive to those who attend the event. This information is deep and strategic — to the point that it's hard to convey over the air. We use visual aids (charts, graphs, powerpoints, etc.) to illustrate that data."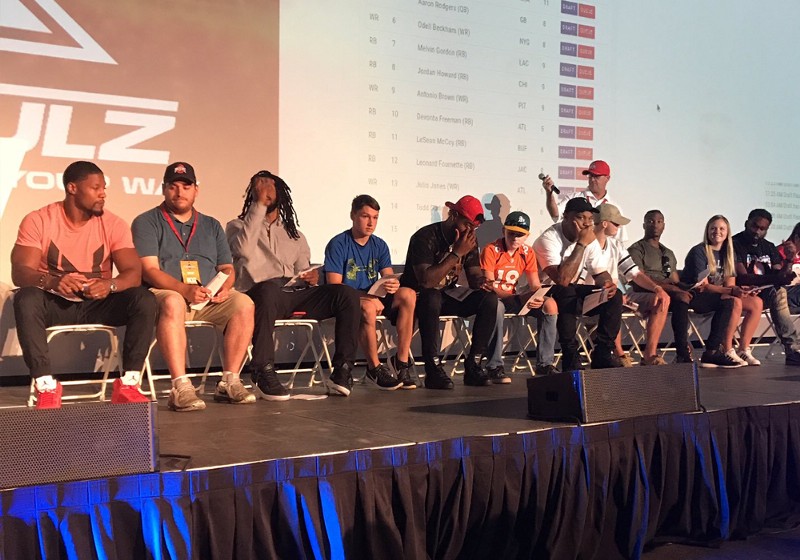 Both events hold a live, expert fantasy draft. Andy Alberth, Executive Director of the NFFC event, gave an example: "You can see Matthew Berry — how he thinks in making his selections. How long he waits before he takes a quarterback."
At the National Fantasy Football Convention, 50 current and former NFL players also made appearances. Several shared the experience on social media such as current stars Ezekiel Elliott and David Johnson as well as former Cowboys legend Drew Pearson. One even made a little bit of news as Johnny Manziel was there and continued his efforts to work his way back into the league.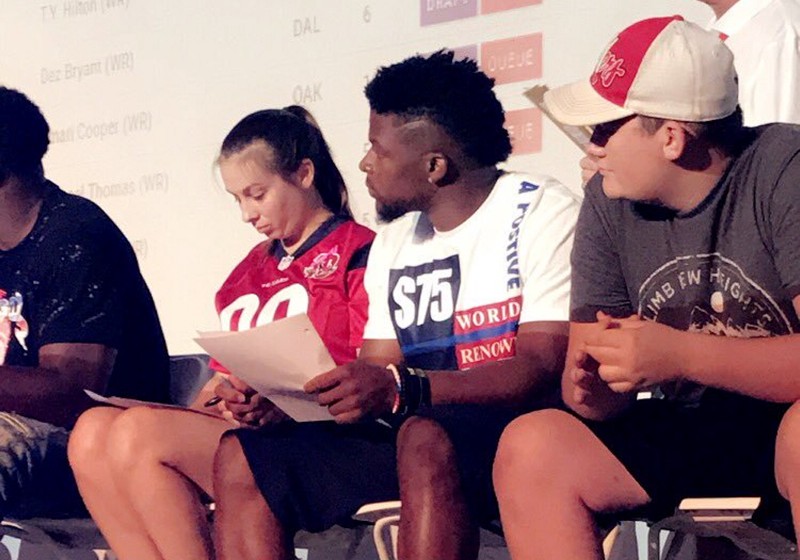 Alberth was quick to point out that while there were a number of players on-hand, this was not an autograph show — although, some do sign.
"We want everyone to walk away with a memory. You can even bring your kids — it's a family event where you can make memories that everyone can remember for the rest of their lives."
(Writer's note: I started playing fantasy football at age 11…so yes, kids.)
One unique example he remembered involved a giant football field they had built inside of the host building in Fair Park. Ezekiel Elliott was running around, playing with the kids on hand.
"I think the event really opened the players' eyes. They want to be a part of it again next year."
The Dallas convention took place over three days with standard admission and special admission that includes perks like the Kick-Off Party. Additionally, there was a Kids Pass available.
Alberth also noted the timing was intentional to help provide an edge after many of the NFL magazines came out — yet three weeks ahead of any NFL action.
Social media, sponsors, and attendees are all heavily relied upon to promote the event both before and during.
The NFFC event in Dallas saw promotion online from hosts and athletes as well as local outlets. Andy Alberth himself joined Stacie Stern on local television to promote the event in the Metroplex.
During the festivities, athletes and attendees were using the convention's Twitter handle of @GoNFFC as well as related hashtags to promote what was taking place from photo walls to selfies. Even a Snapchat account was in use.
The KFAN training camp in Minneapolis does much the same as the hosts, radio station, venue, and sponsors promote the event across social media platforms and have used the #KFANFFTC hashtag to share the experience along with this photo wall sensation.
The sponsors are a key for KFAN as much of the event is underwritten, and thus is free for fans to attend.
SO, YOU WANT TO ATTEND A CONVENTION?
We asked Paul Charchian for his best advice to those thinking of attending the event, and he recommended that fans arrive early for the best possible seat and bring a laptop or notepad.
He also shared something unexpected for those attending later this month, "My new company, Fanball, is going to offer a lucrative free contest exclusively for those who attend."
While the training camp in Minneapolis continues to grow as an established property, many attendees at the NFFC in Dallas wanted to know about the future of that convention.
Andy Alberth confirmed that the event would return to Dallas next summer. Beyond that, he shared that the group may explore additional, regional locations in the future. Additionally, the NFFC plans to increase the number of NFL players attending from 50 this past year to 150 the next time around.
---
Fantasy football conventions and training camps like these play a major role in continuing to grow both that sport's popularity and the NFL's while engaging experts, sponsors, and fans alike.
In the end, fantasy football is all about the experience, and it's no different here. Interacting with fellow fans of the sport, experts in the field, and even some players, make events like these a unique offseason opportunity.
When next summer rolls around, you may want to mark your calendar for the return of the National Fantasy Football Convention in Dallas or the annual KFAN Fantasy Football Training Camp in Minneapolis (hey, there's still one ahead on August 19th).
Not near either location, wanting to fly in, or interested in a Clark Griswold-style drive for the summer?
Remember, there are other great fantasy football events around the country. At the rate these events are growing, one could be at your doorstep now or headed there soon.
---
Front Office Sports is a leading multi-platform publication and industry resource that covers the intersection of business and sports.
Want to learn more, or have a story featured about you or your organization? Contact us today.