Officials hope to have a better surface for the Coca-Cola 600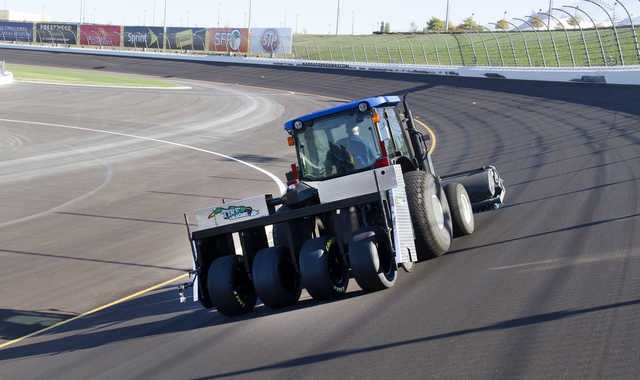 The sticky substance most familiar with fellow SMI racetrack Bristol Motor Speedway made its way to Charlotte for the Coca-Cola 600 on Sunday.
The compound is designed to add more grip to the applied surfaces — at Bristol it is applied to the bottom to reminisce the 'old school Bristol' way of racing.
---
The decision to apply the substance came after a lackluster All-Star Race that virtually instilled no passing and massive leads for the cars who jumped out in front.
The VHT compound will not solve all the erroneous ways of Charlotte Motor Speedway or other 1.5 mi tracks, but the hope is to have the success like Bristol.
Changes still to be made concerning the 'clean air' advantage that first place cars gain is the most pressing issue that cannot be fixed immediately.
---
VHT, formerly known as PJ1 TrackBite simply stands for 'very high temperature'. Originally designed for space-bound and re-entry vehicles, VHT is a homemade traction substance, usually black in color — a resin for short.
This compound is hydrophobic and fire-retardant. If rain is present, or a car wrecks and catches on fire, the applied surfaces are unaffected, proving the reliability and strength of the product.
According to Jegs, VHT is sold for $49.32 per gallon and used by 55 gallon increments.
The hydrocarbon compound is laid to provide the option to run up top.
"There was agreement that this process would enhance the racing we see at Charlotte Motor Speedway, and ultimately would make for an exciting Coca-Cola 600." said Scott Miller, NASCAR Senior Vice President of competition. With every change, NASCAR talks to drivers before-hand: "We go back to tracks and VHT is added and you say 'make better tires' but there's nothing wrong with the tires," said 2017 Daytona 500 winner Kurt Busch, "It turns into drag racing. You have to warm it up and put heat into it. It makes it inconsistent if you're running through it and then not running through it."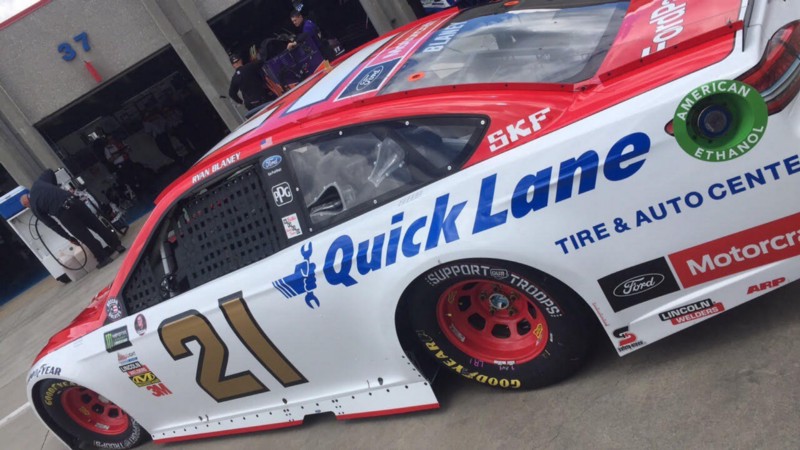 Second year driver Ryan Blaney chimed in on comparisons of VHT to Bristol:
"We'll find out. It's kind of unchartered waters, to be honest with you. Bristol is a lot different, a lot shorter race track, we're not going as fast, a concrete race track. This will hopefully help it out, but I don't know much about it."
Adding VHT is the next alternative to last Saturday's softer tire promotion. Goodyear's new All-Star tire did not live up to the hype received as teams who used it complained about the long-run duration of the tire.
https://frontofficesports.com/goodyear-unveils-new-nascar-all-star-softer-race-tire-864827f2a1ba
As day turned into night, the racing surface became more slick and the newer tire proved to be obsolete.
NASCAR recognized this, and with Charlotte Motor Speedway, both agreed to take the next step.
In Thursday's Cup practice, drivers said they do not think the VHT's full potential will be reached in just the weekend.
"You get outside of that black and it's pretty slick. I'm not sure we can groom the VHT in here in one weekend." said All-Star Race winner Kyle Busch.
Consensus opinions say the VHT compound has proved no different, but as the weather warms up and more cars use the track, it is expected that the higher groove will work by Sunday.
The Coca-Cola 600 is set for 5:30 p.m. on FOX just after the largest military recognition in all of sports.
https://frontofficesports.com/goodyear-unveils-new-nascar-all-star-softer-race-tire-864827f2a1ba
---
Front Office Sports is a leading multi-platform publication and industry resource that covers the intersection of business and sports.
Want to learn more, or have a story featured about you or your organization? Contact us today.
If you liked this, click the???? below so other people will see this here on Medium.