From a 5k to a painting class, the team nailed it.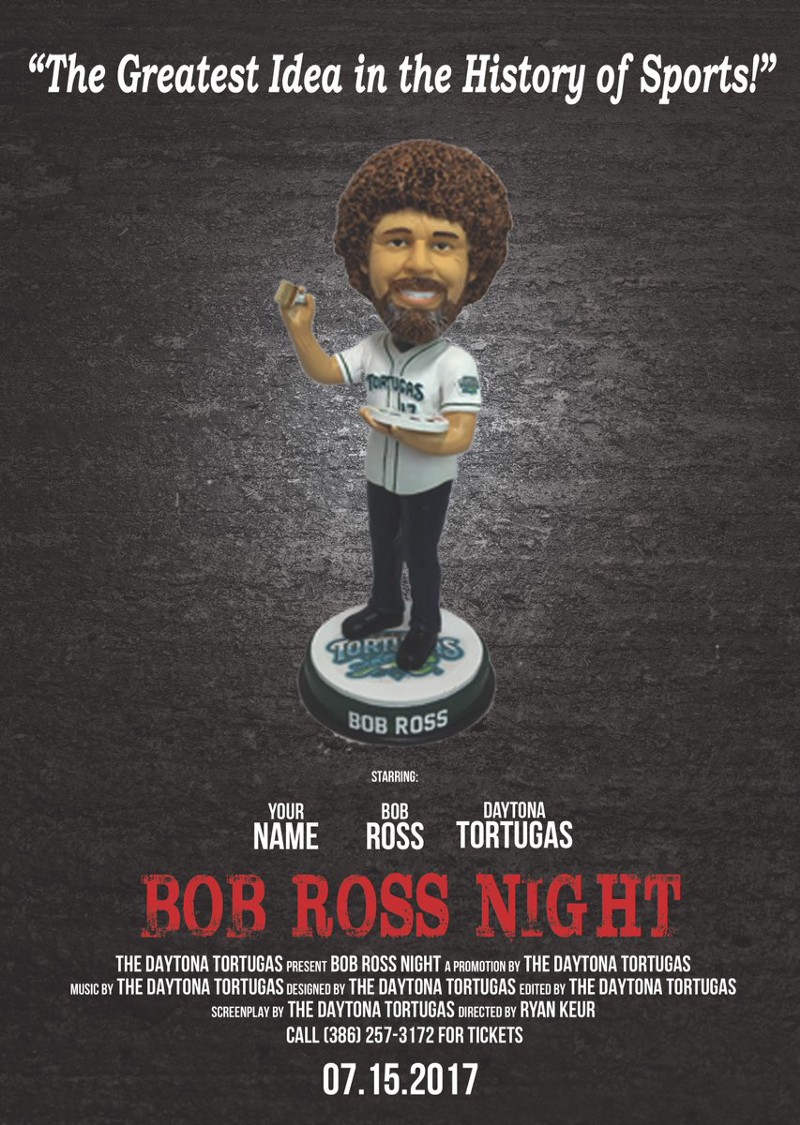 If you're 25 or older, chances are you're familiar with painter Bob Ross. The legendary painter, known for painting "happy little trees" on his show "The Joy of Painting", lived in the Daytona, Florida area- not far from where the Daytona Tortugas minor league baseball team plays.
To pay homage to the area-native, the Tortugas, Single-A Advanced Affiliate of the Cincinnati Reds, held a "Bob Ross Night" on June 15. Festivities included a pre-game painting class, a "Bob Ross Look-a-like" contest, a bobblehead giveaway, and Pictionary. There were also two ticket packages fans could purchase — one that came with a special "Bob Ross Night" t-shirt and one for a pre-game paint class.
Ryan Keur, President of the Tortugas, said the promotion was an immediate hit and really embodied what minor league promotions are all about.
"Immediately it got some really crazy attention all over the place. People were saying it's one of the best promotions of the year and one of the best bobbleheads ever. Tickets were selling months in advance and people lined up for the bobblehead two-and-a-half hours before the gates opened. It was an awesome night that was really dedicated to Bob Ross."
The idea for Bob Ross Night came during a "think tank", a weekly to bi-weekly brainstorming session the Tortugas hold during the off-season. Keur said they're always trying to think outside the box to put on unique promos that energize fans and gain recognition.
During a discussion about bobbleheads, someone threw out the idea of Bob Ross and "everyone stopped talking," said Keur. After the front office member expanded on the idea, the whole staff took on the promotion and reached out to Bob Ross Incorporated. That five-minute phone call shaped the promotion and made the night extra special.
There were plenty of painting opportunities throughout the day for fans to take advantage of.
A "happy little 5k" in the morning had areas where participants could stop and paint during the run. A between-inning Pictionary promotion saw a few fans painting on canvases while other fans had to guess what they were painting. However, the painting highlight came during the pre-game paint class, where fans who purchased that ticket package were able to take a paint class taught by Bob Ross certified instructors.
If you have liked this, click the???? to the left or at the end so other people will see this here on Medium.
"We thought it would be really cool to have an event like the 'wine and paint' classes, so we decided to open up the gates early [for class participants] and have a class taught by certified instructors who teach how Bob Ross used to paint. It was set up like any paint class with easels and canvases, then after the hour-and-a-half instruction, fans got to walk out with a painting and enjoy a ball game," Keur said.
One extra-special part of the night came when the Tortugas dedicated a "happy little tree" on their river walk that will "forever be a part of Jackie Robinson Ballpark". Keur said the team strives to be a part of the community every day and give back, and that it will be cool to see the tree grow.
So how does a team build off a promotion as successful as this one? Two days after Bob Ross Night, on July 17, the Tortugas held "Vince Carter Night" (postponed due to rain), and on July 21, they're holding "Craig Sager Night."
As for a Bob Ross follow up, Keur said the Tortugas have already talked with Bob Ross Incorporated about possibly hosting their yearly reunion at the ballpark in 2018. Not only would that be a great sequel to the first Bob Ross night, it's a great way to build on a partnership.
Be sure to follow the Tortugas to see what other promotions they have this year and find out what's in store for next year's Bob Ross Night.
---
Front Office Sports is a leading multi-platform publication and industry resource that covers the intersection of business and sports.
Want to learn more, or have a story featured about you or your organization? Contact us today.