The company has been a stalwart on the track since 1954.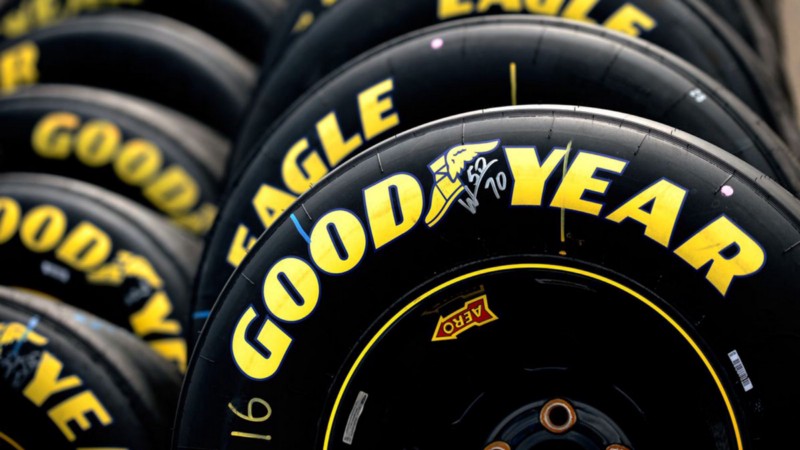 When Darrell Waltrip won the first race of the 1979 NASCAR season at Riverside (California), he pulled into victory lane and thanked the three g's: God, Gatorade … and Goodyear.
Yes, Waltrip thanked Goodyear for the incredible tire they brought to the 2.5-mile track. That was nearly 40 years ago.Today, Goodyear is still supplying tires for NASCAR and has innovated along the way.
---
The company has been the sole tire supplier for the sport since 1997. There may never be another tire provider for NASCAR (more on that later), but it hasn't always been just one manufacturer supplying teams with tires. Let's dive in and look at NASCAR's relationship with Goodyear and how it got to where it is today.
When NASCAR first started in 1948, the official (so to speak) tire supplier was Firestone, but just six years later, Goodyear entered the picture. A relationship that began 63 years ago continues today, making it one of the longest running sponsorships in any sport.
For Goodyear, there have been wars, trials, tribulations and unique innovation associated with its involvement in NASCAR. After all, things are never just peaches and cream when it comes to two organizations working together.
---
The Tire Wars
In the late 1980s and into the 1990s "tire wars," took place between Hoosier and Goodyear. While Goodyear was the tire juggernaut so to speak, Hoosier wanted a piece of the action. Hoosier began showing up at tracks (occasionally) with a better tire. The problem was that they could not attract top name talent to run the rubber and eventually left the sport, but not before a memorable tire battle happened at North Wilkesboro Speedway in 1989.
At North Wilkesboro, Goodyear rolled out the radial tire, which had been redesigned (after making its debut earlier that season). The new tire replaced the commonly used Bias-ply tires. Off the track and in other racing series, the radial tires had made an incredible movement, so the company introduced them to NASCAR's top series, the Monster Energy NASCAR Cup Series (then called the NASCAR Winston Cup Series — a sponsorship which ended after the 2003 season). The company received some motivation to introduce it quickly, however, as Hoosier announced in late 1987 that it would supply tires to teams in 1988. The bad news for Goodyear? Neil Bonnett won at Richmond Raceway in 1988 on Hoosiers, snapping a winning streak for Goodyear of over 500 races.
In the 1989 spring race at North Wilkesboro Speedway, Dale Earnhardt captured the checkered flag. Earnhardt winning was not the story line, but rather the fact that he won on Goodyear's radial tires. His quote following the race is one that Goodyear executives could use to show that their tire truly was the preferred brand in NASCAR.
Earnhardt, who won seven championships and 76 races in NASCAR's top-tier series before his death in 2001, said, "We knew we were in fat city with the Goodyear radials because the further I drove on them, the better I liked them."
Rumblings in the garage area were that Earnhardt would not be able to master the radial tires like he did the bias-ply tires. Well, the Intimidator proved them wrong, prompting team owner Richard Childress to keep the car.
Childress told NASCAR.com, "I still have that car…It was the first win anybody had on radial tires. And everybody said, 'That's going to be the end of Dale Earnhardt; he won't be able to run on them radial tires.' Well, we went out there and won the first race on them."
Later that season, Hoosier left the sport and briefly returned in 1994 with its own version of the radial tire…but it was too late. They left again and have since not returned. In 1997, Goodyear became the official tire supplier of NASCAR.
The Tire…The Most Scrutinized Part on a Racecar?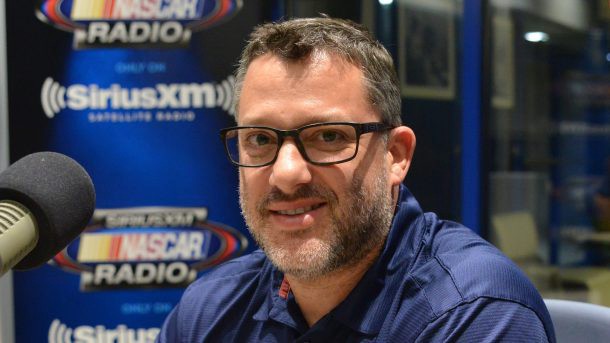 Over the years, drivers have voiced their displeasure with Goodyear, but the company continues to do the right things and show both improvement and innovation. Two of the company's biggest critics have been Kyle Busch and Tony Stewart (ret.).
After a 2008 race at Atlanta Motor Speedway, Stewart stated that Goodyear supplied "the most pathetic racing tire" that he'd ever used in his career. Four-time champion Jeff Gordon seemed to agree with Stewart after the '08 Atlanta race, telling the Twin Cities Pioneer Press, "I don't disagree with him as far as the comfort level in the situation we were in. But we have to look at all sides of this and try to give the folks that are doing their jobs the ability and constructive criticism to try to do it better."
Busch criticized the tire company after crashing in 2017 Daytona 500 saying that Goodyear tires were not good at holding air.
Goodyear: An Innovative Company?
While there have been wars and criticism, there has also been plenty of innovation on Goodyear's part. From the radial tire in '89, to the wet weather radial tire for the NASCAR XFINITY Series in 2009, and finally to a multi-zone tread design tire for the 2013 race at Atlanta Motor Speedway, the company has found ways to give drivers tires they need to succeed.
For the 2017 NASCAR All-Star race, Goodyear unveiled an "option" tire which contained lime green lettering on the tire (rather than the traditional "Eagle" verbiage in yellow) and was said to be up to 0.5 second faster than the "prime" (regular) tire. The catch? Any team that elected to use its sole set of option tires had to start at the rear of the field for the segment. It wasn't a hit, but you live and learn for innovation and a non-points event is the perfect place to try it.
For the 2017 May races at Charlotte, which are held during Memorial Day Weekend, Goodyear customized its tires for the eighth year in a row. The tire did not feature the traditional "Eagle" wording but rather "Support our Troops."
"Support for the military is part of the fabric of our company," said Stu Grant, Goodyear's general manager of global racing. "Goodyear's rich history of making tires for the U.S. Armed Forces is a source of pride for our associates — especially the many that have served — and these tires are a reflection of our deep respect for all Military branches."
A New Agreement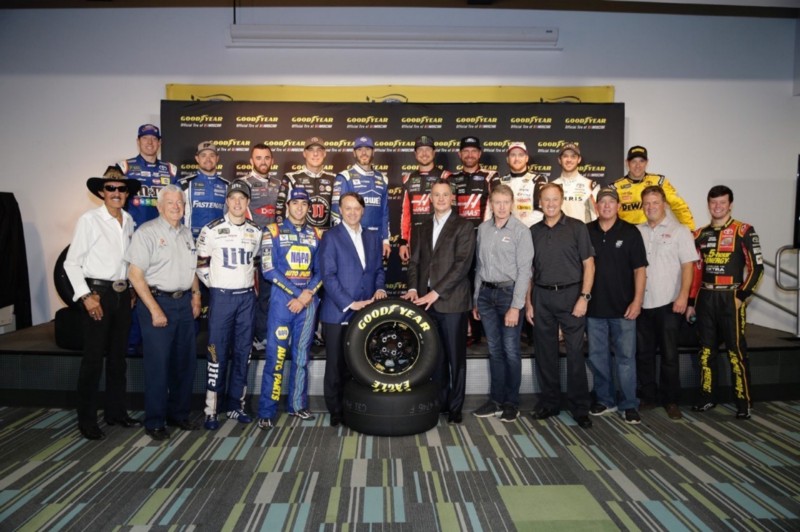 It does not look like Goodyear will be going anywhere anytime soon. The new agreement signed in November (terms were not disclosed) covers all three of NASCAR's national series. For the past five seasons, research shows that Goodyear has been the most recognizable sponsor in NASCAR and surely the sport does not want to lose them. The two entities also recognize the value of having each other.
"We are tremendously proud of the pivotal role Goodyear plays in the best racing competition in the world and excited that NASCAR drivers will be crossing the finish line on Goodyear tires in the years ahead," said Rich Kramer, chairman, CEO and president of Goodyear. "With this new agreement in place, we celebrate our enduring relationship with NASCAR and the continuing value of NASCAR to the Goodyear brand"
Ask media members and fans alike, and you'll have split opinions. NASCAR fan Adam Peele doesn't think we'll see a new tire supplier potentially ever.
"As the sport has grown over the years, Goodyear has become a great part of it … It reminds me of one of my favorite sayings, 'if it ain't broke, don't fix it.'"
Jay Busbee, who covers NASCAR for Yahoo Sports, wants to see one and believes it is possible.
"I'd like to see one, just for competition's sake," he said. "I think it's possible if NASCAR continues to search for new sources of revenue."
Key factors must be considered if another tire manufacturer wants to replace Goodyear. Is it worth the cost of manpower, hours and transportation? Goodyear manufactures more than 100,000 tires for the sport in Akron, Ohio. Also, is it worth the cost of the sponsorship? While terms of the agreement between NASCAR and Goodyear were not disclosed in November, would another company be willing to spend multi-millions of dollars to partner with the sport? Could they handle the intense scrutiny? We may never know, but if it happens, it will certainly be interesting.
---
For more NASCAR articles follow Kraig Doremus on Medium and Twitter. Follow Adam Peele (a_peele24) and Jay Busbee (@jaybusbee) on Twitter.
---
This piece has been presented to you by SMU's Master of Science in Sport Management.
---
Front Office Sports is a leading multi-platform publication and industry resource that covers the intersection of business and sports.
Want to learn more, or have a story featured about you or your organization? Contact us today.