Moziah Bridges talks about partnering with the NBA, "Mo's Bows," how to approach a shark, and more
It is hard enough to figure out what to eat for breakfast when you are 12 years old, let alone start your own business. However, that is exactly what Moziah "Mo" Bridges did three years ago, leading him on an adventure through the business world that most cannot conjure up in a lifetime.
Still only 15 years old, Mo's latest muse has been a licensing deal with the NBA for the creation of NBA-themed bowties — the accessory that has driven his fame since an appearance on Shark Tank.
Front Office Sports caught up with Mo to talk about living out his dream, working with the NBA, the nerves involved with a Shark Tank pitch, what lies ahead, and much more.
FO: Shark Tank fame aside, you are a special human being not only because of your success at an early age, but also because of the drive you possess to get your business off the ground. Where does that drive stem from, and what made you want to start your own business?
MO: I believe the drive I have in stems from me simply wanting to look good and feel good in my clothes but specifically my bow ties. I wanted to start my own business because I saw the demand for my bow ties and my mom always told me I should grow up to own a business instead of work for someone else.
Were there any hurdles in the early stages of your business? If so, what advice would you give to assist with overcoming hurdles that people may face in their lives/career?
There were many hurdles like convincing people that I am an actual business man at such a young age, and that I AM the guy behind the tie. I would advise others to overcome the hurdles in their lives/career by believing in themselves and just be as ambitious as possible.
https://frontofficesports.com/air-west-the-most-exclusive-open-gym-in-the-country-963383f879c7
I imagine that approaching the "sharks" of Shark Tank can be quite intimidating. What went through your mind while you were presenting, and is there anything that you wish you did differently that day?
I was fine about being on Shark Tank, but all of a sudden when it came time to walk out to the Sharks, I was so nervous that I was squeezing my Mom's hand so hard she pulled it away from me. While I was presenting to the Sharks I actually forgot my pitch, but they didn't know. I was thinking about how it took forever to get to that point on the show, I was just glad it would be over soon and I could get back to my brand new iPod I bought the day before taping the show.
You didn't secure a deal on Shark Tank, but you arguably received a bigger gift when Daymond John took you under his wing to be your mentor. What has it meant to have a mentor of his caliber, and how would you characterize the importance of having a mentor to kick start your professional journey?
I like to say I won on Shark Tank because I was able to keep 100% of my business and still got to work with Daymond as my mentor. I think it's very important to have a mentor along the journey of business and in life, usually they can help you make better decisions and serve as a guide as you enter into the big scary world of entrepreneurship. My mentorship with Daymond is special because he started his business with his Mom at a young age also. We talk often and he is always available when I need to ask questions about business or life.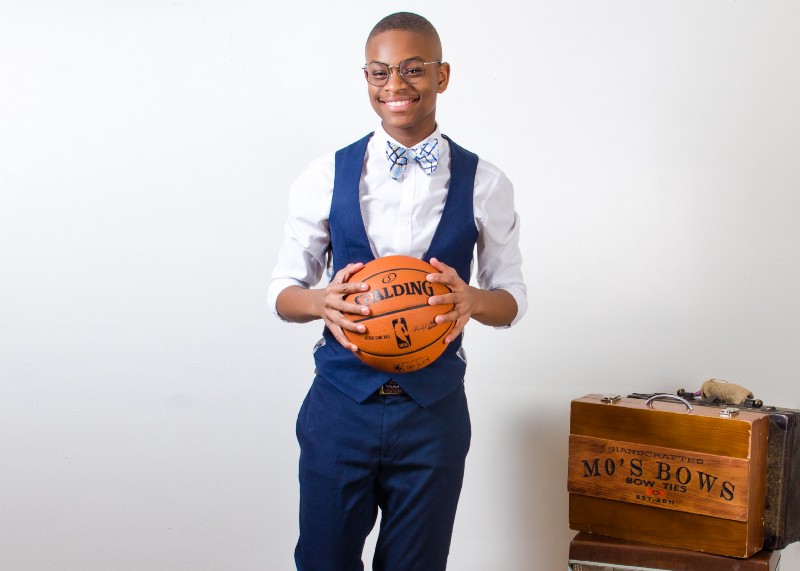 Your new partnership with the NBA is essentially unprecedented for a brand of your size. How did it come about, and what about the NBA brand attracted you to strike a deal?
This is a very big deal and partnership for me. I just feel so good knowing I made an impression on such a big organization and they wanted to work with me. I think the NBA was first introduced to me and my brand when I was an ESPN fashion correspondent for the 2015 NBA Draft. I was attracted to the brand because it's a national organization and I wanted to reach a bigger audience in the world of sports and fashion. I want this partnership to show the world that small businesses can make a big impact.
https://frontofficesports.com/air-west-the-most-exclusive-open-gym-in-the-country-963383f879c7
NBA players take great pride in their pre and postgame attire. Which player would you say has the best fashion sense and why?
I really like the fashion sense of Russell Westbrook. He has a very unique style and I can tell his style represents him.
What is your vision as far as the next step in the evolution of the Mo's Bows brand?
My vision is to expand my brand to a full fashion line for men, women and children. This year I'm hoping to partner with other companies and brands to design custom pieces. My favorite part about having my business is being able to design.
Do you have any advice for young entrepreneurs looking to start living their own dream?
I would tell other entrepreneurs to believe in themselves, give back to help others and to always work hard.
---
Front Office Sports is a leading multi-platform publication and industry resource that covers the intersection of business and sports.
Want to learn more, or have a story featured about you or your organization? Contact us today.
If you liked this, click the???? below so other people will see this here on Medium.