In the News
"Our biggest challenge and surprise in 2021 was how fragile the logistics situation was… [W]e saw disruption in supply and demand simultaneously. The logistics system seems to be broken, and it will take much more time to recover than we originally expected."

-Duncan Scott, Senior Vice President of Strategic Sourcing and Quality at New Balance
Logjams in the supply chain have plagued U.S. companies and consumers for the better part of the past two years.
This hot-button topic was recently in the news again amid recent shortages for both baby formula and tampons. Furthermore, earlier this month President Joe Biden signed into effect the Ocean Shipping Reform Act of 2022.
The legislation broadens the regulatory powers of the Federal Maritime Commission over container ship carriers while also promoting U.S. exports. The White House and many American importers and exporters have stated that historically high freight transportation costs are hampering business and contributing to accelerating inflation (most recently at 8.6%).
According to FreightWaves, the act represents the largest overhaul of shipping regulations since 1998. The legislation broadens the regulatory powers of the Federal Maritime Commission with the goal of promoting U.S. exports while reining in ocean carrier market power, which has been strengthened over the last 25 years, primarily through the rise of vessel alliances.
The unforeseen situation has become dire enough to warrant regulatory intervention. Yet even though the pandemic's specific dislocations were unprecedented, disruption overall is becoming all too familiar — particularly stateside. McKinsey research estimates that disruptions lasting a month or longer now occur every 3.7 years, with a cumulative cost to consumer goods companies of one-third of yearly earnings every decade.
In order to better understand the impact this is having on the consumer retail markets, it's important to contextualize the current supply-and-demand dynamics governing the broader markets
The Supply-and-Demand Dynamic
On the supply side of the equation, a good is created by taking raw materials and using technology and manufacturing processes to produce a finished product. On this side of the equation, labor, capital, and productivity are the key inputs.
The demand equation is made up of end consumers who are willing to spend their money on a given good. The means of purchasing these goods come from two main sources:
Disposable income (near all-time highs)
Credit (at all-time highs)
Globalization plays a large role at the nexus of supply and demand, with the past two years proving this point in new ways. As supply chains shifted internationally to accommodate product needs and increased technological complexity, companies were able to reduce the cost to manufactured products — but incurred a materially different cost.
When you rely on a fully globalized supply chain, you're left vulnerable when you depend on a single supplier somewhere deep in your network for a crucial component or material. If that supplier produces the item in only one plant or one country, your disruption risks are even higher.
How are Retailers Fairing?
How well are retailers holding up against sky-high inflation and supply chain issues? Not great. Several recently reported earnings have provided us with a backdrop of just how these companies are being impacted.
Walmart saw one of its worst earnings reports in recent memory as the retailer missed expectations by a wide margin. The nation's largest retailer felt pressure from rising fuel costs and higher levels of inventory due to supply chain issues.
The company took a massive hit to its profits in the latest period as supply chain costs weighed on sales and unwanted inventory (TVs, kitchen appliances) piled up. Walmart closed down 11.4% on the day it announced earnings (5/16), its worst day since October 1987.
Inventory increased about 33% as the retailer made aggressive buys to get ahead of inflation and make sure items stayed in stock. Ultimately, fuel costs have been a large part of Walmart's struggles — the retailer saw its U.S. fuel costs were $160M higher than expected, rising faster than Walmart was able to pass through the costs to consumers.
Target, another retailer that acts as a proxy for the broader retail market, had similar struggles related to supply chain issues and fuel cost that ultimately led to an underperformance.
After its earnings announcement on May 17, the company's shares fell nearly 25% and hit a 52-week low. Target's market cap, which before the call stood at $99.82 billion, fell after the close to about $75 billion on May 18th.
Even though the company saw increases in top-line revenue, and both site and foot traffic grew at a combined 3.9% QoQ, the company was unable to mitigate the increased operating costs associated with rising fuel and freight costs along with increased inventories.
The environment for companies that focus on consumer goods right now is a difficult one. Whether you are Dicks Sporting Goods, Whole Foods, or Walmart, the combination of clogged supply chains, increased global fuel costs, and inflation make for a difficult operation.
Supply chain disruption and raw material price inflation have placed a combined downward pressure on operating margins. The ability to pass along those increased costs is something that retailers do all the time — but when economic circumstances reach an inflection point, those pricing strategies are no longer viable.
State of Sporting Goods
To supplement some of the broader market data, we examined a recent report from McKinsey & Co. covering the impact of the supply chain on the sporting goods industry.
According to the report, demand volatility, production bottlenecks, rising raw material and transport costs, and logistics chaos are causing turmoil in global supply chains which have directly impacted sports retailers. At the same time, consumers continue to expect fast and convenient delivery.
Increasing focus on DTC and e-commerce, alongside rising volatility, over the past two years drove a shift to more agile and more efficient supply chains over the past two years. And over the past 12 months, supply chains have come under pressure on two main fronts. Rising transportation costs and production bottlenecks continued to strain operations, while consumers signaled a permanent shift to alternative channels such as DTC and curbside pickup, requiring companies to invest in new logistical models and use large amounts of capital.
This means that retailers are considering the possibility of consolidating a once globalized supply chain.
Like the vast consolidation of retail accounts, where brands are reducing the number of dealers they work with from thousands to hundreds globally, supply chains are being deglobalized, and manufacturing and assembly is being brought back to the sales markets.

-Phillip Rossner, CSO Signa Sports
Additionally, a Q&A in the report broke down the specific process of transitioning from an environment where supply chain concerns were not part of the primary business strategy to one that centered on them. The interview, with Duncan Scott, VP of Strategic Sourcing and Quality for New Balance, highlights the importance of building out robust systems, particularly in industries that require as much turnover as retail — and specifically when it comes to fashion.
If you think about the whole supply chain —the sourcing, logistics part, and the destination — how much would you focus on each of these and has it changed because of COVID-19?
Before COVID-19, the logistics piece was not really on the radar. We focused on reducing the time between when an order is placed and the product is shipped. But the focus shifted towards logistics – it used to take about 60 days, but went up to around 90 days. Now all of a sudden, that becomes the bigger part, and hence your new focus, especially with fashion-oriented products where you want to be quicker to market and you want to make changes. Those are the products where the time really matters because you do not want to miss out on trends. This section of the market is larger than we originally thought – probably rather 20%-25% instead of 15%-20%. As an industry, we have to figure out a way of how we can address that in the market. Onshoring and nearshoring might become a more important topic for large markets. If you don't have a strategy for this section of the market as a major brand, then you are going to be in serious trouble. You have to be able to respond. Regarding Europe and the U.S., certainly Central America and Eastern Europe could play a role in footwear.

Duncan Scott, VP of Strategic Sourcing and Quality for New Balance
Executive Sentiment
While executives in the Sporting Goods industry have weighed in on the supply chain crunch, executives across industries have weighed in on the topic.
In May, PWC released a series of executive surveys as they look to bolster those supply chains. According to some of the initial data, it looks like cloud infrastructure will be a must going forward. Cloud far outpaces other technologies for adoption and planned investment — 52% of companies reported full or moderate adoption, and 72% plan to invest in cloud, including 35% planning at least $1 million in investment over the next two years.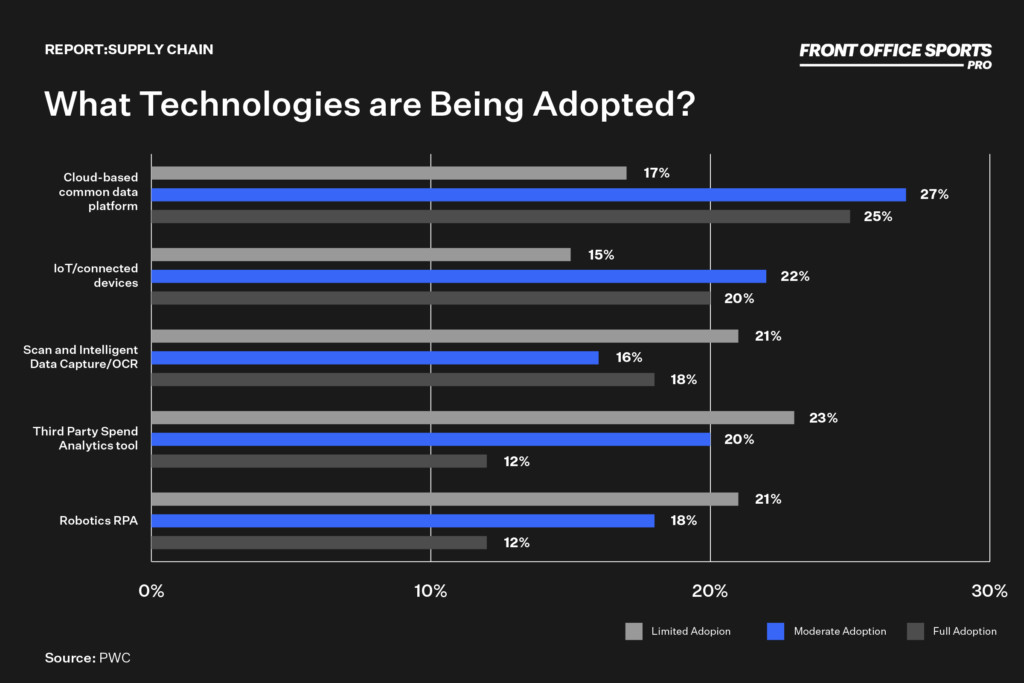 Additionally, the MHl conducted a survey in their "Evolution to Revolution " report gathering information on future investments in cutting-edge technologies from supply chain companies themselves. The data indicates that cloud computing and storage will continue to be over the next five years.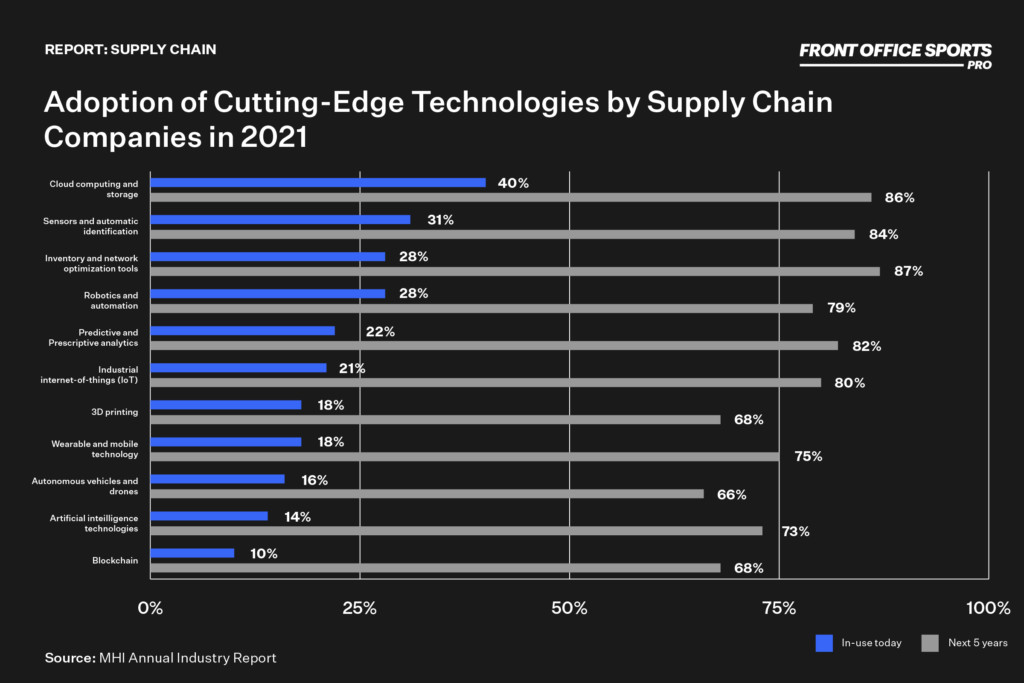 Interestingly enough, over the past nine years of the survey, hiring and retaining qualified workers was consistently the top supply chain challenge. In this year's edition, however, supply chain disruptions and shortages rose to the top — due to the ongoing effects of the pandemic. Talent issues and customer demands remain top challenges, but must now be addressed in the context of avoiding future supply chain disruptions.
Funding Environment
Looking at the market for supply chain management (currently the largest subset of supply chain as a whole), the market is expected to grow at a 12% compounded annual growth rate from 2020-2026, with the market topping out at ~$31 billion.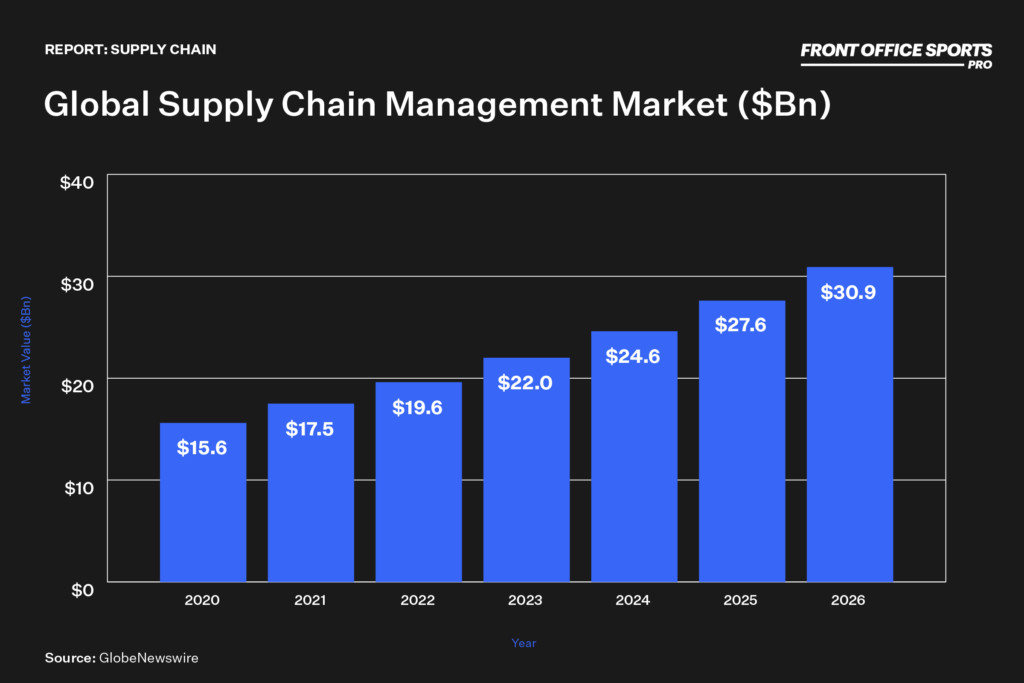 While executives cited cloud infrastructure as their main area of investment for the future, the past 12 months have seen a heavy focus in last-mile delivery — the final step of the process through which a package finally arrives at the buyer's door. In addition to being a key to customer satisfaction, last-mile delivery is both the most expensive and time-consuming part of the shipping process.
This is due in large part to the shift to e-commerce over the past 24 months. According to Insider Intelligence, the costs and inefficiencies of the last-mile problem have been compounded by the aforementioned rise of e-commerce in U.S. retail sales, which has dramatically increased the number of parcels delivered each day and subsequently raised customer expectations to include fast and free delivery.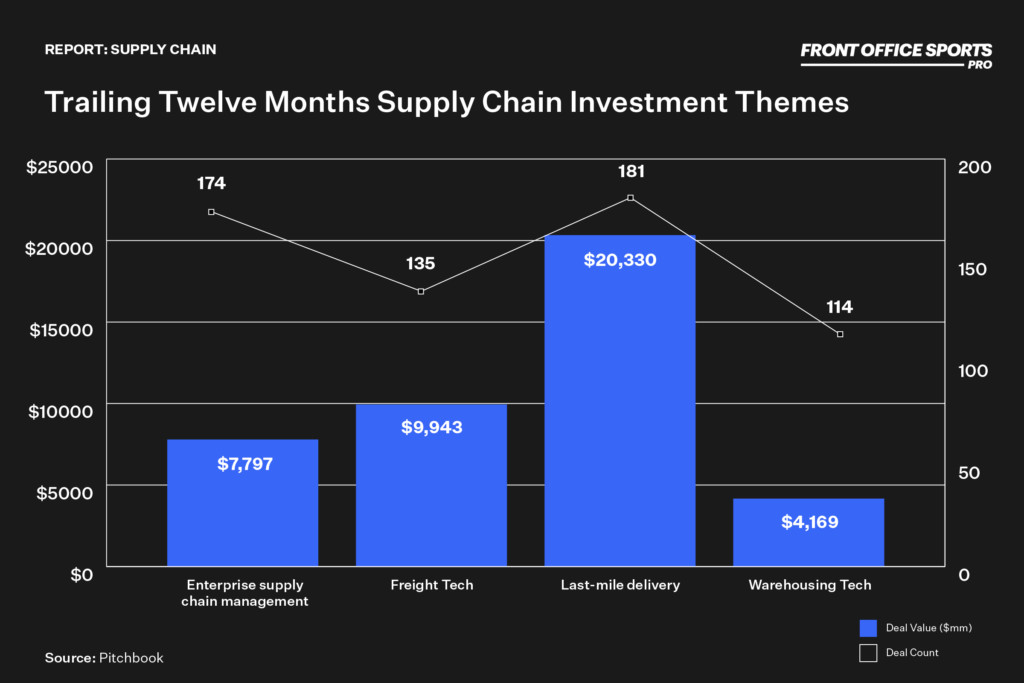 For the total cost of shipping, last-mile delivery costs are substantial — comprising 53% overall. The vertical will represent an important investment category going forward.