The future of virtual and augmented reality is one step closer with the launch of Meta's
Quest Pro
, a premium VR headset retailing for $1,500. Clearly, Mark Zuckerberg is sticking to his
long-term bet
on VR wearables.
By acquiring VR headset maker Oculus Studios for $2 billion in 2014, Meta quickly became a relevant player in the industry, joining the many startups which have built reputations through VR-enabled training and fitness solutions.  
The lifestyle changes forced by the pandemic made VR a viable alternative for entertainment, fitness, and social connectivity. A scientific study of individuals using VR for fitness during the lockdown shows that VR fitness use "had profound effects on the participants' mental and physical well-being."
Now, amid myriad product launches, innovative startups, and ongoing data collection on potential benefits, VR wearables are set to balloon into an $80 billion industry by 2030.
Market Challenges
In 2015, the Garter Hype Cycle of Emerging Technology estimated that mainstream VR adoption was still five-to-10 years away. It's not there yet, but the upcoming years should be key for market adoption.
According to a survey conducted by Mintel, VR technology has a high awareness level among internet users: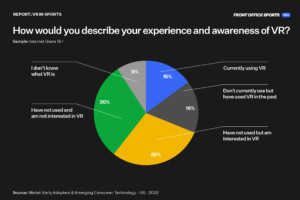 The biggest limiting factors for VR market growth have been tied to its hardware; high prices, few alternatives, lack of product availability, and limited capabilities.
Mintel's survey findings are consistent with these challenges: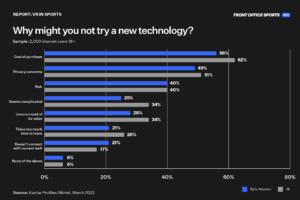 Recent technological developments have created smaller and better devices with extended capabilities and the addition of mixed reality. However, the Meta Quest Pro's price tag is still considered high for a wearable among general consumers.
Another significant challenge for its expansion is the negative public perception or stigma of VR being only for gamers. 
While VR has faced numerous obstacles in its path toward mainstream adoption, several exciting data points suggest that there is strength in numbers, as well as a few good reasons to remain optimistic:
According to Meta's

most recent

Connect conference, users have spent

$1.5 billion

on games and apps in the Quest Store to date, and

one in every three

apps makes revenues in the millions.

Grand View Research

expects

the VR market to grow at a compounded annual growth rate (CAGR) of 15% to reach

$87 billion

by 2030. 
Estimates from IDC expect commercial and consumer VR and AR headsets to top 36 million worldwide by 2026.
VR gaming is currently the most popular use case, but VR-enabled fitness and training will likely be the catalyst for exponential growth, said Andy Etches, co-founder and sports director of Rezzil — the leading VR company for developing elite athletes that works with over 500 athletes from the NFL, NBA, F1, Premier League, Bundesliga, La Liga, and more.
Rezzil believes the VR market is only scratching the surface, suggesting there may only be around 15 million headsets out there so far. That may sound like a substantial number, but it's far from the 3 billion people who play standard video games and the 1 billion who use a connected wearable device.
Early Days
In terms of the market adoption curve, startups and small companies of VR solutions in sports have mostly served professional teams and athletes as their early adopters.
It is a sound market penetration strategy for a product that provides health, fitness, and skill development benefits — product validation within the highest performers builds a compelling marketing narrative when scaling to consumers.
At the highest levels of professional sports, players and athletes are looking for improvement and a competitive edge. Those who use VR today approach its training as "learning paths" to build their skills, similar to getting a degree from an institution.
Front Office Sports' Owen Poindexter found that many teams from leagues like MLS, the NBA, and the NHL have invested in VR-enabled training for its numerous benefits and advantages.
The motivations for seeking VR-enabled solutions in sports for the different consumer groups vary, but most fall into one of the following categories:
Skill development

Benchmark testing for talent discovery

Recovery

Fitness
Rezzil's data shows the demand distribution progression of use cases for their solutions for the last few years.
But due to the number of benefits and gamified applications for consumers, the fitness segment more broadly represents a higher demand percentage within sports and VR — and is likely to experience the highest growth in the coming years.
It's All In the Game
Due to the sector's novelty, little research exists on the advantages and disadvantages at the intersection of VR and sports.
Nevertheless, some recent data has shown astonishing results, further supporting the above-mentioned key motivations.
A 2020 study suggests that VR rehab can positively impact an individual's physiological, psychological, and rehabilitative outcomes compared with traditional exercise.
For instance, Rezzil found that after three 20-minute training drills, participants show major improvement in real-world skills like heading or passing a soccer ball.
Scouts and recruiters are cutting costs and scaling their capabilities to find talent globally via benchmark-testing VR drills that rank athletes according to their skills.
Compared to classical training, a powerful element of VR-enabled solutions within fitness and exercise is the engagement level it can deliver through gamification. 
Levels motivate and help athletes in skill building, leaderboards let users compare their performance versus professional athletes, and personal milestones and achievements to see and track their improvement. 
Other studies further support this by showing that in-game scorecards, points, badges, goal-setting, and challenges positively affect attitude, reduce pain, and increase efficiency.
As Etches explains, people burn calories and improve their skills without realizing it. These drills and workouts can trick the brain into staying active for longer.
Studies have shown that exercise-related boredom is directly associated with less exercise activity. If people are bored with a workout or exercise routine, they are more likely to cease exercising.
Most people will come to VR fitness for entertainment and not necessarily wellness, explained Chad Goebert, an assistant professor of sports management at Kennesaw State University.
"That entertainment will keep them engaged, with the wellness results as an ancillary benefit."
One of the main concerns I raised during my interview with Etches was the vulnerability of users to becoming addicted to these systems or experiencing detrimental effects on their health and overall dopamine levels. 
"VR-enabled training requires users to make an effort to stand, move, and perform activities that would replicate real-world scenarios — the system is designed to activate the same cognitive process as a wide set of live interactions (i.e., throwing a football, moving around, etc.)," Etches said. 
"Being addicted to a VR-enabled fitness and training system would be like getting addicted to running. Video games, on the other hand, require no effort."
Scaling Up
The recent data showing massive benefits will work as an important catalyst for both sports and VR applications in alternative segments.
For example, treating somatic anxiety (i.e., fear of performing in front of a crowd) can be possible through VR, allowing benefits in public speaking or job interviews — and creating a market for it.
In addition to smaller, faster, better, and cheaper hardware, the VR market must improve its marketing and storytelling efforts through positive exposure to create higher awareness around the benefits to grow into mainstream adoption.
Within sports, in addition to the B2B business model, the Quest 2 and other affordable VR headsets have allowed developers to open a B2C solution for the regular consumer — which is how VR will go mainstream.
Through diverse partnerships, new, more immersive experiences, and additional capital incoming, it feels safe to bet on the segment's growth and potential in the years ahead.