Princeton has reminded fans everywhere that despite being in the Ivy League, it's a basketball school. 
The Tigers have made the Sweet 16 — their first berth since 1967. The scenes on campus seem much more like those of a Power 5 program than a small, elitist university. 
During a press conference on Thursday, players described receiving emails from old professors congratulating them on their run. One got a standing ovation when he walked into a local restaurant. And about 1,000 fans saw the bus off when it left campus, coach Mitch Henderson told reporters on Thursday. One of them was a chemistry professor who was yelling "COME ON!" at the players as they drove away.
Unlike other Cinderellas, the program isn't new to basketball success. It boasts decades of history — starting with legends Bill Bradley and coach Pete Carril in the 1960s and '70s.
But despite its former prowess, Princeton has faced a set of unique challenges as an Ivy League program in an NCAA landscape that looks vastly different than it did 30 years ago. 
"We might be considered nationally as a mid-major, but our school thinks very highly of its basketball history," Henderson told reporters on Thursday. "And we think that this team reflects that history very well."
The team's unorthodox Cinderella run continues on Friday night against Creighton.
A Team 'Philosophy'
The Tigers enjoyed their most successful season in 1965, when star forward and former U.S. Senator Bill Bradley led the program to their first and only Final Four. 
Under coach Pete Carril, who arrived in 1967, the team earned 11 NCAA tournament berths and won an NIT championship. Carril, who died last year, created the "Princeton offense," a strategy built for smaller, skinnier players.
"Most people who were around the game thought it was stall-ball," former player Craig Robinson, who now heads the National Association of Basketball Coaches, told Front Office Sports. "It's really a philosophy on thinking about how you play." 
That philosophy — which Robinson likened to playing jazz — carried the team's culture from the Carril era to today. "There isn't a specific set of plays that you run," he said. Instead, he described characteristics: sacrifice, selflessness on the court, discipline, and critical thinking. 
Robinson produced a forthcoming documentary about this era. "Think. See. Do. The Legacy of Pete Carril" will air on CBS on Saturday. The timing, Robinson said, was a complete coincidence.
When Carril left the program in 1996, his successors tried to employ his strategy.
Princeton coaches were usually alums of the program — John Thompson III, son of Georgetown great John Thompson Jr., played for Carril and then coached the team. He even brought the Princeton offense to Georgetown when he coached there in the 2010s. 
The Modern-Day Underdogs
Current coach Mitch Henderson is also a Princeton basketball alum, but he inherited a team in a vastly different position from those of the Carril era, one which faces much more poignant obstacles in the modern NCAA. 
College sports is now dominated by the Power 5, which earns billions of dollars from TV money. 
Despite coming from one of the nation's most prestigious universities, the Tigers weren't able to keep pace. In 2021-22, for example, the program spent $1.8 million on its basketball team — the smallest budget of any team in the Sweet 16. And that's not including coaching salaries. 
The team also has a major recruiting disadvantage: Ivy League teams aren't allowed to offer athletic scholarships — only need-based financial aid, which may not cover the full cost of attendance. 
In an industry where other schools offer the cost of attendance and additional perks — whether they're against NCAA rules or not — recruiting has become infinitely more difficult.
Since Henderson arrived in 2011, the team only made the NCAA tournament once — in 2017. 

In 2020, the Ivy League was the only Division I conference that completely shut down for the entire basketball season in 2020-21. 

Last year, the Tigers lost the Ivy League tournament despite winning the conference. They missed out on an NCAA tournament as a result. 
But Henderson said the team turned its COVID year and the disappointment of last season into fuel. "We lost some fear of failure," he said, predicting that in the future, "We'll point to COVID and say, 'That's what this run was about.'"
An Unorthodox 'Cinderella' Effect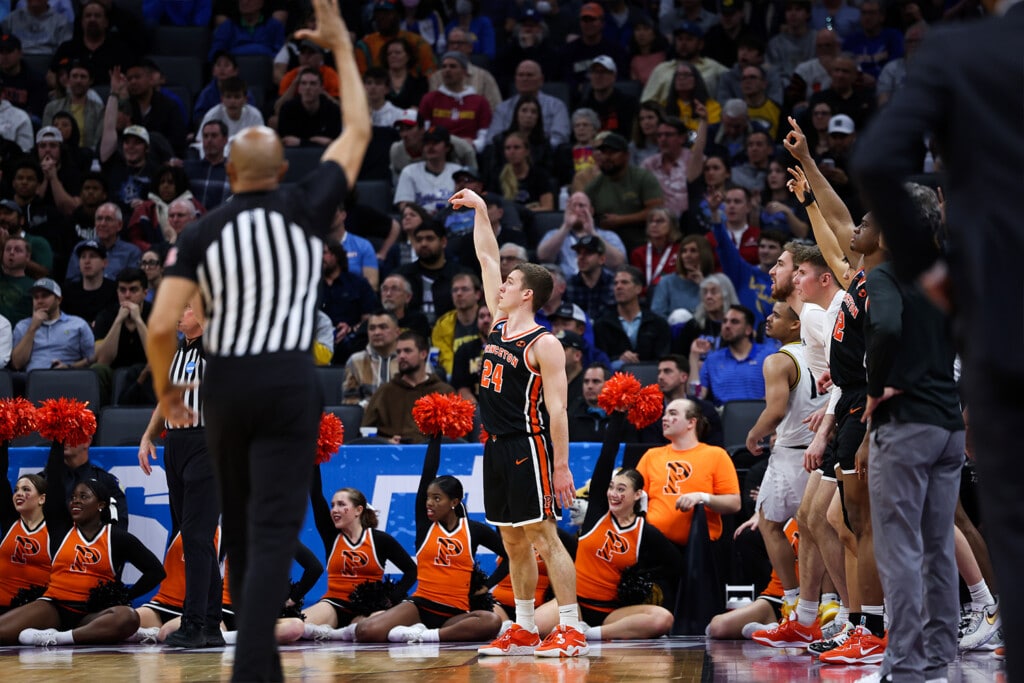 The typical men's March Madness Cinderella team has rarely — if ever — made the NCAA tournament. It's usually a lesser-known school with fewer resources. During a tournament run, the school enjoys millions in free university advertising — and after, it can expect a major uptick in applications.
Princeton, however, doesn't fit this profile. The team made March Madness just seven years ago. And with a 4% acceptance rate, the school certainly isn't wanting for more applicants or enrolled students. 
But the run could help Princeton overcome its recruiting barriers within the elite academic landscape. It could reestablish itself as a contender for recruits who want a top-notch education and athletics — like those who have eschewed the Ivies for schools like Duke or USC.
Non-athletes care about sports success, too. With this spotlight, the school is proving to prospective students that even the elitist Princeton community can become rabid sports fans in March.
Despite its $36 billion endowment, the athletic program is always hunting for more funding. The run will certainly catch the eye of donors, who might have previously been more inclined to contribute to the academic side of the university.
"The Ivy schools are very proud of their athletic tradition," UPenn sports economist Karen Weaver told FOS. "When basketball does well, everybody sits up and takes notice."