Using their new field-level, LED scoreboard in right field, the Pittsburgh Pirates marketing department created Super Bucco Run.
If you ever wanted to be in a Super Mario Bros. game, PNC Park in Pittsburgh is where you should be.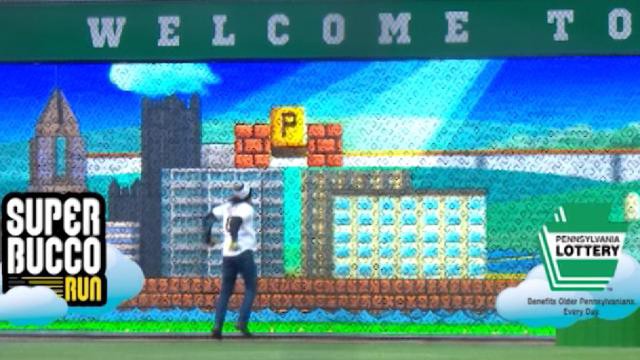 Using their new field-level, LED scoreboard in right field, the Pittsburgh Pirates marketing department created "Super Bucco Run." Their new game perfectly combines technological and human elements for one of sport's most unique in-game entertainment features.
https://twitter.com/Lokay/status/850423705150861312
"We had a unique opportunity [for in-game entertainment] with the scoreboard being field level, and knew we wanted to do something interactive. Someone showed me the Mario Brothers game and the idea [to do something like that] caught on quick. I figured we could probably make it look really cool," said Matt Zidik, Manager of Game Presentation for the Pirates.
The inaugural run took place during the fifth inning of the team's home opener and was an instant hit. Inspired by Super Mario Run, contestants have 45 seconds to collect four parrot heads hidden in Pirate boxes. For each parrot head collected, the contestant receives one week's worth of treasure hunt lottery tickets. If all four parrot heads are collected, the contestant receives one year's worth of Mega Millions lottery tickets. Pennsylvania Lottery is the presenting sponsor.
ICYMI: Super Bucco Run presented by @PALottery was a huge hit yesterday! #OpeningDayPNC #LetsGoBucs https://t.co/kIdsKyloTD

— Pirates Partners (@PiratesPartners) April 8, 2017
True to form, contestants have to jump and hit the Pirate boxes with their heads to release the parrot heads and tap the parrot head to collect it. Halfway through, the contestant has to jump over a green pipe set up on the warning track. The backdrop of the game even has a little bit of Pittsburgh flair with city buildings and a yellow bridge.
People all over the country expressed their love of the Pirates' new game when videos surfaced.
"I didn't expect this kind of reaction. I thought people would like it because Mario Brothers has been around forever, but I didn't expect it to be nationwide," Zidik said.
Super Bucco Run will join the rotation of other game entertainment bits throughout the 2017 season, with more interactive games utilizing the new scoreboard on the way.
---
Front Office Sports is a leading multi-platform publication and industry resource that covers the intersection of business and sports.
Want to learn more, or have a story featured about you or your organization? Contact us today.