Gary McCord knows how it feels to be exiled from The Masters.
The irreverent announcer was booted from CBS' tournament coverage crew after joking The Masters must have "bikini-waxed" its lightning-fast greens at the 1994 tournament.
It didn't matter that McCord's bosses at CBS chuckled at his commentary. The green jackets who run Augusta National Golf Club didn't like it. He never worked The Masters again — although he stayed at the network until 2019.
In a podcast with Peter Kostis, McCord recalled how CBS threw him under the bus. "They go, 'You're out. Gone.'"
This week, millions of TV viewers are placed under the spell of the first major of the year — and a rite of spring that's produced epic drama from champs like Tiger Woods, Jack Nicklaus, and Arnold Palmer.
But the secretive private club rules over TV partners CBS and ESPN with an iron fist. Behind the azaleas, Amen Corner, and dulcet tones of Jim Nantz, there's the hyper-controlling Augusta National.
On Their Own Terms
CBS has televised The Masters since 1956, when President Dwight D. Eisenhower was Augusta National's most famous member. That makes it the longest-running sporting event televised by one network.
Over the decades, CBS innovated many of the graphics we now take for granted on golf TV, such as electronic scoreboards and over/under par scorekeeping. The network's biggest names like Pat Summerall and Jim McKay called the action.
You'd think a stellar track record on Saturday and Sunday would win the lead host network more runway. But Augusta National insists on complete control of coverage, ensuring it through a series of one-year contracts on which CBS has operated for 68 consecutive years.
Ditto for ESPN, which has also been on one-year deals since taking over Thursday-Friday coverage from USA Network in 2008.
The bottom line: The wealthy club cares more about obedience than money. What other sporting event would fire its own sponsors — and eschew millions in sponsorship and advertising money — besides The Masters?
When women's rights activist Martha Burk led a protest of Augusta's male-only membership in 2002, then-chairman Hootie Johnson fired off a combative statement declaring the private club would not be "bullied, threatened or intimidated."
Wrote Johnson: "We do not intend to become a trophy in their display case. There may well come a day when women will be invited to join our membership but that timetable will be ours and not at the point of a bayonet."
To allegedly protect sponsors from Burk, Augusta National informed Coca-Cola, IBM, and Citigroup they would "not request their participation in 2003" — and The Masters aired commercial-free for two years.
CBS and ESPN share a cause for concern in the future: Augusta National could one day put their respective media rights up for bid or go pay-per-view. (Both CBS and ESPN declined to comment on their Masters TV deals.)
Besides the Super Bowl, The Masters is one of the few sporting events that could command over $100 per household.
Numbers Never Lie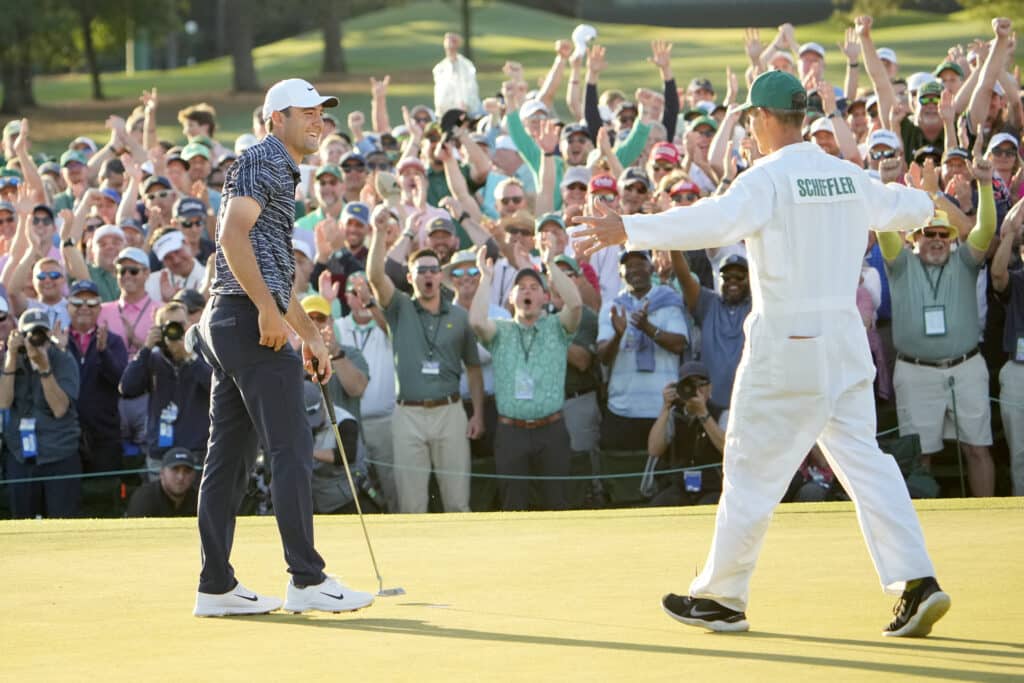 Controlling? Certainly. But there are sound business reasons why networks meekly fall in line.
First, The Masters perennially ranks as the most-watched golf tournament on any U.S. network, and CBS' final-round audiences dwarf that of the three other majors.
CBS' final-round coverage of Scottie Scheffler's 2022 win averaged 10.17 million viewers, according to Sports Media Watch, the most-watched golf telecast on any network since Woods' final-round victory in 2019 (10.8 million).
It nearly doubled the final-round audiences for the PGA Championship on CBS and NBC's U.S. Open (both 5.27 million), and more than doubled NBC's audience for The Open Championship (4.725 million).
Then there's the lure of lifting the curtain around Augusta National. CBS and ESPN know The Masters expands its media coverage bit by bit every year.
When it first aired in 1956, there were a grand total of three hours of coverage from the last four holes. Today, the two networks offer weeklong coverage of everything from featured player groups to the winner's ceremony in Butler Cabin.
Then there are the streaming options, such as Masters.com, "Masters Live" on CBSSports.com and Paramount+, as well as ESPN+'s coverage of featured groups and holes.
Throw in the opportunity for network executives to wine and dine their richest customers in Southern splendor, and The Masters is a bargain.
TV viewership for ESPN's first round coverage of The Masters fell 10.7% to an average 2.5 million viewers from 2.8 million last year. ESPN noted last year's first round marked Woods' comeback from the horrific car injury that nearly took his leg. Friday's second round was cut short due to rain and is scheduled to resume early Saturday morning.
'A Tradition Unlike Any Other'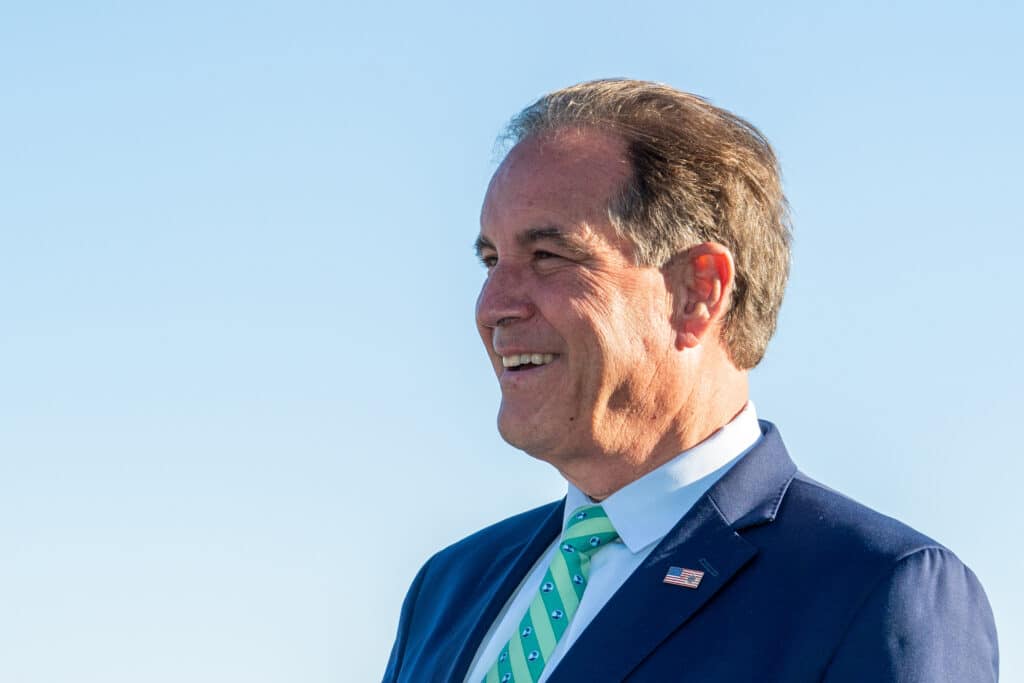 No storyteller is as synonymous with a sporting event as CBS' Nantz and The Masters.
This week, the 63-year-old announcer will host his 36th consecutive Masters and cover his 38th straight. The club has trademarked his memorable line, "A Tradition Unlike Any Other," and slapped it on merchandise.
Nantz called Woods' comeback victory in 2019, declaring it "the return to glory," as Woods' final putt dropped on No. 18.
A 26-year-old Nantz made his bones by nailing his all-time call of "Golden Bear" Nicklaus' charge in 1986. "The Bear has come out of hibernation," he said, as the crowd roared. This Sunday, he'll continue his "Jim Nantz Remembers Augusta" documentary series with a look at four-time runner-up Tom Weiskopf.
Part of the fun of Masters coverage for viewers is reuniting with grizzled pros like Verne Lundquist, who'll be back in the TV tower at the par-3 16th hole.
Meanwhile, ESPN keeps bringing more of the weeklong Masters experience to insatiable TV viewers.
ESPN televised the popular Par-3 tournament for the first time in 2008. The family-focused event humanized the oh-so-serious Masters, with players' kids serving as caddies. This year, ESPN also added a lead-in show, "Welcome to The Masters," and more Spanish-language coverage on ESPN Deportes.
Masters of the Universe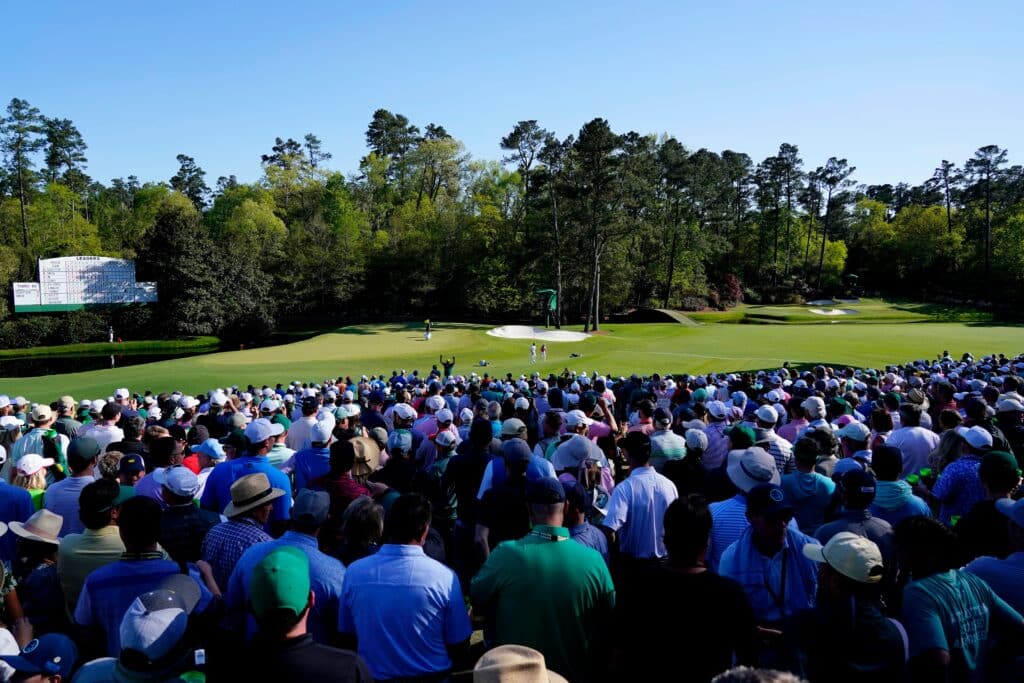 CBS and ESPN know Big Brother is always watching in his green jacket. The club wants reverent coverage portraying the Masters as a genteel symbol of a bygone America.
Rule No. 1: Live crowds are not fans, spectators, or customers. They're "patrons."
The famed essayist Jack Whitaker was banished from CBS' Masters broadcast team in 1966 after describing a crowd of fans as a "mob." Whitaker slowly worked his way back to Masters coverage by 1972, but he always believed the decision came not from CBS, but Clifford Roberts, co-founder of the club with the legendary Bobby Jones.
Despite Augusta National's image as an antebellum throwback to the Old South, the club was ruled by Roberts, a Wall Street investment banker, and promoted as a winter getaway for wealthy New Yorkers.
Similarly, McCord recalls the equivalent of a "red phone" connecting Augusta National's puppet-masters to CBS producers. There are also rumors Augusta nixed the idea of ESPN's bombastic Chris Berman hosting coverage despite his passion for golf.
Rule No. 2: Nothing is bigger than The Masters.
When golf media drive down Magnolia Lane, they're expected to enter a submarine-like cocoon where the only things that matter are the tournament and its traditions, the beauty of 352-acre grounds and the charm of $1.50 pimento cheese sandwiches.
Former Masters winners turned LIV golfers like Phil Mickelson, Dustin Johnson, and Sergio Garcia will all tee it up this week. When ESPN talent was asked on a press call if they planned to address the bitter PGA Tour vs. LIV Golf feud, they recoiled.
"This isn't a PGA Tour-vs.-LIV Tour conversation at all. It's who's the low man at Augusta National," stated Scott Van Pelt.
Two-time U.S. Open winner Curtis Strange couldn't agree more: "LIV shouldn't even be mentioned (this) week. We have to give respect to The Masters tournament."
Rule No. 3: Obey the club's quirky terminology.
There's no such thing as "rough" lining the verdant fairways. It's the "second cut." Similarly, the course has a "first nine/second nine," not front nine and back nine. Those are "bunkers," not sand traps. The list goes on.
The Masters has rules for patrons, too. There's no running — and no cell phones. On Friday, ESPN viewers were treated to the strange sight of fans trying to make calls via old-fashioned phone booths.
Manufacturing Perfection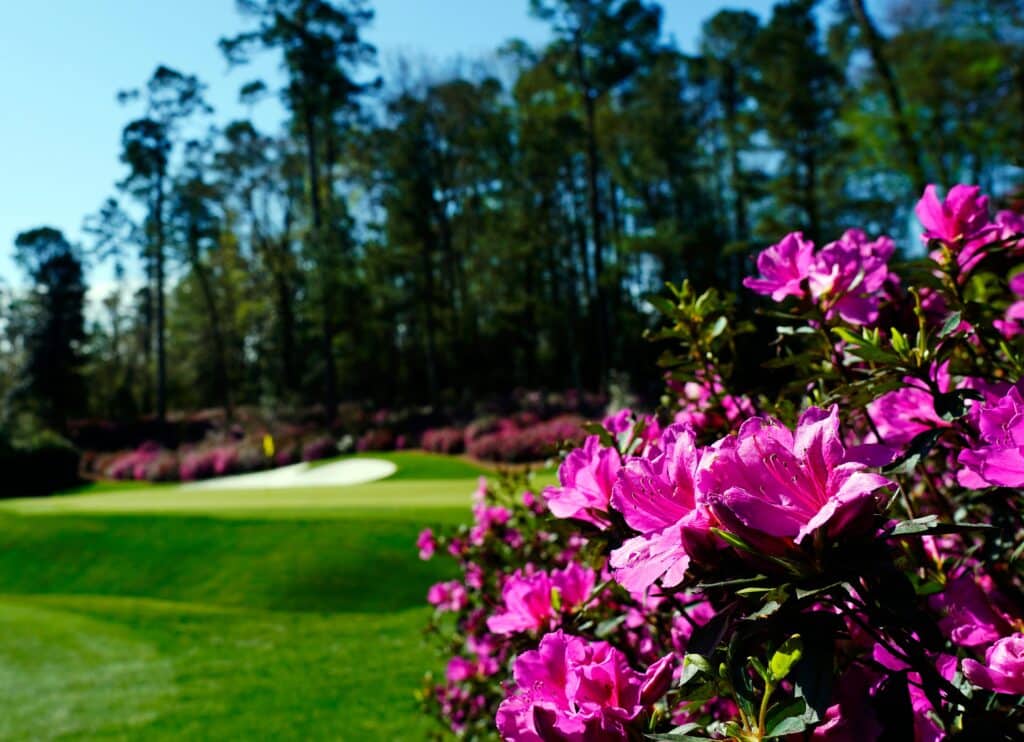 The tales of Augusta National micromanaging its precious brand are part of its lore.
Put aside the Georgia pines and flowering dogwoods, and much of the magic seems manufactured by some Wizard of Oz in Butler Cabin, beaming out video images that look perfect on TV.
While playing the course in 1996, Mike Stachura of Golf Digest took a sample from the pond fronting the Par-5 No 15. Tests revealed the water contained a food dye normally used on a kid's blue-colored birthday cake.
Fans (oops, patrons) who've attended in person occasionally testify to the notable absence of birds on the course, leading some to wonder if CBS pipes in fake bird noises during telecasts to artificially create a spring-like environment.
Even the most experienced sportscasters are starstruck when it comes to The Masters.
"My favorite sporting event of the year — and nothing else is close," said ESPN's Mike Greenberg on Monday morning.
Nantz is retiring from NCAA Final Four coverage, but not The Masters. Instead, he wants to call up to 60 tournaments, which would take him into his 80s.
"I don't want to let go of it," he told Front Office Sports in 2020. "Let's just see how long we can go."